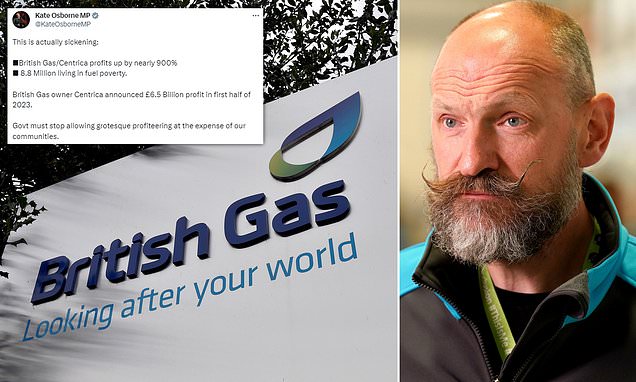 Fury at British Gas as profit surges by nearly 900% to a 'sickening' record of £969million while normal families struggle to pay their soaring bills – just months after fatcat boss took home £3.7m bonus
British Gas owner Centrica reveals earnings soared at its retail supplier business 
But profits are branded 'indefensible' as UK continues to face high energy bills
British Gas owner Centrica's soaring profits were today branded 'indefensible' as UK households continue to face high energy bills and cost-of-living pressures.
The energy giant revealed that earnings at its retail supplier business soared by nearly 900 per cent as it was handed a price cap boost of around £500million.
Centrica said underlying earnings at its gas and electricity supply arm jumped 889 per cent to £969million in the six months to June 30 from £98million a year earlier.
But angry politicians described the profits as 'actually sickening' and 'unearned', while campaigners said it was a 'further sign of Britain's broken energy system'.
Shareholders were celebrating though, with Centrica's stock price up 7 per cent today after the firm proposed a 33 per cent annual increase in its interim dividend.
It comes four months after Centrica chief executive Chris O'Shea was given a £4.49 million pay package, which included £790,000 in pay plus £3.7million in bonuses.
And that followed accusations that agents working for British Gas had forced their way into homes of the poor and vulnerable to fit expensive pre-payment meters.
Centrica boss Chris O'Shea, pictured at the Scottish Gas Academy in Hamilton on July 7
Centrica said today that it recouped £500million of losses seen a year earlier after it was buoyed by Ofgem's price cap in the first half of this year, when customers saw their typical annual bills limited to £2,500 under the Energy Price Guarantee.
Married father-of-three who earned £4.49m in a year and loves Primal Scream and Celtic FC
Centrica chief executive Christopher Michael O'Shea was born in October 1973 and trained as an accountant.
He studied accounting and finance at the University of Glasgow before completing a master's at Duke University in North Carolina.
The 49-year-old worked for firms including Shell, Ernst & Young, BG Group and Smiths Group – living and working in the UK, US and Nigeria – before joining Centrica as chief financial officer in 2018.
He later began chief executive in 2020 and refused bonuses for his first three years, before being given a £4.49million pay package in March, which included £790,000 in pay plus an annual bonus of £1.4million and a £2.3million long-term share bonus.
Mr O'Shea is married with two daughters in their 20s and a son in his late teens. He lives in a village near Reading and owns a house in Glasgow, where he eventually plans to retire.
In previous interviews he revealed his favourite album is Screamadelica by Primal Scream; his favourite book is Trainspotting by Irvine Welsh; and his favourite film is the 2019 Muhammad Ali documentary What's My Name.
His hobbies include football and running – he is a Celtic FC fan and has previously run the London Marathon.
Overall, Centrica swung to a £6.5billion operating profit in the first six months of 2023 against operating losses of £1.1billion a year earlier. On an underlying basis, operating profits rose to £2.1billion from £1.3billion a year ago.
Energy firms saw their supplier profit margins hit last year, when wholesale prices were sent soaring by Russia's invasion of Ukraine – but the price cap protected customer bills from the worst of the rises.
Ed Miliband, Labour's shadow net zero secretary, told BBC Breakfast today: 'What most people will recognise is good luck to these companies if they make profits – but these are unearned, unexpected profits.
'This is because Russia launched an appalling invasion of Ukraine and drove gas prices up. The only long-term answer to this is to move off fossil fuels as quickly as we can. Because even though we imported very small amounts from Russia before the war, we've been so badly affected as a country.
'That's why the drive to increase onshore wind, solar energy, offshore wind, cheaper than fossil fuels, is the right answer for the country. And my regret is not just that we don't have a proper windfall tax, we don't have a Government committed to that green sprint either.'
Wholesale prices have come down in 2023, while the price cap has been set at a level by Ofgem this year to allow firms such as Centrica to recover some of those earlier losses.
But Kate Osborne, the Labour MP for Jarrow in Tyne and Wear, tweeted that the profits were 'actually sickening', adding that the Government 'must stop allowing grotesque profiteering at the expense of our communities'.
And Emi Murphy, warm homes campaigner at Friends of the Earth, told MailOnline: 'There's no acceptable reality where an energy company should see profits rise by nearly 900 per cent over the same period millions struggle to afford to power and heat their homes.
'It's indefensible that firms behind both our soaring bills and the deteriorating state of the planet are still raking in billions in excess profits. The cost of living crisis is showing no signs of letting up any time soon, but there's only so much more people can shoulder.'
She added that concerns over energy prices soaring again this winter mean millions more people 'will go cold in homes they can't afford to heat'.
Labour's shadow net zero secretary Ed Miliband told BBC Breakfast the profits were 'unearned'
Ms Murphy continued: 'People will rightly question why there has been so little progress in rolling out the measures that will make a genuine difference to their energy bills.
'If it's a matter of funding, then the government should start by properly taxing fossil fuel companies' excess profits, which could help to pay for a street-by-street insulation programme to bring down the nation's bills.'
Centrica said it lost about £250million in the first six months of 2022 alone due to the price cap coming in lower than the cost it faced in wholesale markets, with the impact at its worst in the final quarter of 2022.
But today's update comes at a sensitive time as households and businesses continue to endure large utility bills and adjust their spending due to high inflation.
Kate Osborne, the Labour MP for Jarrow, tweeted that the profits were 'actually sickening'
Simon Francis, co-ordinator of the End Fuel Poverty Coalition, said: 'These profits are a further sign of Britain's broken energy system.
Shell misses market expectations as earnings halve
Shell's Wael Sawan
Shell failed to deliver another bumper crop of profits in the last quarter, with the business falling short of market expectations.
The oil giant said today that it had seen its adjusted earnings more than halve in the three months to the end of June when compared with the same period a year ago.
A drop had been expected, but markets failed to forecast just how far earnings would fall.
Adjusted earnings reached just under £3.9 billion during the quarter, down from £8.9 billion a year earlier.
Analysts had expected the figure to reach almost £4.3 billion, according to a consensus compiled by the company.
It is also a reduction from the oil major's record first-quarter results, which saw it make £7.6 billion in adjusted earnings in just three months, well ahead of expectations at the time.
Since then Shell has courted controversy by saying it will no longer try to reduce its oil production by 1 to 2 per cent per year until the end of this decade.
The company said it has already achieved this target because it sold off some of its oil fields, allowing other companies to produce the oil instead.
It said it will continue to produce about as much oil as it does today until 2030.
Today, chief executive Wael Sawan said: 'Shell delivered strong operational performance and cash flows in the second quarter, despite a lower commodity price environment.
'Today we are delivering on our … commitment of a 15 per cent dividend increase.
'We are going further on our buyback guidance by commencing a $3billion (£2.3 billion) programme for the next three months and, subject to board approval, at least $2.5billion (£1.9 billion) at the third-quarter 2023 results.
'As we deliver more value with less emissions, we will continue to prioritise share buybacks, given the value that our shares represent.'
'At a time when household energy debt is spiralling to record levels and energy bills remain double what they were just a few years ago, the profits posted will be greeted with disbelief by those struggling through the crisis.
'There will of course be questions about how these profits were made, but the reality is that energy firms are operating on a playing field set by the Government.'
And Liberal Democrat leader Sir Ed Davey said: 'It beggars belief that after all these months this Conservative Government is still allowing energy firms to rake in extraordinary profits while millions of families struggle.'
Also today, Unite general secretary Sharon Graham told MailOnline: 'British Gas has just reported its highest ever first half-year profits, raking in almost £1billion. 
'We need to stop dancing around our handbags and grasp the nettle. The only way to end the chaos in our energy supply is staring us in the face – public ownership. It is absolutely affordable. It would protect businesses and households. Put simply, it's a no brainer.
'Both the Government and Labour need to decide whose side are they on.'
Meanwhile James Taylor, head of strategy at the charity Scope, told the Guardian: 'It's obscene that energy companies continue to make massive profits whilst people can't afford to charge wheelchairs and stairlifts and still have huge energy debt.
'Energy companies need to start putting disabled customers first. We need a social energy tariff – a discounted rate – for disabled people to put an end to sky-high energy bills.'
The Prime Minister today insisted energy companies' windfall profits are being taxed to help consumers.
Rishi Sunak was speaking to broadcasters on a visit to a housing development in London and was asked about Centrica's profits and whether energy companies need to do more to pass such profits onto customers.
Mr Sunak said: 'I know that the number one challenge families are facing up and down the country is the cost of living, and in particular their energy bills.
'That's why I took a decision back when I was chancellor to introduce a windfall tax on the energy companies, so we are now taxing these windfall profits of energy companies and we are using that money to help us pay around half of a typical family's energy bill, particularly over the last winter.
'That support has been worth £1,500 to a typical family. It's support on the scale of the furlough scheme to give people context, because I know how important it is for the Government and me to ease some of those pressures on the cost of living.
'So that's what we're doing, taxing the windfall profits of energy companies and helping to pay around half of a typical families' energy bill.'
A Centrica spokesman said: 'All suppliers had to purchase a portion of their electricity and gas at levels above the price cap.
'Allowances to recover this cost were introduced into the price cap from April 2022, with recovery continuing into the first half of 2023.'
British Gas owner Centrica has revealed that earnings at its retail supplier business soared
Centrica boss Mr O'Shea said the firm's solid balance sheet had helped to protect consumers after several energy suppliers collapsed over the past few years, caught out by fixed price supply contracts when wholesale prices rocketed.
READ MORE Grandmother, 73, was overcharged by British Gas for seven years and left with a £500-a-month bill – because the provider was using metric calculations on her old imperial meter
'To be sustainable and stable you have got to make a profit,' he said during a briefing.
He also insisted the profit level was not the new normal for British Gas.
In the future he expects British Gas Energy, Centrica's energy supply division, to make a little under a quarter of a billion pounds a year in overall adjusted operating profit.
'We expect that going forward British Gas Energy will make on a normalised basis around £150million to £250 million a year, a vast majority of that tends to be in the first half,' Mr O'Shea told reporters on phone call this morning
'We would not expect to see profits anywhere near this level from British Gas Energy, it really is a one-off.'
He added: 'I don't see (£1 billion) as being reflective of the performance.
'You have to really strip it (the £500 million) out. It's important that people understand that it's simply a recovery of costs that we incurred in the past.'
Centrica has doubled its support package for struggling customers to £100million, it added.
The firm said it would invest £4billion by 2028 on security of supply, energy flexibility and renewable power.
Mr O'Shea said it was still exploring investing in EDF's Sizewell C nuclear project but no decision had been taken.
Last year, Centrica more than tripled its adjusted operating profit, which reached £3.3billion in 2022 amid turbulence in global energy markets.
Big swings in energy prices helped the company's energy marketing and trading division, which made £1.4billion in profit during the year, a 1,900 per cent increase from the year before.
AJ Bell investment director Russ Mould told the Guardian: 'British Gas owner Centrica won't be winning a popularity contest with the public anytime soon, but shareholders may not be too bothered.
'The massive increase in first-half profit reflects the impact on its retail energy-facing business of a lifting of the price cap but the contribution made by its energy marketing and trading division, helped by the big volatility in commodity prices, should not be ignored.'
And Aarin Chiekrie, equity analyst at Hargreaves Lansdown, told MailOnline: 'Centrica's had a great start to the year, with its British Gas Energy division fuelling overall group performance.
'Increased allowances in the UK domestic tariff cap are having a positive impact on this retail arm, helping to drive a strong showing across the first five months.
'The majority of these tailwinds should be felt in the first half of the year, but are strong enough to nudge up full-year earnings per share guidance toward the top end of analysts' forecasts.'
Source: Read Full Article