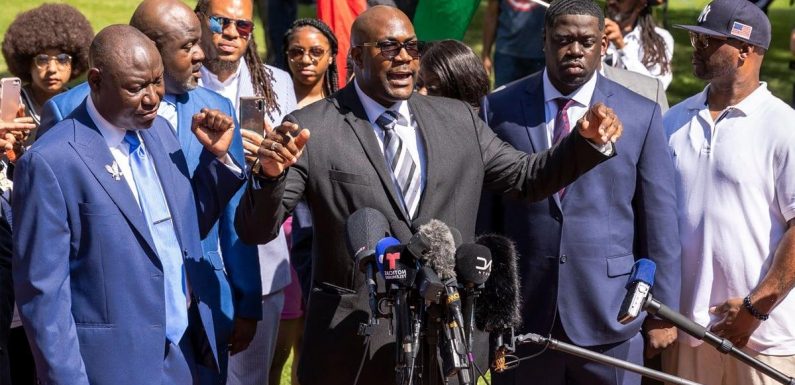 On June 25, exactly one month after former Minneapolis police officer Derek Chauvin was found guilty of murdering George Floyd, Judge Peter Cahill of Minnesota sentenced Chauvin to serve 22.5 years in prison. Following the sentencing, Floyd's family gathered outside the courthouse to share their heartbreak after Chauvin evaded the 30-year maximum sentencing.
"I've got a lot of emotions going through my head right now," said George's brother Philonise Floyd. "I felt that I begged for some kind of justice for my brother, some kind of accountability . . . You have good police officers and you have bad ones, [but] you shouldn't have to sort them out." Philonise continued, saying justice will not be truly served until the families of people like Philando Castile, Anthony McClain, and Daunte Wright can rest easy, until members of the Black community stop being the target of police brutality.
"This 22-year sentence they gave this man is a slap on the wrist. We're serving a life sentence [by] not having [George] in our life, and that hurts me to death," George's brother Rodney Floyd said, echoing Philonise's sentiment along with George's cousins Tara Brown and Shareeduh Tate. Philonise added, "I have a family; we wake up every day and we don't see my brother. [There are] empty seats all around the house he would have been in. The fact that Gianna will grow up knowing that her father had made a difference in the world, but [there's still] the fact that she cannot have a sweet 16 [with him]; she cannot have him walk her down the aisle; she will not be able to have prom with a daddy dance."
Brandon Williams, George's nephew, reiterated the fact that the court's verdict felt like a slap on the wrist compared to what their family has endured, and it's important for justice to be carried out fully and effectively on behalf of others whose lives have been lost to police brutality.
"When you think about George being murdered in cold blood with a knee on his neck for nine minutes and 29 seconds, execution style in broad daylight, 22 and a half years is not enough," he said. "We will serve the life sentence. We can't get George back . . . In retrospect, I feel that [Chauvin] should have received a life sentence, as well. What kind of message are you sending to our country? What kind of message are you sending to the younger kids like Gianna? That you can kill a man in cold blood and get a slap on the wrist? That's like a slap in the face to all of us standing up here and everybody around the world who feels what we feel and saw that video. So I won't celebrate this at all, but I will celebrate a guilty conviction on a police officer that killed a Black man, because far too many times, we see them kill us and get away with it."
Source: Read Full Article