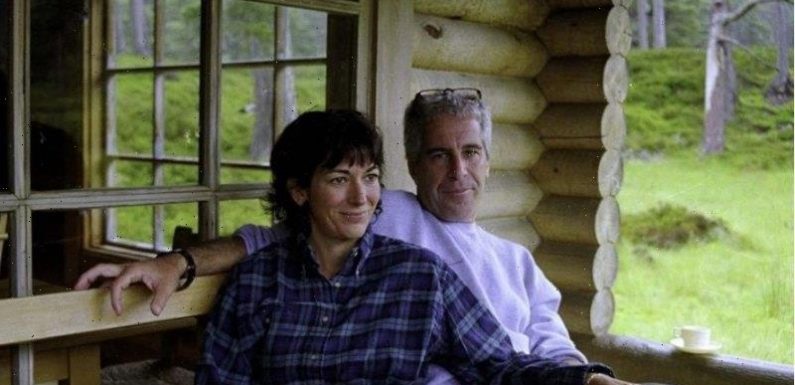 London: Ghislaine Maxwell and Jeffrey Epstein are seen relaxing at the Queen's log cabin on her Balmoral estate in photographs released on Thursday AEDT as evidence in the socalite's sex-trafficking trial.
The photograph of the pair at the woodland cabin in Glen Beg was among a trove of pictures that were recovered from hard drives and CDs at Epstein's New York townhouse, seized in an FBI raid after the financier was charged with sex offences.
Ghislaine Maxwell and Jeffrey Epstein at the Queen's Balmoral cabin.Credit:US District Attorney's Office
It is unclear when the photograph was taken, although it has previously been reported that Maxwell and Epstein were personally hosted at the Queen's Scottish property by the Duke of York in 1999.
The Royal family was dragged into the New York trial last week after mention was made of the Prince Andrew's friendship with the late financier and flights he was alleged to have taken on his private jet.
One woman who formed part of the entourage previously claimed that Andrew personally welcomed the party to the castle in mid-1999. The visit to Balmoral is thought to have taken place in late summer or early autumn, when the Queen is likely to have been in residence.
The Queen has previously been photographed in the exact same spot having lunch with her first cousin, Margaret Rhodes.
She was also reported to have lunch over the summer with Prince Andrew, her middle son who has been accused by one of Epstein's victims of sexually assaulting her during the early 2000s. Prince Andrew has denied the charges.
Maxwell can be seen leaning against Epstein, with her arm resting on his leg. Both of them are dressed casually. Maxwell appears to have longer, shoulder-length hair, which she later cut into her pixie style.
In most of the pictures published by the US Department of Justice this week, Epstein stares straight at the camera while Maxwell looks at him lovingly.
Earlier in the trial, Prince Andrew was named as a passenger aboard Epstein's private planes by his former pilot, Lawrence Visoski.
Jurors were also shown picture of Virginia Roberts, now known as Virginia Giuffre, who claims she was trafficked by Maxwell as a teenager and also claims that she was forced to have sex with the Prince Andrew on three separate occasions when she was 17.
Maxwell has pleaded not guilty to charges of enticing and transporting minors to the multi-millionaire financier between 1994 and 2004.
Prince Andrew pictured with Virginia Giuffre at the home of Ghislaine Maxwell (right) in London in 2001.
The prosecution has tried to build a picture of a couple in love, rather than a relationship of employee-boss that the defence has put forward.
The images were obtained during a 2019 FBI search of the Manhattan mansion and offer graphic insight into their high-flying lifestyle, that included trips to exotic locations on helicopters and private jets.
Lara Pomerantz, for the prosecution, told the judge, Alison Nathan, at Manhattan's federal court on Tuesday that they would offer evidence of their "close relationship over a long time", having previously described them as "partners in crime".
The selection of 19 photographs shown to the jury show Epstein and Maxwell enjoying various holidays – sunbathing on a yacht, next to a snowy cabin and enjoying Blood Marys.
Other more striking photos show the British heiress massaging Epstein's feet on board his private jet, which earned the nickname the "Lolita Express".
In another photo from the same trip, Maxwell is seated opposite French model agent Jean-Luc Brunel, who was charged in Paris last year with the rape and sexual assault of minors. He denies the charges.
In more intimate shots, the 59-year-old is seen kissing Epstein's cheek with her arms wrapped around him and another riding on the back of a motorcycle.
On the eight day of the trial, which is set to wrap up later this month, a second private pilot of Epstein's entered the witness box yesterday and confirmed that the financier and Maxwell were in a relationship.
"Early on they were romantically involved, but at some point during that period [1994-2004] they weren't romantically involved," said David Rodgers, who worked for Epstein for nearly 30 years.
The pilot said that he visited four Manhattan homes that Maxwell owned over the years. In 1991 he said that she was living in a penthouse on 59th Street, which he described as "a very large residence".
However, she moved out shortly after – at a time that coincided with her father's death – and into a studio apartment on the upper east side of Manhattan. Eventually she moved to a five-storey townhouse in the late 1990s, Rodgers said.
Personal flight logs kept by Rodgers also showed that Maxwell was a passenger on the second flight on Epstein's newly acquired Hawker Siddeley 125 on July 26, 1991 from New Jersey to Palm Beach.
This shows that she knew the financier at least four months before her father, media mogul Robert died.
She has long said that she met Epstein after her father's sudden death in 1991.
Rodgers said that aside from using Epstein's jets, Maxwell had a travel air card – implying that she had access to other private planes.
The prosecution revealed this week that they will rest their case early, by today or tomorrow. They had initially asked the judge to set aside three to four weeks.
A second man testified at Ghislaine Maxwell's criminal sex abuse trial that he drove teen girls to the Florida mansion of Epstein and saw them leave with hundred dollar bills.
The man, who identified himself as Shawn, testified that he had begun dating a woman named Carolyn in Florida when he was 17 and she was 14.
Carolyn, now in her mid-30s, testified on Tuesday that she had sexual encounters with Epstein at his Palm Beach, Florida, home beginning when she was 14 in 2002.
Telegraph, London with Reuters
If you or anyone you know needs support, you can contact the National Sexual Assault, Domestic and Family Violence Counselling Service on 1800RESPECT (1800 737 732), Lifeline 131 114, or Beyond Blue 1300 224 636.
Get a note directly from our foreign correspondents on what's making headlines around the world. Sign up for the weekly What in the World newsletter here.
Most Viewed in World
From our partners
Source: Read Full Article