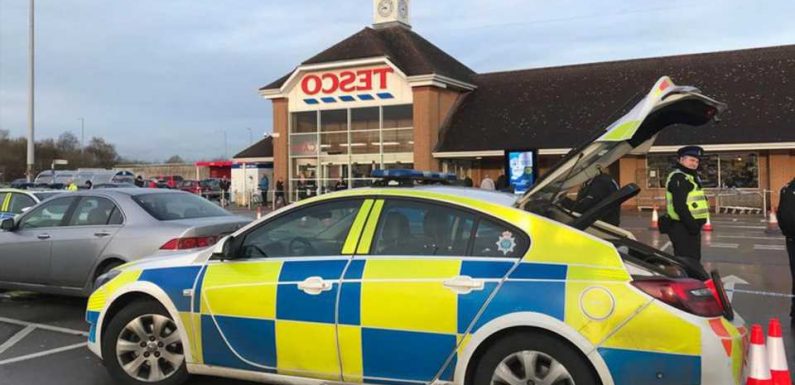 A TESCO shopper has reportedly been stabbed at the supermarket.
The victim is understood to have suffered serious injuries after violence broke out at the store.
Ambulance crews rushed to the scene at Meir Park, Stoke-on-Trent, on December 30.
Two people, a man in his 20s and one in his 40s, were also rushed to hospital after the horrifying chaos.
A man, 37, was later arrested on suspicion of wounding with intent.
An ambulance service spokesman said: "We were called to reports of a stabbing on Lysander Road, Meir Park.
READ MORE ON UK NEWS
Cops release CCTV image of man after woman 'raped' in underpass
Murder probe after human remains found in pond near hospital on NYE
"One ambulance, a paramedic officer, and the Midlands Air Ambulance critical care car from Cosford attended the scene.
"Upon arrival we found a man with serious injuries.
"He received treatment at the scene and was conveyed to hospital for further assessment."
Police are now appealing for witnesses.
Most read in The Sun
EastEnders fans 'work out' father of 12-year-old Lily Slater's baby
Rally driver Ken Block who starred on Top Gear killed in snowmobile accident
Return of face masks as health chiefs tell people to cover up amid virus surge
People shocked as they unveil hidden use of packaging in a chocolate orange
Anyone with information can contact Staffordshire Police on Facebook, Twitter or by calling 101, quoting incident number 338 of December 30.
Alternatively, contact Crimestoppers anonymously on 0800 555111.
Did you see what happened? Email morgan.johnson1@thesun.co.uk
Source: Read Full Article