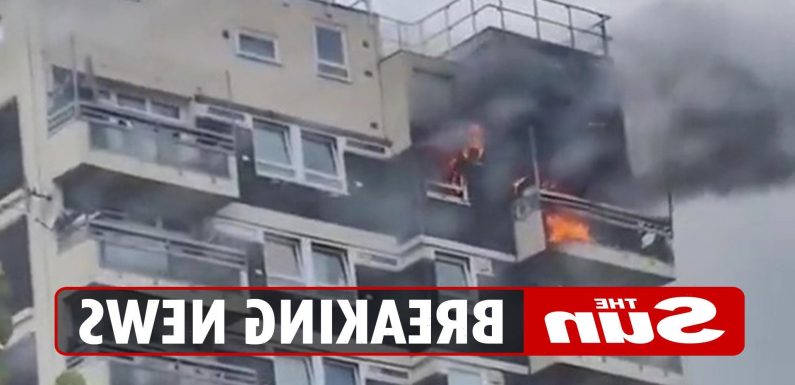 A HORROR fire has broken out at a tower block in East London.
Fifteen fire engines and around 125 firefighters are battling the inferno in North Woolwich.
A four-roomed flat on the 17th floor of the building on Manwood Street is completely alight, London Fire Brigade said.
The London Fire Brigade were called at 12.49pm to reports of the blaze.
Chilling footage on social media shows the fire ripping through the top floor of the tower in Newham.
It is not clear if anyone has been hurt.
Most read in UK News
BLAZE HELL
Homes gutted by fire on 'warzone' street as locals sob after 'losing everything'
Two people dead after aircraft crashes at busy airport
Families run for lives after homes go up in flames on UK's hottest day
Moment killer, 64, drags wheelie bin containing body of 20-year-old woman
The Brigade's 999 Control Officers have taken more than 105 calls to the blaze.
The cause of the fire is now known at this time.
Fire crews from Shadwell, Dowgate, Dockhead, Shoreditch and surrounding fire stations are at the scene. 
Firefighters are also tackling a fire involving around one hectare of grass opposite the block at the junction between Manwood Street and Silverland Street.
Source: Read Full Article