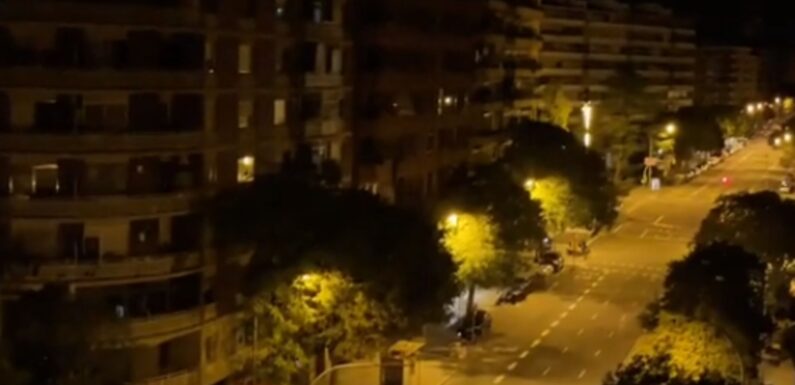 A SELF-PROCLAIMED time traveller claims he has been stuck living in the future while wandering through empty cities. 
Javier, who goes by the name 'unicosobreviviente' on TikTok, has been constantly proving the present day world he lives in the year 2027 – with videos showing empty cities with no signs of human existence.
He is back with his latest cluster of evidence – a video indicating the rush hour time 8:09 in the evening. 
The video is apparently a reply to one of his sceptical followers who commented: "he just wakes up really early" in one of his earlier videos. 
Javier has been making bizarre claims about living in the year 2027ever since his first video on TikTok.
In 2021, he posted his first video showing the city of Valencia, Spain, all empty and with no humans around. 
Read More On Time Travel
I'm a time traveller – I travel ALONE & have famous painting as souvenir
'Time traveller' claims to have visited 2027 and films 'human extinction'
He wrote in the video: "I woke up in a hospital. It is 2027 today, and I am all alone in this city."
"Humanity has been extinct, there is no one in the shopping centres", he captions before the video cuts to a visual of an empty clothing store. 
More such posts showing empty streets and uninhabited buildings have followed ever since. Although, none of them revealed his face. 
In one instance, the self-proclaimed time traveller asked for help from his followers. 
Most read in World News
MADDIE BOMBSHELL
Child rape trial against Maddie prime suspect CAN go ahead, court rules
PHONEY ARREST
WSJ reporter Evan jailed on trumped up charges in Russia has appeal blocked
RUNWAY DRAMA
Panic as two packed holiday planes CRASH on tarmac of Palma airport
HORROR HOME
Screaming heard from 'incest' house of horrors where three babies found dead
"I keep trying to find signs of human existence. I have started to lose hope. Today I found something to eat, but I do not know how long it will last," he said while asking his followers to comment on the post if they can help.
When his followers asked him about how the buildings around him still have electricity running, and how he has running internet to upload his videos, the TikToker replied: "It is most likely there is a connection between the present world and the future, where I am right now."
"Whatever happens in your present day world, happens in my world too." 
Javier's antics have gained him immense fan-following on his social media account – especially TikTok – where he currently has 8.2 Million followers. 
Earlier this year, another woman called Maria made claims of being stuck in 2027 – and that she has found Javier in their post-apocalyptic world. 
The woman – who goes by the name 'socmia' on her socials – said she is now in the same project as Javier. 
Her bio reads: "Time is an illusion. Alone in the world with unicosobreviviente (Javier). 
Maria claims that she knew Javier and his project since the beginning, and now she is here to help him. 
READ MORE SUN STORIES
Holly Willoughby pays emotional tribute to This Morning doc after her sudden death
I spent £2k on my 13 'fake' babies, my dad says it's bizarre… who cares
Despite fellow TikToker creators strongly accusing the both of being fake, the pack of two has been posting video evidence together – suggesting they are in the year 2027 and humans have disappeared.
But none of them have ever revealed their faces. 
Source: Read Full Article