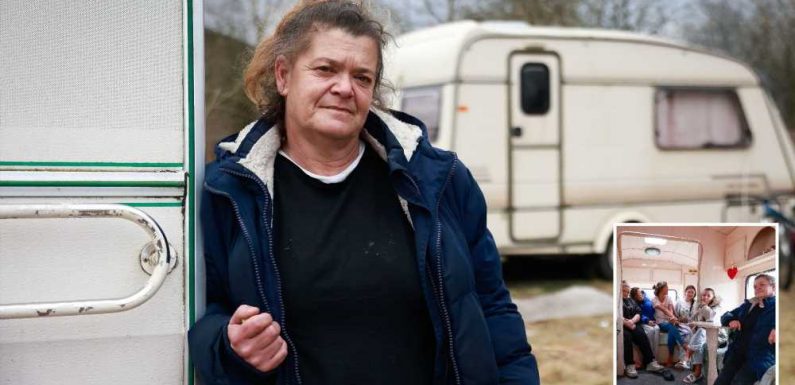 A TRAVELLER has slammed a council for evicting her over her dogs.
Mum-of-four Eva Price, 53, and her family have so far been forced to live for seven days without hot water, electricity or even a toilet.
She pitched their two caravans on the site of a former Bradeley care home in Stoke-on-Trent after they were made suddenly homeless last week.
Eva was evicted from the council-run Linehouses complex in Tunstall alongside her four daughters Hawthorne, 22, Anna-Mae, 18, Eva Marie, 17 and Queenie, 15.
She said: "It has been cold. We're not used to this as a family. We miss electricity and water."
Eva had lived at the complex for 50 years before she was kicked out for refusing to get rid of her dogs, she said.
Read More On Homelessness
We're homeless after being evicted – we're not being treated like humans
I found hero who handed in lost £1,200…his response to reward was jaw-dropping
She said the council accused her of breeding the animals, and of anti-social behaviour including swearing.
She added: "We are Romani Gypsies. I'm an animal lover. I couldn't give my dogs away. I don't think that's grounds for eviction."
Now Eva says Stoke-on-Trent City Council is threatening to seize their caravans and force them into Longton's Crown Hotel instead.
She said: "I feel like my heart has been ripped out from my mouth. I can't stop crying. We have been let down by everybody."
Most read in The Sun
I drove past spot where my daughter lay trapped alive for 48hrs after crash
Family who starred in doc after daughter killed confirm sister died in crash
Haunting CCTV shows car before three pals found dead in crash after night out
3 found dead & 2 hurt in car after search for pals who disappeared on night out
Eva's family can be traced back to Church Lawton for 200 years, she added.
"I got married in Church Lawton. All my family is in Lawton cemetery."
Now she's afraid the council will follow through on their threats to separate the family.
She added: "They wanted to take the caravans away and send us to The Crown Hotel in Longton. Me and the youngest would stay there but the older children would have to fend for themselves.
"But they are my carers. All I've got is the children and I am all they've got. It is our culture to live with your parents, no matter how old you are, unless you marry."
Eva is struggling with her anxiety and "can't stop crying".
"My blood pressure is so high, I'm close to having a heart attack," she added.
"I can't do this at my age. I've got these health problems and I am struggling.
"When we got kicked out, there was nowhere else I could go. I didn't want to go into the hostel. I don't know what I am going to do.
"We need a toilet and we can't keep knocking on doors and asking if we can go.
"When we asked why we had been evicted, they said it was because of the animals, they accused us of being dog breeders.
"They also said it was due to anti-social behaviour because of things like swearing. I don't think that has grounds for eviction."
A Stoke-on-Trent council spokesman said: "A possession order was obtained to evict an occupant at the Linehouses site due to continual breaches of their pitch agreement.
Read More on The Sun
Gaz Beadle's wife hits back after she's mum-shamed over car seat
Nursery teacher reveals there are five types of mums when it comes to drop off
"Officers have been trying to work with the family for the past four years to resolve the breach of conditions.
"Teams from across Stoke-on-Trent City Council, support agencies, and the citizen's advice bureau have been working to provide support to the individual and her family to secure temporary accommodation."

Source: Read Full Article