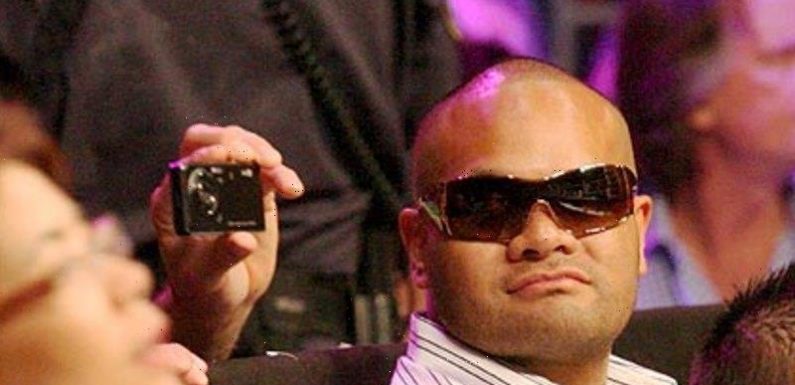 High-ranking Australian outlaw bikie boss Duax Ngakuru has been covertly recorded boasting how he and fellow crime figure Hakan Ayik wield such "power and influence" in Turkey they are untouchable, according to an international criminal investigation.
The investigation was led by the Australian Federal Police and New Zealand organised crime detectives and relied on tens of thousands of messages covertly intercepted by the AFP as part of Operation Ironside, which involved the federal agency's infiltration of the encrypted AN0M phone network.
Bikie boss Duax Ngakuru.
Police documents obtained by The Age and The Sydney Morning Herald reveal how the New Zealand detectives spent years tracking Comanchero boss Duax Ngakuru and his nephew Shane Ngakuru as they co-ordinated a bikie drug trafficking network targeting New Zealand and Australia.
Among the breakthroughs in the investigation was the work of the AFP in Ironside, which gave New Zealand and Australian authorities unprecedented insight into the frenetic and industrial scale of the drug importation business overseen by the two Ngakurus, in close partnership with Ayik.
With Ironside, the AFP and the FBI created an encrypted phone platform the agencies could secretly monitor and which was distributed and used by unwitting crime bosses, including Ayik, over three years. It has been described as the "sting of the century" and has led to record drug busts.
Ayik and Duax Ngakuru are hiding in Turkey, their base since 2010. The country's government is facing increasing demands from Australia and New Zealand to extradite the men.
Hakan Ayik photographed a decade ago.
Among the covertly intercepted communications involving the pair and Shane Ngakuru, who until at least recently was living in Thailand, are comments from Duax Ngakuru made on May 17 this year in which he describes Turkey as an ideal haven.
"Duax Ngakuru stated that the AFP had to admit they had lost the war [on organised crime] because Duax Ngakuru and his associates had too much power and influence in Turkey making them invulnerable to law enforcement agencies," the police files state. "Duax Ngakuru talked about being able to get away with murder."
The work of Australian and New Zealand authorities has – especially since Operation Ironside was unveiled publicly in June with sweeping arrests and raids across the globe – made the Ngakurus and Ayik among the most wanted men on the planet, crippling the drug syndicates the trio helped operate.
The police files also reveal how the AFP's infiltration of the encrypted AN0M phone network suggest the Ngakurus and Ayik successfully imported many drug shipments into Australia and New Zealand over many years. On May 17, Shane Ngakuru was covertly recorded using his AN0M phone device to describe sending "methamphetamine to New Zealand, Melbourne, and Perth" from his base in Thailand.
"He indicated that there was demand for cocaine in Australia as well," the NZ police files state. Messages from December 2019 capture Shane Ngakuru plotting to send "cocaine to … Australia and MDMA to his New Zealand contacts through DHL couriers".
In a message from February 2020, Shane Ngakuru discussed "sending 15 kilograms to Australia but only 2 kilograms at a time to New Zealand as it is a smaller population".
"They [the Comancheros] were sure the imports would get through past customs," the police files state.
Messages intercepted covertly by the AFP in September 2020 record Duax Ngakuru and Hakan Ayik describing how Ayik "had 12 kilograms of cocaine available in New Zealand" and was seeking "anyone who could take it".
The pair were also recorded discussing how to use contacts in the maritime and aviation sectors to smuggle drugs past authorities.
The revelations about the New Zealand arm of Operation Ironside, which has led to major arrests of gang leaders, come as the AFP on Thursday unveiled the second phase of Ironside. It aims to target up to 160 Australians not swept up in the initial global operation.
In a statement, the AFP said Ironside Phase 2 would also target "companies and professionals who are unknowingly or deliberately facilitating transnational serious organised crime".
The police agency also said the almost 20 million messages it uncovered on the AN0M network had exposed how crime groups were using "dive teams" and "underwater scooters" to retrieve drugs imported via cargo ships.
The messages revealed how Australian criminals had used waste management services to pick up drugs hidden in bins at ports, were relocating and networking offshore to avoid Australian police and were also developing their own encrypted phone platforms.
AFP Assistant Commissioner Crime Command Nigel Ryan said: "It is just a matter of time before we scoop up those who believed they had gotten away with their crimes like the alleged criminals who smashed or burned their AN0M devices."
The Morning Edition newsletter is our guide to the day's most important and interesting stories, analysis and insights. Sign up here.
Most Viewed in National
From our partners
Source: Read Full Article