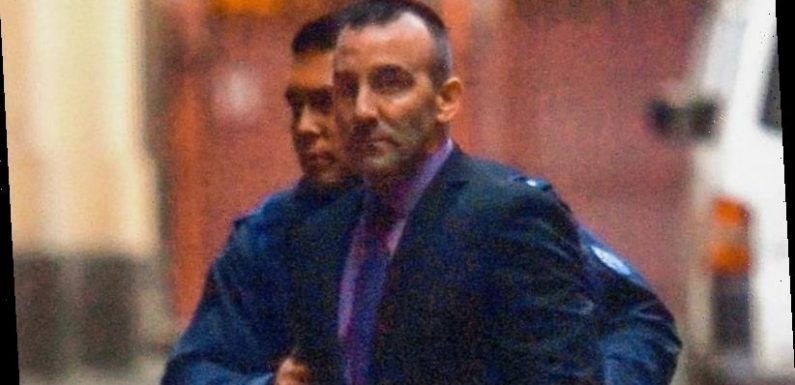 Jason Roberts has made a fresh attempt at getting bail as he awaits retrial on charges he murdered two policemen, as his lawyer cast doubt on whether the judge who ruled against him last year erred in law.
Mr Roberts was in 2002 found guilty of murdering police officers Gary Silk and Rodney Miller in Moorabbin in 1998, but last year had those convictions quashed when the Court of Appeal found police misconduct corrupted his trial.
Jason Roberts, pictured being escorted into the Court of Appeal last year, has made a fresh bid for bail.Credit:Joe Armao
However, he remains in prison as he awaits a retrial which is not expected until the end of this year at the earliest.
The 40-year-old was refused bail a fortnight after his convictions were quashed, and on Friday challenged that decision in the Court of Appeal in a bid to be released after more than 20 years in custody.
Mr Roberts and Bandali Debs were jailed for life after a jury found them guilty of murdering Sergeant Silk and Senior Constable Miller, who were gunned down when they pulled over a car while on a stakeout connected to a series of armed robberies.
Mr Roberts claims he is innocent of the murders and Debs alone shot both officers.
Sergeant Gary Silk and Senior Constable Rodney Miller.
Defence counsel Peter Matthews on Friday argued Mr Roberts was entitled to bail because of the extraordinary circumstances of his case, which included an investigation that found some police officers who comforted the dying Senior Constable Miller had their witness statements revised and backdated and gave false and misleading evidence.
Mr Matthews said 20 years in prison before a fair trial justified bail.
But Court of Appeal president Chris Maxwell said Mr Roberts' original trial, conviction and sentence were considered valid until the appeals court ruled they weren't. He challenged Mr Matthews over whether it was right to classify Mr Roberts' two decades in custody as pre-trial detention.
"You're trying to compare two things which are inescapably different," Justice Maxwell said.
Mr Matthews replied: "We submit that they're not."
"Through the misconduct from an arm of the state this man has not had a trial according to law for 20 years and counting."
Mr Matthews said Supreme Court Justice David Beach, who refused bail in November, put too great an emphasis on submissions by prosecutors that the case against Mr Roberts was strong, that the charges were serious and that he would face a long sentence if convicted at retrial.
Those factors had little bearing on whether bail was warranted, Mr Matthews said, and Justice Beach's decision was a misapplication of the law and "legally incorrect".
"The sheer fact of 20 years is enough to justify exceptional circumstances," Mr Matthews said.
Mr Roberts' lawyer also argued Mr Roberts had suffered profound hardship while in maximum security prison, that he faced onerous conditions while preparing for "the trial of his life", there was no unacceptable risk of him fleeing if released on bail, that a surety was available along with secure accommodation and family support.
Prosecutor Ben Ihle, SC, said Justice Beach's decision to refuse bail should stand as he was an experienced judge who assessed the arguments, and there was no basis to say he erred in law. Mr Ihle submitted the accused's circumstances did not meet the exceptional threshold.
Mr Ihle said the case against Mr Roberts, his charges and possible penalty should be factors in a bail decision as they allowed a judge to assess what sort of prison term would be imposed on a conviction.
The prosecutor acknowledged the hardship of 20 years in prison, but said most of that period was served by Mr Roberts as a sentence, which could be viewed as less burdensome than the time spent on remand awaiting trial.
Mr Roberts watched Friday's hearing via video link as he sat at a table in Barwon Prison, dressed in a black suit and blue tie.
Justice Maxwell and Court of Appeal judges Karin Emerton and Richard Niall will rule on bail at a later date.
Start your day informed
Our Morning Edition newsletter is a curated guide to the most important and interesting stories, analysis and insights. Sign up here.
Most Viewed in National
Source: Read Full Article