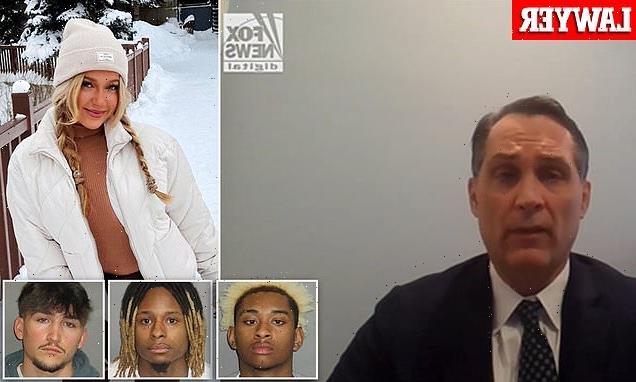 'She was raped. Rape is rape:' Lawyer for family of LSU sorority girl Madi Brooks slams suspects for claiming she was not sexually assaulted before being killed by passing car at 3am
Madi Brooks' family intend to 'set the record straight' after defense said she 'wouldn't have complained' about alleged sex attack if she were alive
Louisiana attorney accused suspects of wanting to 'blame' 19-year-old victim
Defense attorneys are trying to undermine results of damning toxicology report 
The lawyer representing Madi Brooks' grieving family has slammed the defense for alleging she was not raped prior to being mowed down by a passing car. 
Louisiana attorney Kerry Miller insisted 'rape is rape', adding he was 'blown away' by statements from the suspects' representatives that the 19-year-old 'would not have complained' about the attack if she were still alive. 
Madi had been drinking at the infamous Reggie's bar in East Baton Rouge on January 14 when she became so intoxicated she had 0.319g per cent of alcohol in her system – so high it could cause alcohol poisoning or loss of consciousness. 
A coroner confirmed that Madi Brooks died from 'multiple traumatic injuries' when she was hit by a car after allegedly being raped 
Casen Carver, 18, (left) Kaivon Washington, 18, (center) and Everett Lee, 28, (right) were all arrested on rape-related charges together with an unnamed 17-year-old boy
The LSU sorority girl was then reportedly raped by Kaivon Washington, 18, and another 17-year-old-boy who has not been identified in the back of a car before being left in the road where she was hit by a ride-sharing car. 
Both men have been arrested and charged with third-degree rape while two others – Everett Lee, 28, and Casen Carver, 18, have been charged with being accessories to the incident.
Attorneys representing the suspects sparked controversy on Friday after they questioned the toxicology results and insisted Madi had consented to sex.  
But Miller, who is representing Madi's mother Ashley Baustert, furiously hit back on Monday. 
'She was raped. Rape is rape,' Miller told Fox News.
 'It's just a horrific, terrible situation. And to the extent that those involved with the alleged rapist want to blame the victim and show up at press conferences and say things … we're standing up for Madi. 
'That's not right.'
Louisiana's first-degree rape statute carries a mandatory life sentence without the possibility of parole. 
Madi Brooks, 19, died after being hit by a ride-share car at 3am on January 15 when she was dropped off by four men who picked her up at a college bar
Carver is being held on a $50,000 bond, Lee on a $75,000 bond, and Washington on a $150,000 bond.  
But lawyers acting on their behalf have attempted to undermine the results of the toxicology reports which put Madi at nearly four times  over the legal limit.
 In a press conference on Friday Ron Haley said:   The two defendants who engaged in consensual sexual acts with Ms. Brooks, did so after obtaining verbal consent.
'Ms. Brooks left the car on her own volition, saying she would get an Uber. 
'She is seen on video leaving the car, unharmed and in good health. This will be confirmed by video at a later date.'
Mr Long claimed that the charges against the men were filed because prosecutors wanted 'someone to pay' for Brooks' death.  
'We believe that if Ms Brooks was alive, this wouldn't be a crime. She wouldn't have complained about it at all,' he said. 
'There is understandable anger in the community, and [they] want somebody to pay for her death.
'We understand that, but our clients did not [commit a crime.]'
Madison Brooks (left) seen behind the bar at Reggie's with two sorority sisters. She had been drinking at the bar before she was raped and fatally struck by a car on January 14
Her sorority wrote on Monday: 'Madi was a bubbly, loving, and selfless friend. She left an indelible mark on our chapter, we cherish our memories together and we will never forget her. Our forever friend was also a hero, Madi donated her heart and kidneys to save others'
 A memorial has been created for the 'amazing young woman' who had 'limitless potential' by her friends on the highway where she died.
It comes after DailyMail.com revealed that Madi appeared to work at the bar where she met the group – and a TikTok video showed the wild underage antics inside.
Authorities also seized surveillance footage from the bar and nearby businesses which show Madi arriving at the bar at 10.06pm, with Carver, Lee, Washington and the teenage boy arriving at 10.18pm.
Officers say in their affidavit that at 1am Madi was seen sitting on a stool by the counter at the bar before stumbling, and got back to her feet with the help of the men.
At 1.34am she was seen sitting on a bench by the entrance door before falling again,. The teenager approached her, removed her cap and helped her get to her feet.
The group was seen leaving the bar at 1.49am, with the vehicle last seen at 1.59am. Carver told police that the 17-year-old and Washington both had sex with the victim in the back seat of the car.
Madi was dropped off less than a ten-minute car journey from the bar before being hit by the ride-share car at 2:50am.
Carver, who was driving the vehicle, told cops that he asked Madi where her friends were, but she said she did not know and appeared 'drunk'.
He added that Madi gave 'verbal consent five times' to the 17-year-old before he had sex with her in the back of the car, with Washington swapping with the teenager to also have sex with the victim.
During his police interview, Carver denied having ever seen Madi before or knowing her but agreed to give her a ride.
Both Carver and Lee remained in the front of the car while the sex acts were being performed, with Carver telling them to 'stop' before dropping Madi off.
A post-mortem revealed that Madi had 'injuries consistent with previous sexual assault anally' as well as her injuries from the crash.
The fatal accident was the second collision on Burbank Drive, raising questions about the safety of the area.
Ethel Wesly, 71, was killed in the same week, with locals arguing that there needs to be more lighting, sidewalks and a lower speed limit.
More lighting is also planned for the entrance to the Pelican Lakes subdivision on Burbank where Madi was killed.
East Baton Rouge Police Department confirmed that the vehicle's driver would not be charged as he was not impaired and contacted emergency services immediately
A memorial has been created for the 'amazing young woman' who had 'limitless potential' by her friends on the highway where she died
Source: Read Full Article