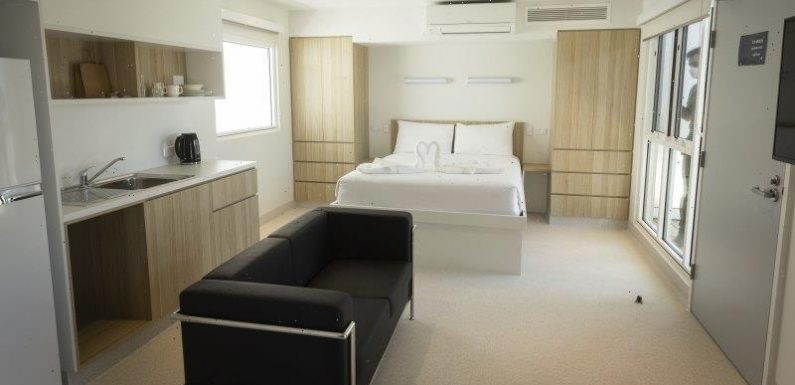 Talking points
In two months, the Mickleham quarantine facility has accepted only a fraction of Victoria's 180,000 overseas arrivals. 
With the state government preparing to ease even more restrictions, it's likely international quarantine will be scrapped.
One epidemiologist says the hub could still be useful if there's an increase in infections in winter.
Victoria's purpose-built $200 million quarantine facility has welcomed just 200 international travellers since it opened in late February, 0.1 per cent of the 180,000 overseas travellers to arrive in the state over the period.
The figures provided to The Age raise questions about the accommodation centre's future as Victoria prepares to scrap lingering coronavirus rules, including mask mandates and the vaccinated economy.
Guest rooms at the Mickleham quarantine facility. Credit:The Age
COVID Quarantine Victoria, which oversees the state's quarantine program, said a total of 688 people have been put up at the 500-bed Mickleham quarantine complex on the northern outskirts of Melbourne since it opened, including 311 community members, 200 returning overseas travellers, 171 maritime crew and six frontline workers. Since the beginning of March, there have been more than 180,000 international arrivals to Victoria, according to Melbourne Airport.
Under current requirements, international arrivals without two doses of an approved COVID-19 vaccine must quarantine for seven days at Mickleham at their expense. Vaccinated travellers only need to isolate on arrival and get tested.
Construction of the Victorian Quarantine Hub finished just as Australia finalised its vaccination rollout and began easing restrictions, including for incoming travellers, prompting concerns at the time it risked becoming a white elephant.
Deakin University chair of epidemiology Professor Catherine Bennett said the requirement for unvaccinated travellers to quarantine was redundant, when Victoria was recording about 10,000 new infections per day.
"I think the same rules should apply for all," she said. "There should be a focus on testing, do some more PCR [tests] on arrival, so we can track genomics."
Bennett said the Mickleham hub could still be useful to the community as an "insurance policy" for a possible increase in infections in winter. The centre could take some of the load off hospitals if there is a surge in cases, she said, or focus on diseases other than COVID-19.
"We used to have an infectious diseases hospital, there's a real place for it," she said. "We've struggled for years to manage other infectious diseases in aged care. If we broaden beyond COVID-19, there would be enough use going ahead to keep it viable."
The Andrews government announced it was examining purpose-built quarantine facilities in February 2021 when it was under intense political pressure after plunging Melbourne into a snap five-day lockdown following a leak out of the Holiday Inn, used to quarantine returning travellers.
It was just a few months after Victoria brought the deadly second wave of the coronavirus pandemic, sparked by failures in hotel quarantine, under control and the program resumed following a months-long suspension.
Three days after imposing a snap lockdown in February 2021, the Victorian Premier said hotels should not be used to house potentially infected travellers and implored the Commonwealth to take greater responsibility for isolating international arrivals.
After much resistance, the federal government agreed to pay the $200 million cost of building the facility at Mickleham. The state government has assumed responsibility for ongoing operating costs, however it has declined to say what they might be.
By the time construction on the quarantine hub finished, Victoria had put an end to mandatory isolation requirements for most travellers and slashed the quarantine period from 14 to seven days for unvaccinated arrivals. The highly infectious Omicron strain had also taken hold in the country, leading to tens of thousands of cases in the state every day.
There have been more than 5.3 million infections recorded in Australia since the start of the pandemic, with the vast majority since December when Omicron was detected.
More than 70,000 people were accommodated in hotel quarantine between December 2020 and March 2022, including 32,000 international arrivals.
A Victorian government spokeswoman said the Mickleham facility would be used to house people fleeing disasters when the pandemic is over, including emergency accommodation for Ukrainians fleeing the war.
"We've implemented an adaptable operation model that ensures resources at the facility are scaled down to align with changes to health directions," the spokeswoman said.
"Our quarantine processes are guided by health advice, and directions remain in place imposing quarantine on those arrivals who do not meet the Commonwealth's standards for full vaccination."
Mandatory quarantine for unvaccinated returned travellers could end as soon as July 12, when the pandemic declaration is due to expire.
The Age this month revealed the Andrews government was preparing to scrap lingering COVID-19 restrictions, including mask mandates for school children and hospitality workers, and opening the economy to the unvaccinated within weeks.
The Victorian public health team is discussing whether most of the changes can be made at the end of this month, when the peak of the current wave of the Omicron BA.2 subvariant is expected to subside, or wait until around July 12.
A senior government source said officials had always expected this month's declaration to be automatically extended, but conversations were under way on whether the declaration will be prolonged beyond July 12. They said there was an appetite to end the pandemic declaration in three months, contingent on how the pandemic plays out over the winter period.
By mid-July, the Department of Health team will have a reasonable overview of the impacts of the cooler months and whether further restrictions are necessary.
COVID Quarantine Victoria will maintain its current operations for the Mickleham facility until then to prevent a premature scaling, but there is a view held in government circles that July 12 could be a watershed moment for scrapping remaining COVID-19 rules. Extending the pandemic orders indefinitely could pose a political headache for a government heading to the polls in November.
If Premier Daniel Andrews did decide to extend the pandemic declaration for another three months, it would expire in mid-October – around the time the election campaign officially kicks off. Labor hopes to put the coronavirus pandemic behind it come election time.
The Morning Edition newsletter is our guide to the day's most important and interesting stories, analysis and insights. Sign up here.
Most Viewed in National
From our partners
Source: Read Full Article