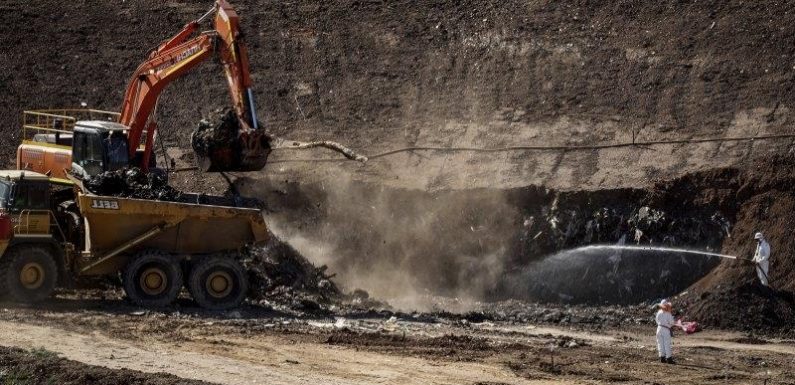 The operator of a landfill in Melbourne's west, where a fire has been burning underground for three years, has had its licence permanently cancelled, and it has revealed it will take up to another 18 months to extinguish the fire.
Residents in the Kealba and Sunshine area have suffered noxious smells described as "rotting corpses" from the McIntyre Road dump site since four underground fires started in November 2019.
Crews working on the smouldering landfill in September last year.Credit:Darrian Traynor
One, which started beneath a 30-metre pile of construction waste, continues to burn, with houses as close as 80 metres from the tip.
The Environmental Protection Authority announced on Wednesday that it was cancelling Barro Group's licence to operate the tip after the company missed three key deadlines to extinguish the fires and made a "shocking" admission last month.
Last October, Barro Group told a community meeting it was nearing 90 per cent completion of the mop-up job, which involves digging up hundreds of cubic metres of hot rubbish each day to try to reach the fire burning at the bottom.
But in late December, lawyers acting for the company sent the EPA a preliminary report saying an additional 90,000 to 100,000 cubic metres of material may need to be excavated to extinguish the final hotspot, which could take an additional 12 to 18 months on top of the 38 months it has already been smouldering.
"This new information contradicts earlier advice Barro Group has provided to the EPA and the community about the time required to extinguish the remaining hotspots," Lee Miezis, chief executive of the EPA, said on Wednesday.
"As recently as last October, they suggested they were about 90 per cent of the way to extinguishing the hotspots and expected to be complete by the end of 2022.
"So, it is inconceivable that they should suddenly have discovered this huge additional amount of waste and the apparent need for another year and a half to remove it," he said.
"How this has changed in two months is shocking, surprising, and we are taking action."
Photos taken of the landfill in February 2020.Credit:Jason South
The landfill, which is only licensed to receive "inert" industrial waste such as concrete and carpet, stopped receiving new waste when its licence was first suspended in September 2021.
After missing three clean-up notice deadlines over three years, Barro was issued a show-cause notice by the EPA in October and asked to justify keeping its licence.
Barro does not operate any other dumps but still owns the land despite Wednesday's licence cancellation.
Miezis said the cancellation of the licence didn't let Barro off the hook and the group was still obligated to clean up the site and extinguish the fires.
"In addition to issuing the notice of revocation, they've been issued a new environmental action notice," he said. "They still have a legal obligation to remedy this."
Resident Marian Pham, who lives about one kilometre from the landfill, welcomed the licence cancellation but said the news was a double-edged sword.
"We have worked so hard just to get their licence cancelled and that was our main focus because we assumed the fires would be out by now," she said.
Another 18 months of remediation meant "more odour, more headaches, more nausea, more asthma and more reporting", she said.
"We'll now reset and our focus becomes, 'how do we get them to work faster?' I would like to see local government, state government and the EPA push Barro to get these fires out even faster."
Brimbank councillor Virginia Tachos, who has worked on the issue for years, said the cancellation of the licence was "massive" news and that the state government should review the Sunshine landfill before it approves any more landfills in the future.
"No one deserves to go through what our community and in the west has gone through – no one," she said.
"I truly want the government to stop using the west as dumping ground and really consider more regulation around these inert landfills. We want to avert these kinds of disasters."
The EPA is seeking community input until February 17 to update its guidelines on recommended buffer zones around landfills from 200 metres to 500 metres for inert waste and from 500 metres to 1.5 kilometres for landfills taking household garbage.
In 2006, Barro Group was turning over $50 million a year and its chairman was worth $450 million.
Barro Group and state Environment Minister Ingrid Stitt have been approached for comment.
The Morning Edition newsletter is our guide to the day's most important and interesting stories, analysis and insights. Sign up here.
Most Viewed in National
From our partners
Source: Read Full Article