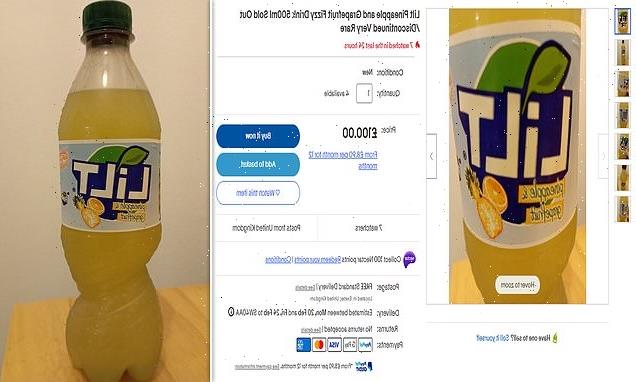 Now soft drinks fanatics flog Lilt for £100 on eBay after the 'totally tropical' fizzy drink was 'cancelled' and rebranded as Fanta
Bottles of the soon to be discontinued soft drink Lilt are being sold for £100 
Read more:  Fans reveal their heartbreak over axing of Lilt through memes
Fan-favourite Lilt is being flogged for up to £100 on eBay as consumers rush to stock up on the fizzy drink before it is discontinued. 
An entrepreneurial super-fan has cashed in on the furore and has listed a 500ml bottle of the pineapple and grapefruit fizz on eBay for £100. 
Soft drinks giant Coca-Cola announced on Tuesday that the tropical soda would be re-branded as a new flavour of Fanta. 
The move comes after the Lilt advertising came under fire for 'cultural appropriation' over its Lilt Man parody adverts in the late 1980s and the Jamacian Lilt Ladies in the 1990s.
Lilt drinkers have paid tribute to the fizzy pop with memes and some have taken their commitment to the brand even further, with one man from London offering £100 for someone to bring him 20 cans.  
The tropical fizzy soda will become a new Fanta flavour but fans have been expressing their concern that the drink has been 'gentrified' online 
A super fan has put a 500ml bottle of Lilt for sale online for a whopping £100 after it was announced that the brand would be discontinued 
The half-litre bottle is described by the eBay seller as 'delightful and refreshing' and potential buyers are encouraged to enjoy the taste 'one last time'. 
'Lilt grapefruit and pineapple drink. Totally tropical taste. The legendary drink has stopped production.
'The last bottles before it disappears forever get your last taste of that lovely Lilt before it becomes a distant memory of the past.
'A delightful and refreshing taste brought to you by the Lilt man for over 50 years, the pineapple and grapefruit combination gives you that vibrancy and hint of Caribbean flavours.
Read more: Fans reveal heartache through memes as Lilt is axed 
The seller said it was a 'travesty' that the 'iconic' brand was being changed.  
'Absolute travesty this will be a Fanta line now, never forget Lilt and enjoy it one last time before it becomes history.
'Just like opal fruits and marathon bars, they change these iconic items.'
The tangy drink was launched in 1975 with the strapline 'The Totally Tropical Taste' and was only sold in the UK, Ireland, Gibraltar and the Seychelles. 
Coca-Cola Europacific Partners said the flavour of the drink will not be changed as it becomes Fanta Pineapple and Grapefruit. 
But this hasn't completely reassured fans, who have expressed their concerns online through viral memes.
Love Island contestant Georgia Townend said the soda had succumbed to gentrification. 
'Our rational minds told us this day may come, but our hearts always held onto hope. Our beloved Lilt has succumbed to gentrification of the worst kind,' she tweeted alongside a screenshot of a sponsored Fanta advert.  
Another user posted: 'Farewell sweet Lilt' alongside a photo of a Lilt bottle edited next to Paddington Bear.
The seller of the 500ml bottle of pineapple and grapefruit pop said it was a 'travesty' that the 'iconic' brand was being changed
One user wrote: 'RIP Lilt. I'll remember all those times we shared together when I was mixing you with Glenn's vodka at the back of the 501 bus to Watford.' 
Another meme included a can of Lilt edited with a picture of BBC soap EastEnders's Phil Mitchell with the caption 'Me having my last Lilt'.
One user put the soap opera's Ian Beale to use by posting a photo of the character crying, with the caption: 'Takeaways in Britain now that Lilt is being discontinued.'
And some fans have taken drastic measures to try and shore up their supply before the fizzy pop leaves stores. 
Lilt fans demonstrated their heartbreak through hilarious memes after it was announced the soft drink was being replaced
A Londoner offered £100 in cash in a bid to source 20 cans of the beloved pop for his father, according to MyLondon. 
Tom P, who is based in Charing Cross, wrote in a request on Airtasker that his father had been a 'massive fan' of Lilt and was trying to stock up. 
'Urgent task! I am looking for someone to source 20 cans of original Lilt as quickly as possible and deliver them to me before the Fanta rebrand takes over. 
'My dad was a massive fan of Lilt as a kid and wants to stock up before they're all gone!'
Source: Read Full Article