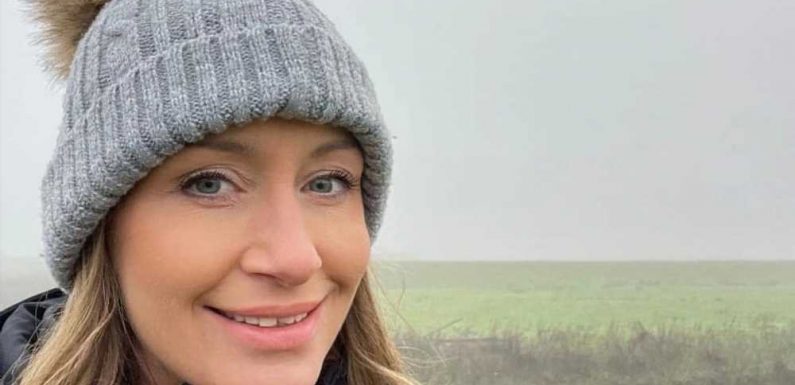 THE search for a missing mum-of-two who vanished almost a week ago has ramped up today as police sealed off the scene.
Nicola Bulley, 45, was last seen walking her dog in St Michael's in Wyre, Lancashire, at around 9.15am on Friday.
Police today cordoned off a footpath that leads to a bench where Nicola's phone was found still connected to a work call.
Her springer spaniel Willow was also found looking "agitated" in the area with her harness off.
The search for Nicola appears to have ramped up as specialist teams focus on a stretch of river just feet from the bench.
Divers have been seen entering the water where the mum was last seen walking along the towpath.
Read more on the case
5 unanswered questions in Nicola Bulley's disappearance as search enters sixth day
Kids beg 'when is mummy coming home' after she vanished by river 6 days ago
Helicopters, sniffer dogs and drones are also being used to assist with the search.
Lancashire Police confirmed today they are "keeping a really open mind about what could have happened".
But they added: "At this point there's no suggestion of third party involvement.
"It's being treated as a missing person enquiry.
Most read in The Sun
Huge shake up to football ownership leaked – what it means for your club
Molly Mae Hague fans horrified as they work out how much baby Bambi's cot cost
Parents of missing mum fear someone 'got her' as they reveal last chat with her
Amanda Holden goes braless as she leaves radio show in bright red outfit
"There is no further update and enquiries remain ongoing."
The development comes after her parents Ernest, 73, and Dot, 72, expressed their fears somebody has "got" her.
They also revealed their "dread" at the thought of not seeing Nicola again and spoke of their heartache for her children.
Dad Ernest told the Mirror: "We don't know how long we can keep going before they realise, they think mummy is coming home soon, but if this keeps going on and on I don't know where we are going to go or what to say to them."
Mum Dorothy said Nicola's partner Paul Ansell told the kids at the weekend "Mummy's lost", causing them to break down in tears.
A timeline charting the minutes before Nicola's disappearance has begun to form.
The mum-of-two had taken her daughters, aged six and nine, to school then headed out on her regular morning dog walk.
At 9.01am, Nicola's employer, Exclusively Mortgages, said she had logged on to a team meeting but her camera and microphone were off.
She was last seen walking east along the towpath of the River Wyre at 9.15am on January 27.
A woman has now revealed how she raised the alarm after discovering a "worried" looking Willow running alone.
She also found her dog lead and harness and Nicola's phone on a bench heading towards Wyreside Farm Caravan Park.
The business owner said: "The dog looked worried so I tied her up and rushed home as I had to go to an appointment.
"I then went and spoke to my daughter-in-law and she immediately knew who the dog was, alerted the woman's partner and that was it – the police were on it."
Nicola is local to the area and regularly shared images of her walks with Willow along the river on app Strava.
Her last post on November 7 shows her walking her along the bank in the same route she is understood to have been on when she vanished.
Nicola has been described as white, 5ft 3ins tall with light-brown shoulder-length hair
She was last seen wearing a long black gilet jacket with a hood, black jeans and olive green ankle wellies with her hair in a ponytail.
Nicola has an Essex accent and links to the Thornton-Cleveleys area near Blackpool.
Anybody with information about where she might be is asked to call 101, quoting log 473 of January 27.
Read More on The Sun
Mum spots a creepy detail whilst looking back at the snaps of her baby boy
I've saved £1,000 on rent living in a 5-bed house for free – how you can too
Source: Read Full Article