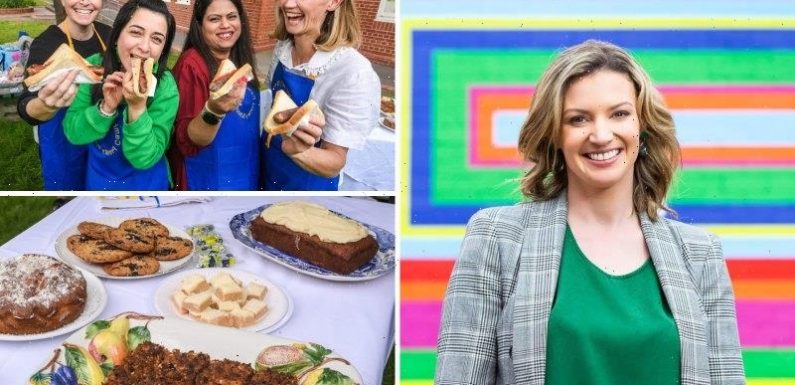 Key points
Camberwell South Primary School sold 700 sausages and 200 cakes for the federal election and parents have been asked to bake more for the state election. 
Democracy sausage prices on offer range from a bargain $2.50 at Upper Ferntree Gully Primary School and Footscray North Primary School to $4 for a premium sausage at Kew Primary School. 
Fancy a Katie Hall protein ball? Perhaps a Matcha Guy cookie or Dinkum Dan doughnut is more to your liking.
Voters passing the cake stall at Footscray City Primary School on election day will be tempted by a feast of political puns in addition to cupcakes.
Footscray MP Katie Hall is one of the politicians that has inspired polling booth snack word play; Parents with their democracy sausages at Camberwell South Primary School on Thursday; and plates of cakes and biscuits at the Glen Iris school.
Parents at the school have been busy baking and thinking up names to rival the gems they came up with at the federal election, when the school sold Angus Beef (Taylor) sausages, Tanyal Plibibiscuits, Adam Bundt cake, Carol Brown(ies), and Banana-by Joyce chocolate cake.
"Our community is very articulate and savvy, so we have been working away on names," one organiser says.
The desire to bake and sizzle to raise money for schools is strong across Victoria. If you doubt it, visit Camberwell South Primary School on Saturday, where parents have been baking all week in preparation for their election day cake stall.
Organiser Lyuda Moon says the stall, coupled with a democracy sausage sizzle, is tradition. Having something to eat while lining up to vote, she adds, is an essential part of the election day experience.
Camberwell South Primary School parents Morgan Lacey, Payal Chauhan, Lyuda Moon and Katie McNeill getting ready for election day on Thursday.Credit:Justin McManus
"The sausages have to be ready to go by 8am as everyone wants a sausage first thing," she says. "All they want is their sausage and their cake and then they will vote."
The primary school sold 700 sausages and 200 cakes at the federal election and the cake stall had sold out by 11am, so this time Moon says parents have been asked to bake more.
"The more we bake, the more we will sell, the more money we will raise for the school," she says. "Public schools don't get much funding, so the fundraising is very important. It is quite an old school, so there is always something to update or upgrade."
The cake stall is going to be stocked with old school treats including orange cake, banana bread, chocolate cake, lemon slice, chocolate brownies, caramel slice, chocolate chip cookies and melting moments.
Baked goods on display at Camberwell South Primary School's cake stall. Credit:Justin McManus
"The weather is going to be nice and warm, so we are expecting a huge crowd," Moon says.
Camberwell South's sausages will be $3 each, with prices charged by schools surveyed by The Age ranging from a bargain $2.50 at Upper Ferntree Gully Primary School and Footscray North Primary School to $4 for a sausage at Kew Primary School.
Olivia Kurcyzcki from Kew Primary says the school's gourmet sausages are worth the higher price because they are "really big" and come with sauce and onions.
The school will sell egg and bacon rolls until 10am when 1000 sausages will hit the barbecue, but Kurczycki warns they will sell out.
"Definitely come early, before midday, because you don't want to miss out," she says.
Anna Smith is organising the barbecue and cake stall at Spensley Street Primary School at Clifton Hill and she is making sure the school's offerings cater to local dietary preferences.
"We are cooking 1000 sausages and about 100 vegie burgers," she says. "We have loaded up on soy milk for the coffees as well."
There will also be a fresh produce stall stocked with avocados donated by a school grandparent.
At South Melbourne Park Primary School organisers are planning to give a festival like vibe to election day with a barbecue and "baked goods bonanza".
The school is planning a cultures-around-the-world theme and asking families from various countries to bring culturally based sweets for the cake stall.
"We will have a coffee van and one of our Dad's DJing: DJ Daddy Steve," business manager Christine Priddle says. "Definitely come in the morning to vote, based on the federal election all the cakes were gone by lunchtime."
The Morning Edition newsletter is our guide to the day's most important and interesting stories, analysis and insights. Sign up here.
Most Viewed in National
From our partners
Source: Read Full Article