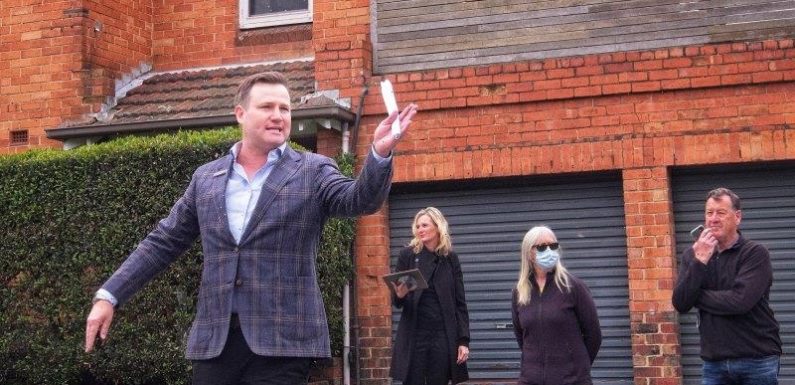 The price of a typical house in Melbourne has multiplied by 22 in the past 40 years, almost three times faster than wages, with advocates warning that women were bearing the brunt of the affordability crisis.
Analysis by social research firm McCrindle shows the gap between booming house prices across Australian capital cities and the earning capacity of workers is huge and growing.
Melbourne property prices increased the most since 1981, while Sydney has remained the most expensive housing market overall.
McCrindle founder Mark McCrindle said the rise in two-income households had boosted relative borrowing power for some families, but this had also widened a social divide.
"It is meaningful to look at the increase in the earnings-to-housing ratio because while some are able to combine two incomes, others get the Bank of Mum and Dad involved, and others might have access to other resources, it's certainly not the case for all," he said.
"Assuming someone has one income to work with, it does mean that the access to housing [ownership] is not as universal as once it was and so it might still be an Aussie dream, but it's only achievable for some."
The report, titled The Fading Australian Dream, combines current and historical figures from the Australian Bureau of Statistics, property analytics firm CoreLogic, and economist Peter Abelson.
Average full-time earnings are now $93,500 – 5.9 times what they were in 1981 – but according to CoreLogic, the median price for a house in Melbourne, where prices have grown faster than any other city, is 21.9 times higher than in 1981 and the median unit price 17 times higher.
Sydney house prices are 16.6 times higher than 1981 levels and unit prices in the harbour city are 13.2 times higher.
In 1981 in Brisbane it was cheaper to buy a house than a unit. Mr McCrindle said this was an anomaly caused by the fact that luxury apartments in the city were virtually the only units in Brisbane at the time.
Auctioneer Josh Stirling accepts bids for a property on Brighton Road, St Kilda on Sunday. The two-bedroom apartment sold for $891,000, which was $100,000 above reserve.Credit:Luis Ascui
Mr McCrindle said the same trends would also apply to the rental market.
"House prices are a proxy for rents so as the house prices go up, so do the rents," he said. "The other thing with a property price growth market, like we currently have, is that you have people who have been happy as landlords just having their place rented out, suddenly selling because the prices are too good to be true, and this is creating some shortfalls."
Tanja Kovac, chief executive of Gender Equity Victoria, told The Age on Sunday that housing affordability was increasingly a gendered issue, with the earnings gap between male and female workers flowing through to women's ability to secure housing.
"When you are a young woman and trying to get your foothold in the market, it's really difficult because of that income disparity, Ms Kovac said.
"Then, adding having a child into that scenario, you take time out of work, out of your superannuation, your employability, your capacity to work full time your capacity to take on opportunities to a more senior level where there's more lucrative pay. It's just impossible."
People over 55, especially women, were one of the fastest-growing groups of homeless people in the 2016 census, and people aged 55 to 64 are one of the biggest cohorts on unemployment benefits.
Jeanette Large, chief executive of Women's Property Initiatives, a Victorian not-for-profit which helps house homeless and at-risk women, said many older women had some asset, making them ineligible for social or public housing but unable to get a mortgage because of their age.
Ms Large said more and more women would find themselves in housing crisis as more members of the baby boom generation hit retirement age.
Fascinating answers to perplexing questions delivered to your inbox every week. Sign up to get our new Explainer newsletter here.
Most Viewed in National
From our partners
Source: Read Full Article