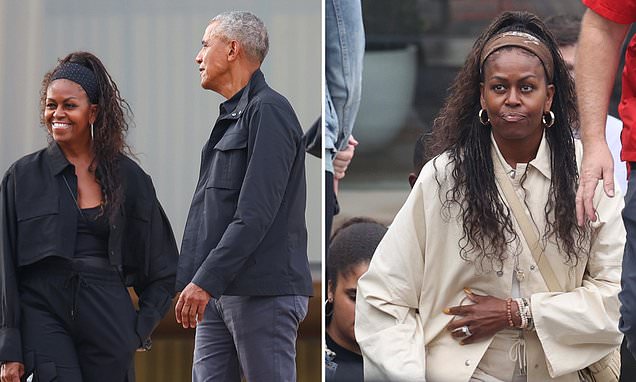 Michelle Obama is all smiles during date at the Sydney Opera House with husband Barack – hours after she was spotted looking less than impressed following long-haul flight to Australia from the US
Former First Lady seen beaming on steps of Sydney Opera House 
She had been pictured looking glum after lunch just hours before 
Michelle Obama was spotted beaming outside the Sydney Opera House with husband Barack yesterday – just hours after she made headlines for looking glum following a ritzy beachside lunch.
The former First Lady and President were photographed on the steps of the Opera House on Sydney's Harbour on Monday evening after they had been given a tour of the iconic venue.
Dressed in an all-black ensemble paired with sunglasses, large hooped earrings and a black headband, Mrs Obama smiled and chatted with US ambassador Caroline Kennedy, the daughter of fellow President John F. Kennedy.
Michelle Obama (left) and husband Barack (right) were pictured on the steps of Sydney Opera House following a tour of the iconic venue
The best-selling author (left) and her husband (right) chatted with US Ambassador Caroline Kennedy (middle, in black and white dress)
Mrs Obama looked relaxed in an all-black ensemble paired with sunglasses, large hooped earrings and a black headband
Mr Obama in a pensive moment outside the Sydney Opera House on Monday evening 
Her relaxed and casual appearance – including a complete outfit change – was in marked contrast to her demeanour following lunch at fine-dining restaurant Bathers' Pavilion in Balmoral on Sydney's north shore earlier in the day.
The best-selling author and podcaster, 59, was pictured looking less than impressed as she and Barack, 61, left the venue.
Footage taken outside the restaurant – where a six-course degustation menu including pink snapper sashimi and handmade fettucine costs $300 – showed the couple greeting dozens of awestruck fans.
Despite failing to make a public appearance with his wife in more than five months, Mr Obama looked ever the statesman, waving at the adoring crowds behind his wife who made a beeline for their waiting car, looking decidedly glum with her arms folded. 
The couple had only just after arrived in Australia on Sunday night by private jet, meaning Mr and Mrs Obama were likely still suffering from jet lag.  
The former first lady was spotted looking less-than impressed following a ritzy beachside dinner with husband Barack in Sydney on Monday, after arriving in the city late Sunday night
Mrs Obama (left) made a beeline for their waiting car while her husband waved at the adoring crowd 
The Sydney Opera House sighting comes after a whirlwind 48 hours in Australia's most populous city for the former president – who is set to speak at the Aware Super Theatre Sydney on Tuesday night for 'An Evening with President Obama'. 
It is the first stage of a whistle-stop tour that will also see the former president speak in Melbourne on Wednesday.
The event offers Australians – willing to spend between $195 and $895 – a firsthand account from the politician on his 'path to success'.
Australian Prime Minister Anthony Albanese  hosted Obama at Kirribilli House on  Monday morning. 
The presidential pair were all smiles as they posed together for the camera, taking in the view by the harbour while holding black umbrellas amidst a subtle drizzle. 
'Honoured to welcome President @barackobama to Sydney,' Albanese captioned  the post to Twitter, which has since been viewed more than one million times.
President Obama's last official visit to Australia was for the G20 Summit in Brisbane in November 2014 – and prior to disembarking a private jet with Michelle on Sunday, had not been seen in public with his wife since last year.
Source: Read Full Article