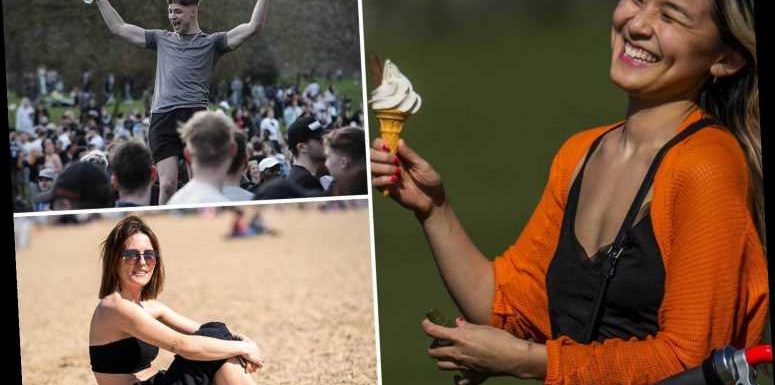 BRITS could bask in record high temperatures this week, smashing the March record of 25C set in 1968.
Bookies Ladbrokes have slashed their odds to 5/6 it will be hotter than Ibiza which is due to reach just 17C later this week.
⚡ Read our UK weather live blog for the very latest news and forecasts...
The Met Office believes today will also be a scorcher with the thermometer hitting 23C in London.
The hottest March day on record was on March 29, 1968 in Mepal, Cambridgeshire, when it hit 25.6C.
The second warmest was 23.6C, recorded in Aboyne in Aberdeenshire, Scotland in 2012.
The mini-heatwave won't last long though as temperatures are predicted to take a nose dive on Thursday as a cool front moves in from the North.
London is expected to only reach 15C and Good Friday is on course to be even cooler still at just 12C.
A Met Office spokesman said: "On Tuesday, there will be a chilly start with a touch of frost in some areas but then the sunshine will get to work and we may well see temperatures of 22C or 23C in East Anglia and the south east.
"On Wednesday, the cold air from the north will start to move down but for the south east it will be warm again with a potentially record-breaking day in store and temperatures of 24C."
The sunny spell comes just in time for the easing of lockdown restrictions – with six pals allowed to meet outside and the stay at home order ditched from yesterday.
Elsewhere, temperatures will be above 20C across southern and central England, and in the high teens in the north.
Met Office chief meteorologist Andy Page said: "In sheltered central and southern parts of the UK, weather conditions will be much calmer with temperatures climbing in the March sunshine to highs into the low 20s, with the possibility of 24C in southeast England by Tuesday."
This week's mini-scorcher comes at the perfect time as Britain enters the next stage of its roadmap out of lockdown.
Two households can socialise in parks, gardens and beaches once more, while outdoor sports facilities can reopen.
Football and cricket pitches, tennis and basketball courts, outdoor swimming pools, golf courses and sailing clubs are now free to reopen after months of being shuttered.
Organised team sports can also resume outdoors, meaning grassroots competitions can take place ahead of the Easter break without the need for social distancing.
The warmth could continue well into April – in time for the reopening of hairdressers, non-essential retail and boozers.
But Brits may first face cold air from the north over Easter weekend, bringing a dip in temperatures.
The Met Office told The Sun Online things will "take a bit of a tumble from Thursday" with cloud and some showers spreading to most areas.
Temperatures likely to be around or below average for the time of year, continuing over the Easter weekend.
There is even the potential for widespread overnight frosts.
Source: Read Full Article