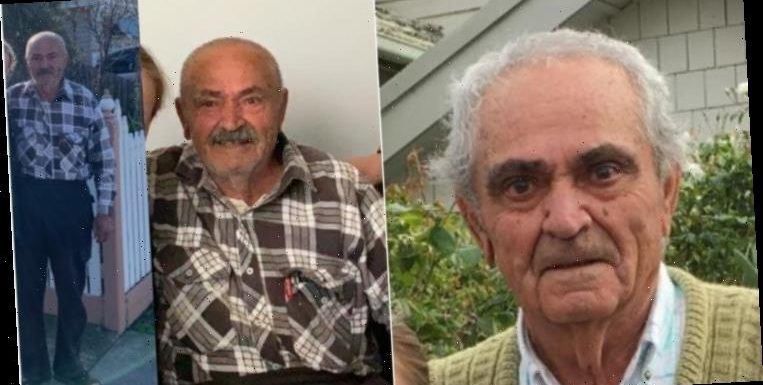 Police are pleading for information about the murder of an 87-year-old Melbourne man who was brutally bashed and left for dead in his Coburg home by a 'cowardly and callous thief'.
Detectives say the Coburg man was left lying on the floor with critical injuries for up to five and a half hours before he was found by a family member. He later died in hospital.
Kon Kritikos was home alone at his Reynard Street property in Coburg on November 11 when he was bashed.
Kon Kritikos was seriously assaulted on November 11 last year and found at his Reynard Street property by his son just before 11pm.
Homicide squad detectives now have evidence to suggest the man was assaulted between 3.30pm and 5.30pm that day.
Mr Kritikos was taken to hospital with but died on 24 November, 13 days after the attack.
Detectives spoke to a 57-year-old Coburg man and a 45-year-old Kurunjang woman who were at the home when police arrived on the night.
Both the man and woman were known to the victim and were released pending further enquiries.
No one has been charged in relation Mr Kritikos' death, but Victoria Police Homicide Squad Detective Inspector Tim Day said the woman remains a suspect in the "brutal" fatal bashing.
Witnesses have told police a woman was seen at the property earlier in the day, and Detective Inspector Day said "we believe it is likely that the same woman seen at the property earlier that day was the same woman police spoke to on the night Kon was discovered".
He told reporters on Saturday the Coburg man was "vulnerable and home alone" when he was attacked, with Mr Kritikos lying critically injured in his home, "no doubt terrified and in pain" for hours unable to call for assistance.
"He was a man of impeccable character, who was much loved, worked hard and paid his taxes," Detective Inspector Day said.
Detective Inspector Tim Day.Credit:Luis Ascui
"(Mr Kritikos) contributed to society his whole life, only to have that life snuffed out by a heartless, cowardly and callous thief.
"This was an incredibly violent attack on one of the most vulnerable members of our community.
"Potentially he was lying there for five and a half hours before approximately around 11pm, Kon's son arrived and emergency services were called.
"Kon was at home alone, with his wife in hospital, and there was no forced entry to the premises. Both of these elements in part lead investigators to believe it is likely that someone Kon knew was involved in the fatal assault."
Detective Inspector Day said he did not believe the man's killer would have the "courage or the dignity" to come forward about their actions, but he would "like to be surprised".
"I am, however, committed to finding the person or persons responsible for this, and on this, I believe it's only a matter of time.
"If you have any information, I urge you to come forward and contact Crime Stoppers."
Homicide Squad detectives are calling for anyone who may have seen anything at the property, have knowledge of the incident or have had discussions about the specifics of Mr Kritikos' death to come forward.
Investigators are particularly keen to speak to anyone who may have seen a woman at the address during the day of November 11.
The investigation is ongoing and anyone with information is urged to contact Crime Stoppers on 1800 333 000 or submit a confidential crime report at www.crimestoppersvic.com.au
Most Viewed in National
Source: Read Full Article