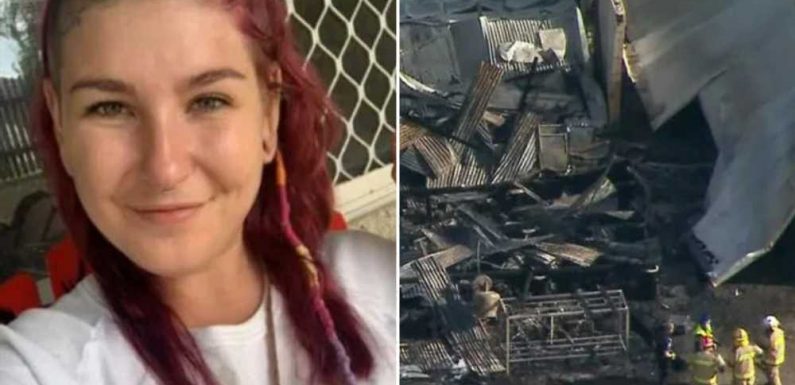 AN OnlyFans model has been charged for the murder of a daughter and father whose charred bodies were found amongst the burnt wreckage of a shed.
Kristen Olsen, 24, is accused of deliberately starting a fire that killed Kirra Mooney, 10, and her father Todd Mooney, 54, on December 20 in the rural town of Biggenden, Queensland.
Their deaths were initially ruled as a "terrible tragedy" before post-mortem results suggested something more sinister and police launched a homicide investigation on December 29.
Olsen, who refers to herself as a "barefoot little gypsy", was charged as the sole suspect on Friday with two counts of murder and one count of arson.
Living out of a van, the hippie creator and travel blogger had recently told her followers that she was "back, bigger and better than ever" as she continued on a journey "where my feet take me."
"These two foot falcons have led me to the heart of Far North Queensland … a town surrounded by jungle … where I am able to be myself," she wrote in a Facebook post.
Read more on OnlyFans
I'm a nerdy hippie with a farmer family – I've made over a million from OnlyFans
Brit OnlyFans star, 25, dies before her baby son's first Christmas
The shocking murder occurred just as Todd Mooney, a local baker, was due to wed his long-term partner on the property later in the week.
The killings appears to be gruesomely random as Queensland Detective Inspector Gary Pettiford alleges that there are no known links between the victims and their suspected killer.
Although, Olsen is said to have attended school in Biggenden and visited the town frequently in recent years.
The detective has not yet confirmed a motive or whether the victims were killed before or after the fire.
Most read in The Sun
Harry was allowed to leave RAF base when random drug testers arrived
Jessie J reveals she's pregnant after miscarriage heartache
David Beckham's son Romeo joins Brentford on loan from dad's team Inter Miami
I'm a royal expert… what Harry won't say about rivalry with 'arch nemesis' Wills
Police are still searching for further evidence to build their case, including divers searching for clues in the nearby springs.
Olsen will appear in Maroochydore Magistrates Court on Saturday and in court in Maryborough on Monday.
Source: Read Full Article