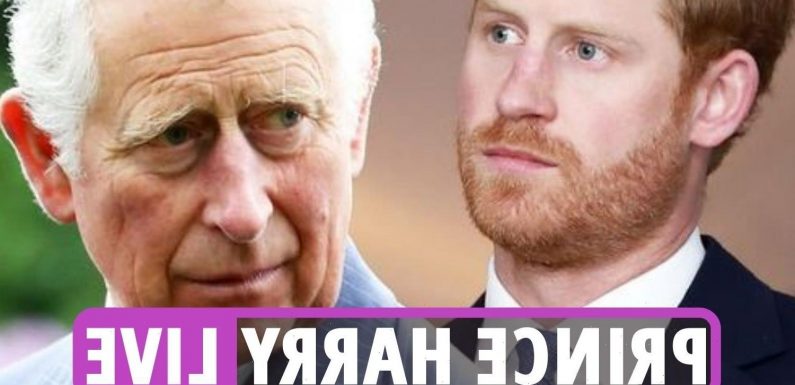 PRINCE Harry's frustrations reached a level that forced him to seek out his ex-girlfriend to complain about the Royals, an expert has claimed.
Author of The Palace Papers, Tina Brown, dropped a number of Royal bombshells on her podcast while talking about the Royal family.
Brown claims the Duke of Sussex ranted so much to his ex-girlfriend, Cressida Bonas, that she suggested he seek professional help with MI6.
She suggests his frustrations stemmed from William "hogging the best briefs".
She expanded: "When Harry wasn't obsessing over William, he was moaning about the Prince of Wales."
The author claimed a friend of the royals described Harry as "a very, very angry man."
Read more on our blog to find out the latest news and updates on your favourite royals…
Ije Teunissen-Oligboh




Entitled William threatened nanny as a child

Prince Harry often gets branded the difficult child, but William was actually the hard one.

As a toddler, Prince William threatened his nanny.

Author of The Palace Papers, out today, Tina Brown describes how difficult William was and that even the Queen would complain to Prince Philip their grandson was out of control.

Brown writes in her book that William would often begin sentences saying "When I am king I will make a rule that…"

The young prince would often say to his nanny, Barbara Barnes: "No one tells me what to do! When I am king I will have you punished!"

Ije Teunissen-Oligboh




Meghan has no intention of coming back – she disliked England

Harry may have plans to eventually return to the UK.

Tina Brown, former editor of Vanity Fair, has said Prince Harry may return to the UK when the Queen dies.

It's suggested he will split his time between the US and the UK, but the Duchess of Sussex and their children will remain in the US.

She elaborated: "I don't see Meghan ever wanting to go back. She disliked England."

Ije Teunissen-Oligboh




Eugenie publicly celebrates her grandmother

The Queen had her 96th birthday four days ago.

Many chose a variety of ways to celebrate the Queen's 96th birthday ahead of her Platinum Jubilee this year.

Her granddaughter, Eugenie, took to Instagram to share birthday wishes for the monarch.

Princess Eugenie as known to be very close with her first cousin, Prince Harry, another who has a 'special' relationship with the Queen.

View this post on Instagram

A post shared by Princess Eugenie (@princesseugenie)
Ije Teunissen-Oligboh




Trump under fire for comments about the Royal Family

Piers Morgan launched is new programme on TalkTV last night.

Piers Morgan Uncensored aired for the first time last night on TalkTV with an an interview with former president and disgraced businessman, Donald Trump.

In the interview with Piers, Trump who has been fined $10k and is in contempt with a Judge for refusing to turn over evidence, slated Prince Harry as a 'disgrace'.

He went further: "the Queen should strip [them] of their titles."

Ije Teunissen-Oligboh




She's funny, but what really makes the Queen laugh?

At 96-years-old, the Queen has lived through a lot of hard times, but she manages to stay upbeat.

In the last 20 years, the Queen's husband of 70 years died, one grandson chose to leave The Firm, a son was accused of sexual offences, her sister died and her mother died – the last two within two months of each other.

And yet, the Queen continues with her duties and stays upbeat with many saying she has a great sense of humour.

According to the BBC, she is good at laughing things off. Royal historian said: "Laughing things off has been an important survival technique."

Prince Harry says his grandmother's best quality is her sense of humour.

Ije Teunissen-Oligboh




70 years' reign of course equals more drinking!

Priti Patel confirmed pubs will be allowed to stay open for longer over the Jubilee weekend.

The temporary extension will not apply to supermarkets and off-licences.

Pubs can currently stay open until 11pm but will be allowed to operate until 1am over the celebratory weekend.

The Home Secretary said: "It will people the chance to raise a toast to Her Majesty's incredible service."

Ije Teunissen-Oligboh




Thomas Markle vows to attend the Queen's Jubilee

Father of Meghan Markle plans to fly to the UK for the Queen's celebrations.

Estranged father of former actress, Meghan Markle, has vowed to attend the Queen's Jubilee celebrations.

Despite no evidence of an invitation, Markle intends to fly to the UK for the events.

Prince Harry has been invited, along with the Duchess and their two children, but it remains unclear whether they will be present.

Ije Teunissen-Oligboh




Queen driven by undeniable sense of Royal duty

According to body expert, the Queen is driven and carries her own forcefield around her.

Speaking on behalf of Betfair Casino, Darren Stanton explained the character traits the Queen has shown since the early years of her reign.

Analysing her body language to mark her 96th birthday, Stanton highlights the monarch's ease to adopt authority with just her body language.

He expanded: " [she] has always adopted a sense of authority in her posture – almost like she was destined to reign.

"She remains determined to carry out her royal duties to the best of her ability – that hasn't changed."

Ije Teunissen-Oligboh




Kate & William praised for paying respects Anzac Day service

Kate Middleton and Prince William were praised by fans for paying respects for Anzac Day.

The Duke and Duchess of Cambridge took to their Twitter to write: "Commemorating Australians and New Zealanders who have lost their lives in conflict and paying thanks to all those who have served this".

And one fan responded, complimenting the royal couple and said: "It was wonderful to see our Duke and Duchess paying their respects to those who died so we could have freedom today."

The user added: "Both of you looked so dignified performing your duties to the Crown, once again!

"God bless all we have lost, and God bless you both!

Another stated: "William and Kate always so dignified despite the difficulties and unnecessary comments they are currently facing.

"You have a lot of support, be strong and keep doing what you're doing."
Ije Teunissen-Oligboh




'Would be best' Prince Harry does not attend Royal Jubilee

According to a royal historian, Prince Harry deciding not to attend the Queen's Platinum Jubilee 2022 celebrations "would be the greatest gift".

Royal historian Hugo Vickers has argued for Prince Harry to not attend celebrations, and told ITV's The Royal Rota podcast: "There are other forces working on Prince Harry I mean he's got contracts with publishers, he's got Netflix deals, he had a Netflix crew following him around and he has a wife.

"I think all these people are controlling him in a different sort of way."

Referring to Prince Harry's recent interview with a US TV outlet, he said: "American interviewers are very aggressive and they want answers to these things.

"Presumably, he went along to talk about the Invictus Games and of course, he got the inevitable questions, which is why actually, I would rather hope that he doesn't come to the Jubilee.

"Because I can see that whole of the media will be speculating as to whether he's getting on with his brother or his father or how he looks at his grandmother and so forth. 

"He would do best to stay away."

Ije Teunissen-Oligboh




William 'lucky' to have married Kate

A royal expert has said that Kate Middleton is an "extremely good influence" on Prince William, who was "lucky to marry her".

Royal biographer Howard Hodgson told Express.co.uk that the Duchess of Cambridge has proven to be an "extremely good influence on the prince.

Hodgson said: "Certainly William is very dutiful, and I think supported by Kate.

"They ensure that they keep a good appearance, they do put the public, the country and the monarchy first.

He added: "I think he was very lucky to marry her. I think she's an extremely good influence and is well-liked by the people, and so she should be."

Ije Teunissen-Oligboh




Will Kate be ready to take on legal Royal power?

It's been reported that talk has turned to Kate taking on all Royal responsibilities if necessary.

As the Queen turns 96-years-old there have been discussions about what happens next.

Charles is next in line for the throne but at 73-years-old, it's likely Prince William will take the throne not too long after him.

If something unfortunate was to take place and Prince George has to take the throne but is not yet 18, Kate would be granted Royal powers in line with The Regency Act 1937.

Ije Teunissen-Oligboh




The Queen's great affection for Kate

Kate Middleton met the Queen's grandson, Prince William while at university.

Since they married in 2011, there has been much speculation over the relationship the Duchess has with the Queen.

According to body language expert, Darren Stanton, the Queen is fond of Kate.

Speaking on behalf of Betfair Casino, he explained: "It's clear the Queen has a great deal of affection for Kate Middleton.

"Often the pair are seen matching and mirroring each other's body position and gestures when pictured together."
Source: Read Full Article