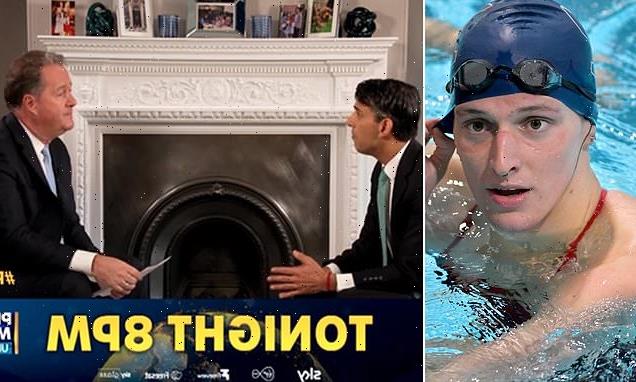 Biological sex really matters': Rishi Sunak wades into transgender prisoner row and says trans athletes competing in women's sport seems 'unfair' – as he defines a woman as 'adult human female'
Rishi Sunak has given interview marking 100 days in No10 to Piers Morgan show
PM says he 'knows what a woman is' during hour-long interview at Number 10  
PM vowed to get Channel migrant crisis under control and pursue Rwanda plan  
Rishi Sunak waded into the trans rights debate tonight by claiming human biology 'really matters' when it comes to policy in sport and prisons. 
While the Government must have 'enormous compassion' for those wanting to change gender, Rishi Sunak said biological sex must take priority. 
Speaking to Piers Morgan on TalkTV, Mr Sunak lashed out at the trans debate, saying 'it doesn't strike most people as being fair'.
Referring to the case of trans rapist Isla Bryson, who was initially held in a female prison in Scotland, Mr Sunak suggested the state must 'recognise the challenges' around single-sex spaces while being sensitive to the trans community. 
'I know what a woman is – an adult human female, ' he told TalkTV. 'We must have enormous compassion and tolerance and understanding for those who are questioning their gender identity and wanting to change. That's who we are as a people.' 
Rishi Sunak vowed to tackle the 'ridiculous' Channel migrant situation today as he faced off against Piers Morgan
The PM waded into the trans debate tonight referencing the case of Isla Byron, who was convicted of violent sex attacks on two women while a man called Adam Graham
But he came out against trans athletes competing in women's sport, saying: 'That doesn't strike most people as being fair, right? So that's why when it comes to these questions, biological sex matters… whether it's sex, whether it's women's spaces, whether it's prisons, biological sex really matters.' 
He added that the move to block Scotland's Gender Recognition Act outlined his commit.
READ MORE: We need to ditch European Court of Human Rights to tackle Channel migrants crisis, Brexit-backing MPs say
During his interview, Mr Sunak vowed to tackle the 'ridiculous' Channel migrant situation today as he faced off against Piers Morgan.
The sit-down chat came as the PM marked his first 100 days in office, with Mr Sunak saying his blueprint for overhauling the system would see asylum claims heard in 'days or weeks'.
He said the efforts to 'break the cycle' included a new deal with Albania – said to be the origin of 30 per cent of illegal migrants – and closer working with France.
And he insisted that the government's plan for sending arrivals to Rwanda for processing will definitely go ahead. 
Quizzed on whether deportation flights to the African nation are 'ever going to happen', Mr Sunak declared: 'Yes'. 
'We're working our way through the courts with that and, of course, there are going to be people who try and frustrate this, but that is a system that I think the vast majority of people watching will say, that sounds reasonable,' he added. 
Rishi Sunak was grilled by Piers Morgan (right) on everything from dealing with the migrant crisis and the war in Ukraine to 'what makes a woman' and whether Prince Harry should attend the King's coronation
Ministers have made stopping the flow of small boats crossing the Channel a top priority, with Tory MPs warning that failure to get a grip will be disastrous at the next election.  
Speaking from his home in Downing Street, Mr Sunak said: 'The system that we need, the system that I want to introduce, is one whereby if you come here illegally, you should be swiftly detained and then in a matter of days or weeks we will hear your claim, not months and years, and then we will safely remove you somewhere else. And if we do that, that's how we'll break the cycle.'
Pressed by Morgan on how he would make that happen, Mr Sunak said: 'So, look, in the first 100 days what have we done, what have I done? 
'I've got a new deal with France, which is increasing the amount of patrols that are happening on French beaches, which is making a difference already. 
'Secondly, I've got a brand new deal with Albania. Albania accounted for 30 per cent of all illegal migrants.'
When Morgan observed that the figure was 'ridiculous', Mr Sunak said: 'Of course that's ridiculous. 
A group of people being brought ashore by border officers in Dover last month
Almost 1,200 illegal migrants have crossed the Channel and arrived into the UK in 2023. Pictured is a group getting off a rescue boat in Dover
'But I'll work with the Albanians to put in place a new deal which means for people coming from Albania illegally, we'll be able to remove them safely back to Albania and that is already happening. 
'We're putting illegal migrants from Albania back on flights and that will ratchet up over the year. And that's tangible improvement in the situation. That deal is a new deal.'
Last year saw a record 45,728 migrants cross the channel, well up on the 28,381 who did so in 2021. 
So far 1,180 illegal migrants have made the perilous trip across the Channel this year, fractionally down compared to the 1,341 who arrived in January 2021. 
Mr Sunak highlighted new legislation he is proposing to bolster the system.
'Very soon we'll be introducing new laws into Parliament which deliver the system that I explained, the system which says if you come here illegally, you're not really going to be able to stay here,' he said.
'So, what that new law will say is, if you come here illegally, for an illegal migrant here, then you will not be able to stay here and, in fact, we will be able to detain you and then we will hear your claim in a matter of days or weeks, not months or years and we will have the ability in the vast majority of cases to send you to an alternative safe country, be that where you come from, if it's safe, like Albania, or, indeed, Rwanda.' 
During the bombshell interview, the PM discussed his first 100 days in office – including strikes, scandals, the NHS, Ukraine, and even 'the real Rishi'. 
As well as talking about his time in Number 10, Mr Sunak also revealed how he believed his time in front-line politics had 'ended' when he resigned as Chancellor to throw his hat into the Tory leadership race in summer, 2022
Piers Morgan pictured outside Downing Street ahead of his one-on-one interview with the PM
Mr Sunak opened up about the moment he thought his frontline political career was over and revealed he had been dining out at TGI Fridays with his kids when he heard Liz Truss had resigned. 
And he also gave viewers a glimpse of the man behind the political facade, giving Piers details of how he proposed to his wife Akshata, and his love of Star Wars and Coke. 
He was also pressed on former Prime Minister Boris Johnson being 'on manoeuvres', the principles of 'Sunakism' and whether King Charles should invite Prince Harry and Meghan to the Coronation. 
As the pair sat down for their first head-to-head clash at No.10, Piers joked that he hoped the PM wouldn't be scurrying 'into the fridge' like his predecessor Boris Johnson had done in the past on live TV. 
Mr Sunak quipped: 'I can give you that guarantee, although if you get hungry halfway through, we might raid it for some snacks.'
And Mr Sunak even revealed how he was having dinner at TGI Fridays when he heard of Liz Truss's resignation after just 44 days at PM. 
On his predecessor's resignation, he confessed: 'Yes, actually, I wasn't thinking about politics when Liz resigned at all. I was with my kids having lunch up north in Teeside, at TGI Fridays, and we were finishing off lunch and about to head to take them bowling and I had somewhat moved on after everything that happened over the summer.
Rishi Sunak pictured with daughters Krisna, Anoushka and wife Akshata Murthy ahead of a speech while campaigning on July 23, 2022 in Grantham, England
'So, my head wasn't completely in that space, if I'm completely honest, and obviously she resigned and I had to think about what to do and ultimately I strongly believe in public service and felt out of duty, more than anything else, that I should try and come and make a difference, given it was a pretty challenging fight.'
Despite the brutal leadership race, he confessed he hadn't thought about leaving politics – although he assumed his frontline career was over. Asked if he had thought about trying something else, he explained: 'Not to leave politics. I'm very devoted to my constituents at home in North Yorkshire, in Richmond. So I hadn't considered leaving politics altogether but I had obviously assumed that my career in frontline politics had come to an end.'
Mr Sunak also discussed the strike chaos paralysing Britain which has plagued his premiership.  
Asked about pay rise demands from nurses, the PM  said 'exemptions' should be made for them.
But the PM stopped short of promising free parking for nurses outside hospitals, a benefit enjoyed over the pandemic.
He added: 'Look, it's not always easy in this job because I'm focused on doing what I believe is right for the country, and in the long term and often that means doing things that may be not always popular and this is a good example of that. 
'I would love to give the nurses a massive pay rise. Who wouldn't? Certainly would make my life easier wouldn't it? Right, of course I would love to do that if I could.'
Source: Read Full Article