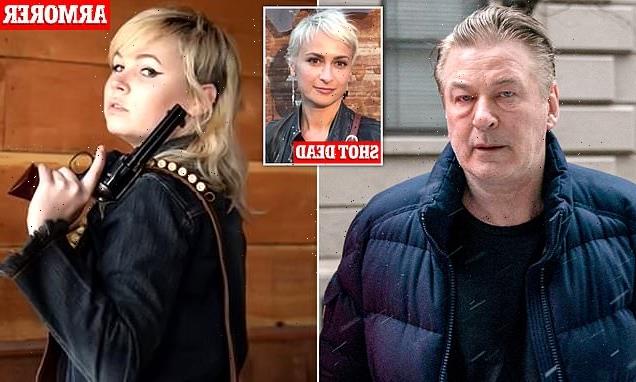 Alec Baldwin will appear in court on involuntary manslaughter charges on February 24 – along with armorer Hannah Gutierrez-Reed
Alec Baldwin is due to appear in court on February 24 via video conference
Baldwin and Hannah Gutierrez-Reed are charged with involuntary manslaughter
If sentenced Baldwin could face five years in prison because a gun was involved 
Alec Baldwin's first court appearance for involuntary manslaughter charges has been scheduled for February 24.
On Wednesday a New Mexico court scheduled Baldwin and film-set weapons supervisor Hannah Gutierrez-Reed to appear by videoconference before Judge Mary Marlowe Sommer.
His defense attorneys will therefore have around three weeks to provide a formal response to the felony charges. 
Prosecutors said in January both Baldwin and Gutierrez-Reed would be charged for the fatal shooting of cinematographer Halyna Hutchins on the set of Rust – a film Baldwin was both producing and starring in.
Baldwin has insisted the involuntary manslaughter charges are inapplicable because he had not been acting negligently when Hutchins was accidentally shot. He has insisted he did not pull the trigger of the revolver that fired the bullet, and that he only pulled back its hammer.
Alec Baldwin is due to appear in court on February 24 to face involuntary manslaughter charges
The film-set weapons supervisor Hannah Gutierrez-Reed (pictured) is also facing those charges
Baldwin and Gutierrez Reed each face two counts of involuntary manslaughter, but a jury will decide which of the two is more appropriate, New Mexico District Attorney Mary Carmack-Altwies said.
One of those two charges includes a 'firearm enhancement', which would carry a sentence of up to five years in prison, while the other is punishable by 18 months.
A manslaughter charge can be brought if a defendant killed somebody while doing something lawful but was acting negligently or carelessly.
In court documents filed on Tuesday prosecutors said reckless safety failures were routine on the set.
They said Baldwin failed to attend a mandatory firearms training before filming and made the decision as a producer to work with Gutierrez-Reed, who was an uncertified and inexperienced armorer.
The prosecutors acknowledged that Gutierrez-Reed set up an hour-long subsequent session for Baldwin, but claimed they only completed 30 minutes of it.
'According to Reed, Baldwin was distracted and talking on his cell phone to his family during the training,' the prosecutors stated.
A cause statement lists a number of safety failures across a 10-day period, including other misfires on set a camera crew walkout over concerns of a lack of safety.
It also described Baldwin putting his finger 'inside of the trigger guard and on the trigger' on the day of the shooting, and moments beforehand.
Baldwin fatally shot cinematographer Halyna Hutchins (pictured) on the set of Rust in 2021
The set of Rust at Bonanza Creek Ranch in Santa Fe. Prosecutors say Baldwin did not complete mandatory firearms training 
Pictured: The Baldwins leave their home on Tuesday before the charges were filed by prosecutors over the on-set death of Halyna Hutchins
Pictured: The entrance to the Zero Bond private member's club in New York City's NoHo neighborhood. Actor Alex Baldwin attended the club on Tuesday night
'Baldwin's deviation from known standards, practices and protocol directly caused' Hutchins' death, Robert Shilling, a special investigator for the Santa Fe district attorney's office, said in the probable cause statement.
Baldwin´s attorney Luke Nikas declined to comment on Tuesday and referred to a previous statement in which he called the charges a 'terrible miscarriage of justice' that he and his client were going to fight and win.
'Mr. Baldwin had no reason to believe there was a live bullet in the gun – or anywhere on the movie set,' the statement said. 'He relied on the professionals with whom he worked.'
Hours after Baldwin was formally charged he was spotted at at a private member's club in New York City with his wife Hilaria. 
The two were seen at Zero Bond, a twenty thousand square foot private member's club, where they spent around 30 to 40 minutes in a poker area in the back, somebody told PEOPLE magazine.
Carmack-Altwies told the Associated Press that the set was 'really being run pretty fast and loose' and Baldwin should have known there were previous misfires and that people had brought up safety concerns.
Prosecutors will forgo a grand jury and rely on a judge to determine if there is sufficient evidence to move toward trial. That decision could take up to 60 days and involve trail-like hearings to consider witness testimony and evidence.
Baldwin and Gutierrez-Reed to appear by videoconference before Judge Mary Marlowe Sommer (pictured)
A long list of witnesses were submitted to the court, including the wounded Rust director Souza, weapons assistant Sarah Zachry and the film's ammunition provider, as well as FBI analysts, law enforcement detectives and sheriff's deputies who initially responded to the shooting.
The probably cause affidavit is divided into two sections. One notes Baldwin's actions as the lead actor, and another notes his role as the film's primary producer. 
One one hand prosecutors say he was carless in handing the gun as an actor, on the other they say that as a producer he was responsible for overseeing a safe set.  
Dealing with those roles separately will allow them to fall back on one if the other is successfully defended in court.
Baldwin said he was told the .45-caliber revolver was safe. He has already tried to clear his name by suing people involved in handling and giving him the gun.
Baldwin said in his own lawsuit that, while working on camera angles with Hutchins, he pointed the gun in her direction and pulled back and released the hammer, after which it fired.
Defense attorney Jason Bowles, who represents Gutierrez-Reed, said the charges are the result of a 'flawed investigation' and an 'inaccurate understanding of the full facts.'
Source: Read Full Article