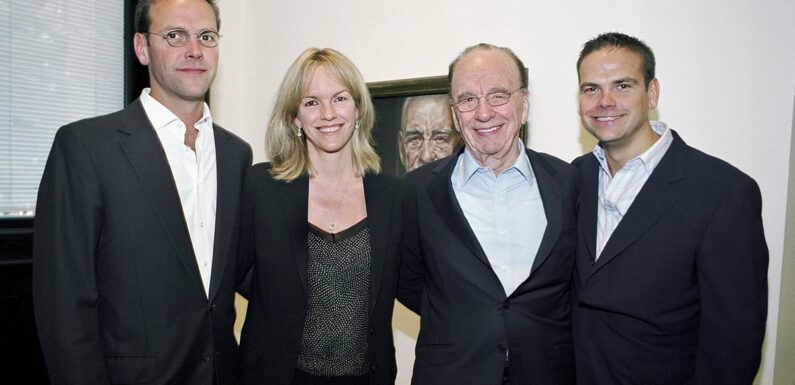 Rupert Murdoch, 92, announces he will step down as chairman of Fox and NewsCorp after 70 years: His eldest son Lachlan wins the battle to succeed his father after decades of speculation
Chairman of Fox News and News Corp Murdoch revealed he is set to step down
Rupert Murdoch's eldest son has emerged victorious in the battle to succeed his father, ending decades of speculation and reported infighting between the media mogul's children.
Today the 92-year-old revealed he is to step down as chairman of Fox News and News Corp to become 'chairman emeritus'. His son Lachlan, 52, will step up to lead both companies.
In a surprise announcement, the billionaire sent a memo to staff saying the 'time is right' to take on 'different roles'.
It ends years of speculation about when Rupert Murdoch would step back from the roles and also about which of his children would ultimately replace him.
The perceived competition to succeed their father at the top of the sprawling media empire is widely believed to have been the inspiration for the hit US TV series, Succession.
Former News Corporation Chairman and CEO Rupert Murdoch photographed with the heirs to his media empire, James (left), Elisabeth (centre) and Lachlan (right)
Publishing magnate Rupert Murdoch pictured at the printing presses of the New York Post
Rupert and Anna Murdoch with their children James, right, Elizabeth and Lachlan, in his father's arms
Rupert Murdoch poses with his wife Anna Murdoch and their children Lachlan Murdoch ,James Murdoch and Elisabeth Murdoch at their home in 1989 in New York City
Lachlan's siblings Elisabeth, 55, and James, 50, have in the past held senior positions within their father's global businesses.
In a statement Lachlan Murdoch said: 'On behalf of the Fox and News Corp boards of directors, leadership teams, and all the shareholders who have benefited from his hard work, I congratulate my father on his remarkable 70-year career.
'We thank him for his vision, his pioneering spirit, his steadfast determination, and the enduring legacy he leaves to the companies he founded and countless people he has impacted.
'We are grateful that he will serve as chairman emeritus and know he will continue to provide valued counsel to both companies.'
Elisabeth, Lachlan and James are Murdoch's children with his second wife Anna Torv.
READ MORE: The heir who won an empire: How Lachlan Murdoch was brought up in New York high society but 'never behaved like a spoiled rich kid' 
James, who has held a string of senior positions in the business, resigned from the board of News Corp in 2020 amid 'disagreements' over editorial content. Prior to this he had criticised News Corp outlets for their coverage of climate change.
In the past Elisabeth had held a senior position at Sky before she went out and set up her own production company Shine, which was bought by News Corp. She is currently executive chairman of global production company Sister.
But it is Lachlan who will take over the empire worth an estimated $21.7billion (£17.6billion), less than 20 years after he walked out on his father's businesses.
He joined his father's firm in his early 20s, first as the manager of Brisbane's Courier-Mail, before becoming publisher of national title The Australian before he was 25. In 1996, he was appointed executive director of News Corporation.
Lachlan Murdoch and Rupert Murdoch at Day 10 of the US Open held at the USTA Tennis Center on September 5, 2018 in New York City
Rupert Murdoch with his sons Lachlan Murdoch (L) and James Murdoch (R) arrives at St Bride's Church for a service to celebrate his marriage to Jerry Hall on March 5
Lachlan was schooled in the ethos of his father's firm from an early age. Above: The pair in 1999
Lachlan is seen as a young boy with his parents and younger brother 
In 2000, he moved to New York to become deputy chief operating officer of News Corp before leaving in 2005 to set up a series of other businesses. He returned to the family fold in 2014 as co-chairman of both News Corp and 21st Century Fox.
The announcement comes after a difficult year for Fox News which paid $787.5 million (£634 million) to settle a lawsuit with Canadian electronic voting company Dominion Voting Systems over the coverage of the 2020 presidential election. There is a similar legal claim against the network from another voting technology company.
Last night there was mixed reaction to the news.
Chancellor Jeremy Hunt described him as a 'formidable operator' while former Labour leader Jeremy Corbyn accused him of presiding over a news empire that 'poisoned global democracy'.
READ MORE: Rupert Murdoch, 92, to step down as chairman of Fox and NewsCorp after 70 years – with son Lachlan set to take over 
Murdoch, who has been married four times, was credited with transforming the UK media industry when he broke the power of the print unions and then again when he launched multi-channel pay TV in the UK.
The mogul, whose UK media interests includes The Sun and The Times newspapers, wrote a letter to staff on Thursday.
It said: 'For my entire professional life, I have been engaged daily with news and ideas, and that will not change.
'But the time is right for me to take on different roles, knowing that we have truly talented teams and a passionate, principled leader in Lachlan who will become sole chairman of both companies.'
He added: 'Our companies are in robust health, as am I. Our opportunities far exceed our commercial challenges.
'We have every reason to be optimistic about the coming years – I certainly am, and plan to be here to participate in them.'
Piers Morgan hailed Rupert Murdoch as a 'bold, brilliant, visionary leader whose audacity & tenacity built a magnificently successful global media empire'.
Rupert Murdoch began his career in the media in 1954 by taking control of Australian publisher News Limited, previously run by his father Sir Keith Murdoch.
He oversaw a quick international expansion of the group, including the purchase of News of the World and Sun newspapers in the UK in 1969.
Murdoch had launched Fox Broadcasting Company in the US 1986, while Fox News, now the most popular news network in the US, began broadcasting ten years later.
His father would talk through publications page by page over family breakfasts, commenting on the stories, headlines and how they were edited. Above: Lachlan was his father and mother Anna at their home in New York in 1989
Rupert Murdoch and his son Lachlan attend the first day of the annual Allen and Co. media conference in Sun Valley, Idaho July 8, 2015
Rupert Murdoch with his second wife Anne and children Lachlan and Elisabeth in 1989
Despite opposition from parts of the US media establishment he acquired the Wall Street Journal in 2007. In 2018 Fox sold all of its shares in Sky, the company Murdoch had set up, to American company Comcast.
On of the toughest periods to face Murdoch during his career was the phone-hacking scandal which resulted in the closure of the News of the World in 2011.
Mr Murdoch, who has been wed four times, most recently to Jerry Hall who he was divorced from last year, has four daughters and two sons.
Earlier this year his engagement to Ann Lesley Smith was abruptly called off just two weeks after they announced they were planning to marry.
The media baron had proposed in March to the former dental hygienist, 66, with an 11-carat diamond ring thought to be worth up to £2million.
At the time a friend close to the couple said Ms Smith had struggled with the publicity.
The announcement was reported on Fox News by host Bill Hemmer who said that the company had some 'personal news' and read out the statements from Mr Murdoch and Lachlan.
Mr Hemmer added: 'Rupert Murdoch created all of this and so much more across America and the globe.'
Source: Read Full Article