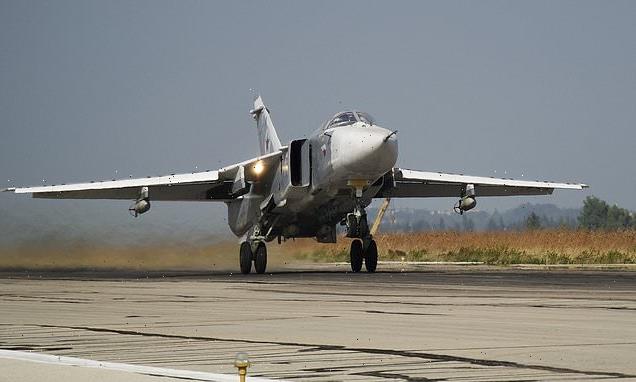 Russian SU-24 bomber jet crashes down in region neighbouring Ukraine
A Russian bomber jet has crashed in the Belgorod region of Western Russia mere miles from the Ukrainian border, regional governor Vyacheslav Gladkov has said.
'A plane of the Ministry of Defence crashed in the Valuysky urban district. Now an investigation team and officials of the Ministry of Emergency Situations are working on the spot,' he wrote on Telegram early this morning.
The pilot successfully ejected from the Sukhoi Su-24 jet, according to Gladkov, who added the cause of the incident is unknown and under investigation.
The Valuysky district of Belgorod sits along the border of Ukraine's Kharkiv region, and a live map of the crash suggested the plane careened into the turf close to Valuysky town just 10 miles from the border.
Russian outlet Baza claimed the stricken jet landed on a barn, setting it alight and burning it to the ground. 
FILE: In this Oct. 22, 2015 file photo, a Russian Su-24 takes off on a combat mission at Hemeimeem airbase in Syria
Source: Read Full Article