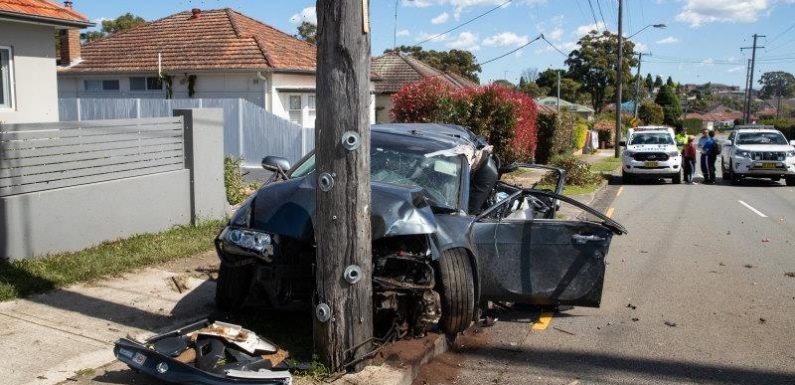 The federal government's decade-long road safety strategy has been criticised as being light on specifics and accountability at a time when the road toll is rising across Australia.
The national toll for 2022 reached 1187, a rise of 5 per cent on the year before and 616 deaths higher than the road safety plan's aim of reducing the annual toll to 571 by 2030, the Bureau of Infrastructure and Transport Research Economics said on its website.
The scene of a car crash on Stoney Creek Road at Beverly Hills in September.Credit:Edwina Pickles
The road safety plan was launched on Tuesday nearly two years after a draft was circulated. It noted that the government had not met the existing targets to reduce deaths and that serious injuries per crash had risen.
It recommitted to reducing the annual number of fatalities by at least 50 per cent (an estimated reduction in the fatality rate for each person of 55 per cent) by 2030 and to reduce the annual number of serious injuries by at least 30 per cent (an estimated reduction in the serious injury rate per person of 38 per cent) by 2030.
A major review of road safety called for the introduction of an up-to-the-minute national dashboard for use by the public and road safety experts to identify fatalities, injuries and black spots.
NSW's dashboard, for example, shows there were 275 deaths in 2021 and 14,262 injuries, including 3602 serious injuries. Injury data for NSW last year is yet to be published.
Australians knew road deaths were rising, said Australian Automobile Association managing director Michael Bradley. "But we have no information about rates of serious injury, the exact location of our most dangerous black spots or the safety rating of the road," he said.
The states and territories had this information, but it was not made public. "Motorists and taxpayers have a right to full transparency of road safety data so they can be assured that governments are investing scarce public money where it is most needed to deliver safety outcomes," Bradley said. "Public investment in roads must be about saving lives, not seats."
Bradley said the new federal government had a golden opportunity to make its road funding grants to states contingent on transparency of road safety data. "This report is silent on the issue of evidence-based road funding," he said.
ANCAP, the non-profit organisation that rates the safety of new vehicles, welcomed the emphasis on encouraging the adoption of technology-based safety features.
ANCAP chief executive officer Carla Hoorweg said enhancements in light vehicles over the past decade had improved road safety. The average risk of death or serious injury in a crash to the driver of a vehicle manufactured in 2019 was 25 per cent less than that of a driver in a vehicle manufactured in 2010.
The Morning Edition newsletter is our guide to the day's most important and interesting stories, analysis and insights. Sign up here.
Most Viewed in National
From our partners
Source: Read Full Article