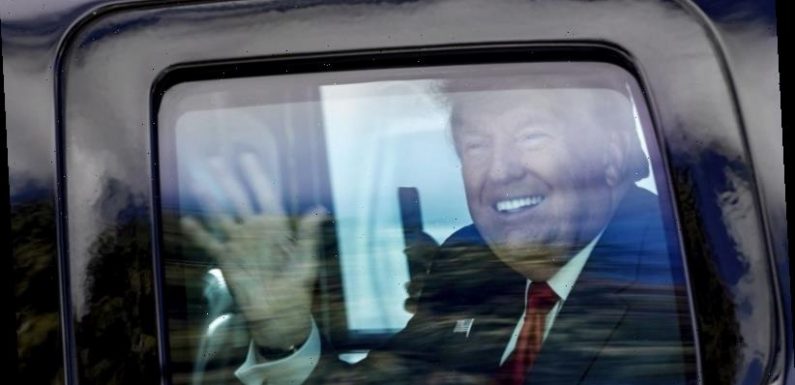 Washington: Five Republican Senators have sided with their Democratic colleagues to reject the idea that former US president Donald Trump's historic second impeachment trial was unconstitutional, effectively ending an effort to have the trial thrown out.
Republican Senator Rand Paul made a motion that the impeachment trial against Trump was unconstitutional in the Senate, arguing that Trump couldn't be tried as a private citizen.
The motion was rejected by a 55-45 vote. But essentially, 45 senators voted that the trial was unconstitutional, signalling they're likely to vote against conviction – an early indication of a lack of support for convicting Trump on the charge of inciting insurrection.
Former President Donald Trump waves to supporters as his motorcade drives through West Palm Beach after he left office.Credit:AP
Trump was impeached by the House on January 13 on one article of incitement in connection with the deadly riot that saw his supporters storm the Capitol Building on January 6. Ten House Republicans voted yes.
The trial of Trump's second impeachment, a first for a president, will begin as scheduled the week of February 8.
Republican Senators Mitt Romney of Utah, Susan Collins of Maine, Lisa Murkowski of Alaska, Ben Sasse of Nebraska and Pat Toomey of Pennsylvania joined Senate Democrats in killing Paul's motion.
US Senate Majority Leader Mitch McConnell agreed to a power sharing agreement with Democrats.Credit:Bloomberg
All have publicly remained uncommitted on whether they would vote to convict but all have been critical of Trump in the wake of the riot.
Romney voted to convict Trump last year during his first impeachment, becoming the first senator ever to vote against his own party's president in an impeachment trial.
He said another impeachment trial was necessary to hold Trump accountable for any role he might have played in inciting the insurrection, saying "If we're going to have unity in our country, it's important to recognise the need for accountability, for truth and justice."
Collins and Murkowski were two Senate Republicans intensely watched during Trump's first impeachment, with Collins voting yes to subpoena witnesses in the first trial.
Murkowski signalled she had hit her breaking point with Trump following the insurrection, calling on him to resign two days afterwards during an interview with the Anchorage Daily News.
Sasse denounced efforts by Trump and his allies to overturn the presidential election results as a "dangerous ploy."
Four days after the deadly breach on the Capitol, Toomey said Trump should resign from office and could face "criminal liability", while also saying Trump had "committed impeachable offences".
On Tuesday (Wednesday AEDT), senators were sworn in as members of the "Court of Impeachment".
A summons will now be issued to Trump, and he has a week – until February 2 – to answer the article. The House faces the same deadline to submit its pretrial brief.
Meanwhile, the Senate, split 50-50 between Democrats and Republicans, is moving forward with a power-sharing agreement after Republican Minority Leader Mitch McConnell relented on an ultimatum over filibuster rules.
The two leaders had been in a stand-off that had the potential to hobble President Joe Biden's agenda and stymie legislative action.
"I am glad the Republican leader finally relented and we can move forward now to organise the Senate, set up committees chairs and ranking members, and a process for moving bills and nominees to the floor from committees with an evenly divided number of members," Majority Leader Chuck Schumer said in a floor speech. "I'm glad we're finally able to get the Senate up and running. My only regret is that it took so long."
The Senate has been operating without a deal for over a week, which froze committees from the previous Congress with Republicans holding the majority and all chairmanships.
The agreement, the text of which has not yet been released, is modelled after the rules that governed the chamber the last time it was tied in 2001.
USA Today, McClatchy
Most Viewed in World
Source: Read Full Article