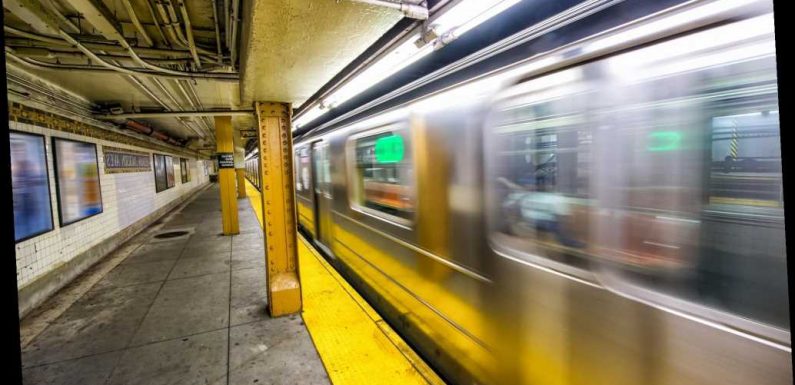 More On:
subway shoves

I'm squawking here! Video shows 2 NYC pigeons shove a third into oncoming subway

Police arrest suspect wanted in unprovoked Bronx subway shove

Straphanger pushed onto MTA subway tracks in Union Square

Anti-police pols have transformed NYC subways to deadly 1980s-like bloodbaths

A straphanger was shoved onto subway tracks at a Williamsburg station late Saturday — one of the latest victims of the Big Apple's uptick in transit violence, police said.
The 47-year-old victim got into a dispute with his attacker at the Broadway and Marcy Avenue station in Brooklyn shortly before midnight and was then pushed onto the track bed, according to cops.
Police said the two may have known each other.
"Why did you come to this side?" the attacker allegedly told his victim. "I told you to…" before he shoved him, police said.
The suspect fled the Brooklyn station while other transit passengers helped the victim back onto the platform.
The straphanger suffered a cut to his head and was taken to Bellevue Hospital with non-life-threatening injuries.
Police described the attacker as 5-foot-8 and dressed in a red sweater and black pants, according to sources.
The incident is just the latest in a spate of transit attacks in recent months that has seen straphangers slashed and pushed onto tracks.
While overall transit crime is down nearly 60 percent in the first two months of this year compared to the same period of 2020, police said there have been 79 felony assaults in that span for 2021, compared to 78 last year.
During one terrifying week last month, police reported seven transit attacks, including five slashings, a woman shoved onto Bronx train tracks and an MTA bus driver smashed in the head with a 2-by-4.
The NYPD reported Saturday that 51 people had been busted with weapons in the city subway system in the first two months of the year.
That's a dip of 43 percent over the 83 weapon arrests over the same span in 2020 — but during a drop in ridership of as much as 70 percent over the past year due to coronavirus lockdown restrictions. 
The NYPD last month deployed an additional 640 cops to patrol the subways, but MTA officials have said they need nearly 1,000 more.
Share this article:
Source: Read Full Article