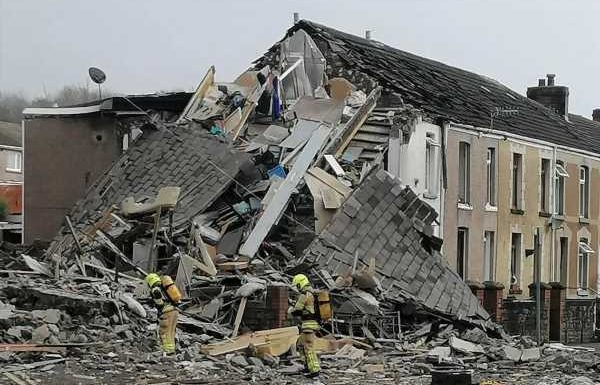 A MAN who was found dead after a shocking blast flattened a home and damaged 20 others has now been named.
Brian Davies, 68, has been identified this afternoon after he sadly lost his life in a suspected gas explosion in Swansea, Wales.
Formal identification took place today and his family are being supported by specially trained officers, say cops.
The horrific incident happened around 11.20am on Monday.
More than 100 people were evacuated as emergency services rushed to the scene.
Three other people were taken to hospital and a major incident was declared.
READ MORE ON THE EXPLOSION
Body of man found at scene after devastating 'gas' blast destroys homes
I rescued a boy from 'gas' blast rubble as he screamed for his mum
Detective Inspector Carl Price said: "Our thoughts remain with Brian's family and friends, at what is a very difficult time for them, and those who have been injured following the explosion.
"Our enquiries are ongoing to establish the cause of the incident, and these enquiries are being carried out in partnership with relevant agencies including the Health and Safety Executive.
"The patience and understanding of local residents on Clydach Road, and the wider community in Morriston, is very much appreciated while this work remains ongoing." 
Neighbours have since paid tribute to Brian.
Most read in The Sun
Seven predictions for tomorrow's Spring Budget and what it means for you
Hollyoaks' Jessica Fox gives birth to 'miracle' baby and reveals sweet name
Kai and Sanam crowned Love Island winners by host Maya Jama
BBC sitcom AXED after just one season
Andy Williams, who has lived on the street for 25 years, knew Brian for around two years.
He said: "He's just a nice guy, a lovely guy, he's always outside chatting."
Sioned Williams, Senedd member for the South Wales West region, said residents had told her Brian was "friendly and very well liked".
She added: "He apparently used to sit outside on the step and talk to people in the street.
"A lot of people knew him and liked him."
A woman, her son and a postal worker were hurt and were taken to Morriston Hospital following the blast.
Neighbours recalled the moment they rushed to rescue Ethan Bennett, 14, and his mum Claire.
The dad of the teenager said his family are lucky to be alive.
Anthony Bennett told BBC Wales: "Ethan just remembers the explosion going and him being thrown up against the ceiling.
"Next thing he knows he seems to be outside.
"Not sure if he lost consciousness or not. Part of the roof was under him and part of the roof was on top of him.
"The guy who lives a couple of doors down ran across to check on Claire and then he dragged Ethan out."
Christopher Yeoman, 55, helped save the young lad's life.
He said Ethan was screaming for his mum moments after crawling out of the rubble.
He said: "I saw the debris explode outward into the street even before I heard it, then I heard this massive bang.
"The house exploded and everything flew out into the road hitting the postman who was driving by and the flats opposite.
"Everything shook and all my pictures fell off the wall, and I was first most worried about my 95-year-old mother, who was downstairs.
"I ran into the street and we got a teenage boy who was in the debris out, and me and another neighbour ran in because we could hear a woman shouting from inside.
"When we got to her, she was hysterical and worried about her cat and dog, but we managed to find the puppy in the crate and get it out as well.
"We got them both to a bus that had stopped to help, because this was before the ambulance and police had turned up.
"They were both hysterical but seemed to calm down once they were together. My head is still totally mashed."
KILLER BLAST
Police said an investigation is underway to establish the cause of the devastation.
Wales and West Utilities, who maintain the gas network, said they remain at the scene to make sure the area is safe and are "carrying out comprehensive checks in the local area to rule out any damage to our network as a result of the explosion".
Chief operating officer, Rob Long, said: "As the gas emergency service, it is our role to make sure the area is safe and support the investigation.
"The cause of the explosion is not yet known, and we are remaining at the scene to support the emergency services.
"Due to the extensive nature of the explosion, we are also carrying out comprehensive checks in the local area to rule out any damage to our network as a result of the explosion.
"These investigations are rigorous and ongoing.
"We understand that there will be speculation as concerns for safety are heightened following an incident such as this, however, we are working hard to conclude our checks so as many residents can return to their homes as soon as possible.
"We would like to reassure the local community that every safety precaution is being taken.
"As part of this, we are joined by other utilities in turning off gas and power to the immediate surrounding properties – however, there will be no impact on gas supplies to the wider area.
Read More on The Sun
Dumped Love Islanders mobbed by fans as they land in UK after missing final
I took my fluffy doodle to groomers – but he came back looking like Pennywise
"Our thoughts remain with the family of those affected and with the community of Morriston."
The road remained closed today as diggers removed the rubble.

Source: Read Full Article