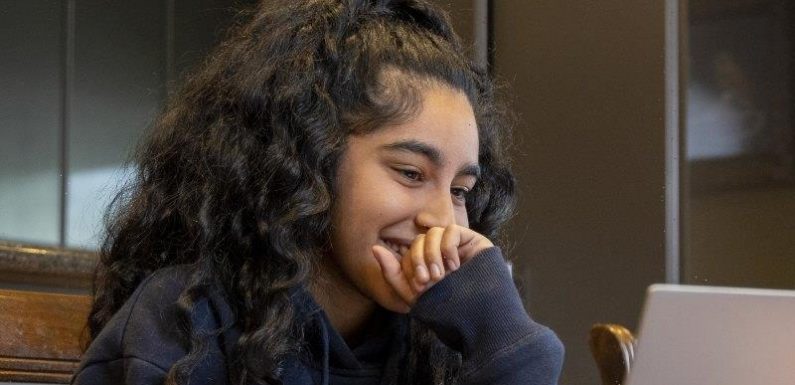 Earlier this week, The Age spoke to five VCE students about their experiences this year and hopes for results day. On Thursday, we witnessed them receiving their ATARs and making plans for the future.
Maanya Kapoor, Fintona Girls' School, ATAR 99.6
Maanya is now rethinking her plans after blitzing the VCE with an ATAR of 99.6, including a perfect score in legal studies.
"That's … wow. I didn't expect anything like that," the Fintona Girls' School graduate said.
Maanya Kapoor receiving her VCE results. Credit:Wayne Taylor
Maanya's first choice for 2022 is a commerce/law degree at Monash University.
"I think I needed about a 97 or a 98 for my course," she said. "I was relying on the fact that I would get into one course and wouldn't have to make a decision. But now I have to decide."
Her father, Dr Ajay Kapoor, said he would grin all day at his daughter's achievement. Her mother's response: "Out of this world."
Laurence Armstrong, Trinity Grammar School, ATAR 99.75
After a turbulent two years, Laurence has managed to end his high school journey on a high, achieving an ATAR of 99.75, a result that will set him up well for 2022.
He wants to study medicine at Monash University, following in the footsteps of his mother, who is an obstetrician.
Year 12 student Laurence Armstrong.Credit:Simon Schluter
"These past few years have cemented how much doctors are needed and I just want to be a part of that," he said.
"As much as you tell yourself that it isn't the be-all and end-all, it is some sort of culmination of your time at school, so it is just relieving to know that I got about what I wanted."
Victoria Quach, Box Hill High School, ATAR 97.90
Box Hill High School student Victoria Quach has worked towards these results for years.
Opening her results at 7am, she broke out in a beaming smile.
Box Hill High School year 12 student Victoria Quach. Credit:Eddie Jim
Victoria surpassed her goal, achieving an ATAR of 97.90.
"I'm just so relieved, so happy. I don't believe what I am seeing right now."
After an uncertain and challenging two years, the closure felt strangely foreign to Victoria.
"At times [the VCE] felt like an endless tunnel. It feels strange to have finally finished," she said.
Preimi Raveendiran, University High School, ATAR 95.75
Preimi Raveendiran was up at 5.30am baking doughnuts to distract herself from her thoughts about what was to come on Thursday morning.
But she needn't have worried. Preimi achieved an ATAR of 95.75, an effort the 18-year-old said she was proud of after a "messy" year.
VCE student Preimi Raveendiran gets her results. Credit:Luis Ascui
"I'm feeling good. I was looking for anything above 90, anything above 95 is good and I got 95.75. That's a nice number, I'm not disappointed at all," she said.
"It was just an unexpected year. Effort, emotions, everything just kept fluctuating, I tried to push through."
The University High School graduate was not surprised at her score, as she used grade calculators throughout the year to track what her final results might be.
Preimi has been offered early acceptance into a Bachelor of Laws at Australian National University in Canberra.
Mia Bellet, Thomas Carr College, ATAR 84.60
Thomas Carr College student Mia Bellet said she was "feeling good" about her ATAR of 84.60 after opening her VCE results at 7am this morning.
Mia said her results "fit perfectly" with her 2022 plans to enrol in a Bachelor of Communications at RMIT, which requires an ATAR of 80 or above.
Mia Bellet reacts to her ATAR result.
Mia cried tears of joy when she saw her raw study score of 40 for English literature. "That was my goal," she said, adding that it was her "best subject".
Mia described her year of COVID-19 restrictions and remote learning as tough and said she was feeling "really great" to have it behind her.
Fascinating answers to perplexing questions delivered to your inbox every week. Sign up to get our new Explainer newsletter here.
Most Viewed in National
From our partners
Source: Read Full Article