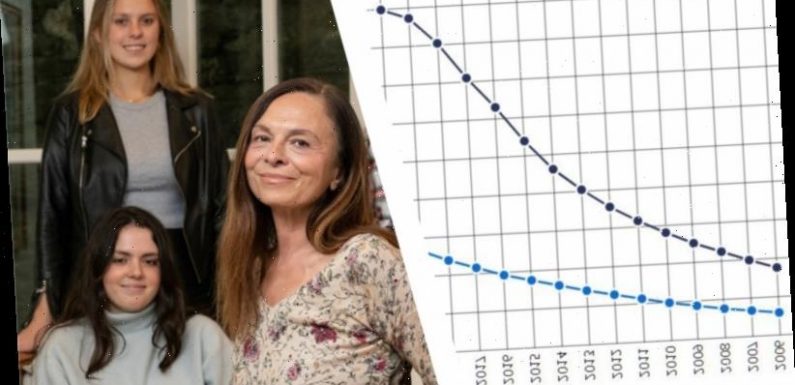 Students are taking more than two years longer to pay off their university loans than they did 15 years ago as the federal government comes under growing pressure to extend the loans to include certificate courses.
A Sydney Morning Herald analysis of new federal government figures released this week suggest that the time to repay student debt has risen from an average of 7.3 years in 2005 to 9.3 years in 2020.
Australian National University Professor Bruce Chapman, who designed the Higher Education Contribution Scheme (HECS) system introduced in 1989, said the increase in course fees over the past 15 years would help explain the longer time taken to repay student loans.
"An increase in the time taken to repay of this order of magnitude doesn't strike me as hard to understand, since the charges have gone up significantly in the last 15 years; this is the biggest factor in explaining the length of time of average repayments," he said.
Higher education researcher Peter Hurley from Victoria University's Mitchell Institute said more people were using the tertiary education sector in their transition from school to the workforce, "so it is not surprising there has been an increase in the total value of income-contingent loans issued".
"If the concern is the time taken to pay back an income-contingent loan is increasing, the recent higher education reforms will contribute to this trend. Students are now liable for a greater proportion of the cost of their course," he said.
Elena Kirillova with her daughters Mariika and Nina. Credit:Wolter Peeters
A spokesman for the Federal Department of Education, Skills and Employment said student contributions had increased over time, resulting in higher debt and a gradual lengthening of the time taken for repayment. In addition, student contributions for Commonwealth-supported students increased by 28 per cent since 2005. The minimum income threshold for repayment of HELP debts also increased from $25,347 to $35,000, reducing rates of payment.
"Under the Job-ready Graduate reforms most students will see their student contribution amounts stay the same or decrease, and students who began their course prior to 1 January 2021 will either see their study costs stay the same or decrease," the spokesman said.
University of Sydney arts student Mariika Mehigan, 20, who is studying history and international relations said the federal government's recent decision to hike fees for humanities degrees by more than 100 per cent from this year was "discouraging for young people".
Mariika said her sister Nina started a humanities degree majoring in psychology and socio-legal studies this year and is impacted by the fee increase.
"It feels like the odds are stacked against us," she said. "The economic impact of COVID-19 has really impacted young people.
"It might take longer for young people to get jobs to earn enough to pay off their student loans."
The girls' mother Elena Kirillova said the need for formal education was greater today than it was in her day.
"Degrees are becoming more and more expensive and people have less of a choice," she said. "The notion of leaving school at 16 doesn't really exist any more."
NSW Premier Gladys Berejikilian and Skills and Tertiary Education Minister Geoff Lee will on Thursday urge the federal government to extend income-contingent student loans to vocational students studying certificate courses including in hairdressing, hospitality and aged care.
"The state government's recommendation to extend the HECS-style income-contingent VET Student Loans to Certificate III and IV students will increase the parity of access to vocational education," Dr Lee said.
The Australian Productivity Commission and a state government review conducted by Sydney businessman David Gonski and Western Sydney University chancellor Peter Shergold has recommended income-contingent loans to remove upfront costs for students. Vocational Education and Training students can currently access HECs style loans for a diploma or higher level VET courses, with a cap on the loan amount and a 20 per cent loan fee for many students.
Professor Gonski, who is also Chancellor of the University of New South Wales, said students studying nursing had to pay upfront fees for VET courses but had access to loans for university courses, which had "hit him like a torpedo".
"Should you decide that the right training for you is in a skills-based environment… why shouldn't the equivalent of a HECS not apply to it?," he said.
While he urged the federal government to extend student loans to VET students, Professor Gonski said the NSW government also had scope to introduce its own student loan system.
Start your day informed
Our Morning Edition newsletter is a curated guide to the most important and interesting stories, analysis and insights. Sign up to The Sydney Morning Herald's newsletter here, The Age's here, Brisbane Times' here, and WAtoday's here.
Most Viewed in National
From our partners
Source: Read Full Article