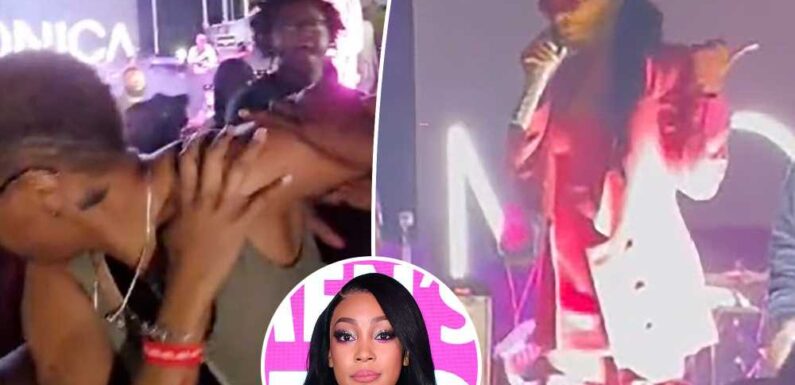 More On:
concerts
Heidi Klum busts a move in bra top and itty-bitty feathery shorts: 'Let's party'
All of Taylor Swift's Eras Tour outfits
Taylor Swift lets out epic laugh while singing about forgiving Kanye West at Seattle show
Thomas Rhett's Home Team Tour is the most electric country show of the summer
Monica halted her Detroit concert Saturday night to defend a woman who she said was being assaulted in the audience.
"Ah, ah, no, don't you hit on her like that," the "Boy Is Mine" singer told a male concertgoer before jumping off the stage to confront him in a video shared by a fan on Twitter.
"You don't hit no f–kin' lady like that," she said into her microphone from the crowd.
After the incident, Monica, 42, apologized to other attendees.
"That s–t triggered me," she explained. "I seen him punch that lady in the face, [and] I lost my f–kin' temper. I apologize, ya'll. I apologize from the bottom of my heart."
She added, "I was gonna knock [his] ass out with this f–kin' mic."
The R&B hitmaker also addressed her fired-up reaction in an Instagram comment Sunday.
"I apologized there & I'm apologizing here for my actions but no one would take action !" she wrote. "I was so triggered , I watched & she didn't appear to even know him! It appeared to be about space during a packed concert!
"He punched her with all his strength! My intentions were to prevent her from being hit again and she wasn't! I asked for help, it fell on deaf ears! It was like seeing my mother or an aunt be assaulted!! This woman was 50+ I pray she's ok!!"
A spokesperson for Riverfront Music Festival, where Monica was performing when the incident occurred, praised the entertainer for taking action.
"We want to extend our heartfelt gratitude to Monica for her courage and decisive intervention during an unfortunate incident at our festival," Andrus Macdonald said in a statement to CBS News. "Her actions demonstrated a commitment to the safety and respect of her fans, reinforcing our belief that she is not just an extraordinary talent, but an extraordinary individual as well."
Macdonald continued by saying organizers were "truly saddened that an event meant to bring joy and unity to our community was marred by an act of violence" and that they are currently working with law enforcement to hold the attacker accountable.
It wasn't the first time Monica has taken crowd control into her own hands.
During a concert in Washington, DC, in April, she chastised rowdy audience members by telling them to "calm that s–t down."
Share this article: