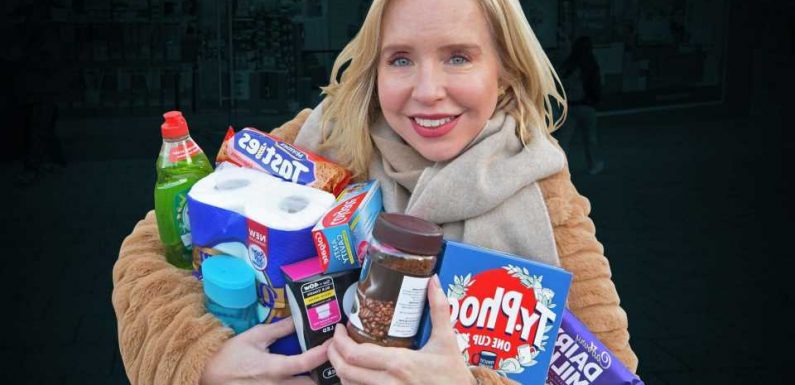 POUNDLAND is one of Britain's best-loved budget stores – but more than half of its stock no longer costs a quid.
The chain's owner Pepco Group has admitted that 58 per cent of items sold in the year up to September 2022 were outside its signature £1 price point.
The revelation came as shoppers face further squeezes on their finances, with a recent Which? investigation finding that some basic groceries have now gone up by nearly a third.
So is Poundland – which launched its first store in Burton-on-Trent, Staffordshire, in 1990 – still the best place to bag a bargain? 
Or can you get more for your money at rivals B&M, Savers, Wilko or Home Bargains? We hit the aisles to find out.
CADBURY DAIRY MILKBAR 95g
 Poundland: £1
READ MORE MONEY SAVING TIPS
We tried pressure cookers, winner will save you cash & is real value for money
We work at Aldi and here's everything customers should know but don't
 Wilko: Not in stock
Savers: £1.25
B&M: £1.25
Home Bargains: £1.09
Most read in Fabulous
Multi-millionaire on Rich House Poor House pays broke man £50k a year
Pal of Charles, William & Harry dies suddenly at 72 in blow to royals
We splashed £4k on Turkey teeth – we haven't drunk anything hot for 5 months
I'm a 48-year-old gran and proud cougar
VERDICT: Poundland wins at £1 a bar – 9p cheaper than Home Bargains in second place.
QUILTED TOILET ROLL (4-pack)
Poundland: £1.75
Wilko: £2
 Savers: £1.69
B&M: £2.49
Home Bargains: £1.65
VERDICT: Loo roll was cheapest at Home Bargains, with Poundland mid-priced.
COLGATE ANTI-CAVITY TOOTHPASTE 100ml
Poundland: £1
Wilko: £1.20. Not in stock – substituted with Colgate Triple Action 100ml 
Savers: 95p
B&M:95p
Home Bargains: 89p
VERDICT: Home Bargains wins again with 11p saving, while Savers and B&M also came in cheaper.
 BOTTLE OF BASIC BLEACH 750ml
Poundland: 70p
Wilko: 60p
Savers: 59p
B&M: 55p
Home Bargains: 55p
VERDICT: A joint win for Home Bargains and B&M, at 15p cheaper.
RICH CLASSIC COFFEE GRANULES
Poundland: £2 for 100g jar
Wilko: Do not sell coffee
Savers: £3.89 for 200g jar
B&M: £3.49 for 200g jar
Home Bargains: £5.49 for 300g jar
VERDICT: A tricky one as every store did different sizes, but B&M was best value at £1.75 per 100g. 
FAIRY WASHING-UP LIQUID 383ml
 Poundland: £1
 Wilko: £1
Savers: £1
B&M: £1
Home Bargains: 99p
VERDICT: Home Bargains takes it again, this time by a slim 1p margin.
McVITIE'S TASTIES DIGESTIVES 300g
Poundland: £1
Wilko: Biscuits not stocked
Savers: 79p
B&M: 59p
Home Bargains: Did not stock it – substituted with Gullon Sugar Free Digestives, 400g, 79p.
VERDICT: B&M wins by a mile at almost HALF the price of Poundland.
TY-PHOO ONE CUP TEA BAGS x 100
Poundland: £1
Wilko: Do not sell tea
Savers: £1
B&M: £1
 Home Bargains: 98p
VERDICT: Home Bargains came in 2p cheaper than all other stores.
CAREX ORIGINAL SHOWER GEL 500ml
Poundland: £1
Wilko: Not in stock – substituted with own-brand product, 90p. 
Savers: £1
B&M: £1
Read More on The Sun
Hard-up families to get £250 free cash direct into bank accounts
I chopped off the end of my eyebrows – trolls say I look like Joan Rivers
Home Bargains: 99p
VERDICT: Home Bargains offered the best-value branded shower gel, with a saving of a penny.
OVERALL VERDICT
HOME Bargains offered the best price for your basics and was consistently cheaper than Poundland, apart from the bar of Dairy Milk and box of tea. 
Shopping there would save you 78p – enough for a second bottle of bleach and some change.
Source: Read Full Article