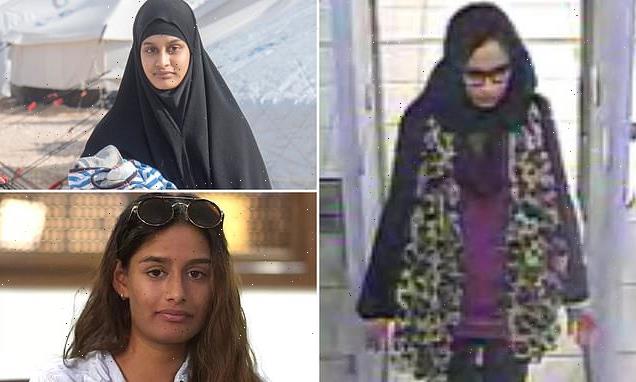 What are Shamima Begum's options now? How Brit schoolgirl is battling to return to the UK eight years after fleeing to join ISIS
READ MORE: MI5 described Ms Begum's media appearances as 'self-serving PR'  
Shamima Begum lost the latest stage of her long legal battle with the Government today.
The jihadi bride was 15 when she and two other east London schoolgirls fled to join ISIS in February 2015, with Ms Begum marrying a 23-year-old ISIS fighter ten days after arriving in Syria.   
Her British citizenship was revoked on national security grounds by the former home secretary Sajid Javid shortly after she was found, nine months pregnant, in a Syrian refugee camp in February 2019.
Ms Begum, now 23, brought a challenge against the Home Office at the Special Immigration Appeals Commission (SIAC), where her lawyers argued she should be allowed to return to Britain on the basis she was 'a victim of child sex trafficking'.   
However, the Home Office defended the decision by saying the security services 'continue to assess' that she poses a risk to the UK. 
Judges dismissed Ms Begum's challenge today, ruling that while there was a 'credible suspicion' that Ms Begum was trafficked to Syria for 'sexual exploitation' this was not enough for her appeal to succeed.  
Here is a summary of the jihadi bride's legal battle and her options now as she remains stranded in Syria.  
Ms Begum's British citizenship was revoked on national security grounds by the former home secretary Sajid Javid shortly after she was found, nine months pregnant, in a Syrian refugee camp in February 2019
How did Begum reach Syria and what happened after she arrived?  
Shamima Begum first came to the attention of the authorities when Scotland Yard raised concerns that she and two of her fellow pupils had fled to Syria in February 2015.
She was just 15 when she travelled to Istanbul in Turkey from Gatwick Airport on the 15th to join ISIS with her close friends at Bethnal Green Academy – Kadiza Sultana, 16, and Amira Abase, 15.
Despite her family's warnings that Syria was a 'dangerous place', the teenager, described as a 'straight A student', crossed the border just days later with the help of a Canadian spy named Mohammed Al Rasheed, according to reports.
Ms Sultana was reported as missing to police on the 18th before the Met named all three girls in a public appeal on the 20th.  
In the Shamima Begum Story BBC podcast series, Ms Begum said she was told to 'pack nice clothes so you can dress nicely for your husband'.
Just 10 days after arriving in the city of Raqqa, the schoolgirl was married to a Dutchman named Yago Riedijk, who had converted to Islam.
They had three children together, who all later died from malnourishment or disease. They were a one-year-old girl, a three-month-old boy and newborn son.
Ms Sultana was subsequently killed in a Russian airstrike in August 2016, while Ms Abase's whereabouts remain unknown. 
A CCTV grab showing Begum fleeing the UK through Gatwick Airport in 2015 
How did Begum end up being stripped of her British citizenship?
Ms Begum spent her life in the ISIS 'caliphate' for four years until the terror group lost all its territories in 2019. 
She was eventually tracked down to al-Hawl refugee camp in Syria where she gave an interview on February 13 to Anthony Lloyd of The Times.
'I'm not the same silly little 15-year-old schoolgirl who ran away from Bethnal Green four years ago. And I don't regret coming here,' she told the paper . 
Two days later on February 15, Home Secretary Sajid Javid said he 'would not hesitate' to prevent the return of Britons who travelled to join IS. 
On February 17, Ms Begum gave birth to her third child – a baby boy, Jarrah – in al-Hawl. 
The Home Office sent Ms Begum's family a letter on February 19 stating that it intended to revoke her British citizenship.
The jihadi bride, speaking a day later, called the decision 'unjust', while Ms Begum's sister, Renu, wrote to Mr Javid asking for his help to bring her newborn son to Britain – calling him a 'true innocent'. 
However, the baby died around three weeks after he was born after suffering from ill health. 
When did the jihadi bride begin her bid to return to Britain?
Ms Begum was moved to the al-Roj camp in north-eastern Syria in late February, reportedly because of threats to her life made at al-Hawl following the publication of her newspaper interviews. 
Back in Britain, the legal campaign began against Mr Javid's decision, with her lawyers filing their first challenge on March 19.  
While the ISIS recruit had links to Bangladesh, the country's foreign minister Abdul Momen said she could face the death penalty for involvement in terrorism if she goes to the country, adding that Bangladesh had 'nothing to do' with her.
New Home Secretary Priti Patel was equally adamant she should stay in Syria, saying there was 'no way' she would let her return to the UK. 
'We cannot have people who would do us harm allowed to enter our country – and that includes this woman,' she said. 
Begum on Sky News in 2019, when she said of ISIS: 'It was nice at first, like in the videos'
On October 22, Ms Begum's appeal against the revocation of her British citizenship began in London, with her barrister barrister Tom Hickman QC saying the decision to render her stateless exposed her to a 'real risk' of torture or death. 
In a preliminary ruling on February 7, the Special Immigration Appeals Commission (SIAC) ruled the decision to deprive Ms Begum of her British citizenship was lawful as Ms Begum was 'a citizen of Bangladesh by descent' at the time of the decision.
The tribunal also found that she could not 'play any meaningful part in her appeal and that, to that extent, the appeal will not be fair and effective'.
Ms Begum took her case to the Court of Appeal over whether she could return to the UK for the main challenge.
After the Court of Appeal ruled that she could return to the UK in on July 16, the Home Office challenged this decision at the Supreme Court.
On February 26 2021, the UK's highest court said that Ms Begum should not be granted leave to enter the UK to pursue her appeal against the deprivation of her British citizenship.
On August 31, the BBC trailed a controversial 10-part podcast series, The Shamima Begum Story. This was one of a series of media appearances by Ms Begum which included a magazine cover and several broadcast interviews. 
What happened in court today? 
In a 76-page public judgment, Mr Justice Jay and the two other members dismissed Ms Begum's challenge on all grounds.
Today ruling was only about her citizenship, and whether the decision to remove it would need to be reconsidered by Home Secretary Suella Braverman, not whether she could return to the UK.
'British citizenship is not an absolute entitlement for everyone,' Mr Justice Jay said. 'It can be removed by the Secretary of State, but not if to do so would render the subject stateless.
'Many citizens of the United Kingdom are immune from deprivation action for that reason, but not Ms Begum.'
Mr Justice Jay said that the tribunal had found it to be 'a case of great concern and difficulty'.
Ms Begum pictured with a Union Flag cushion in 2020. It was the first time she was seen without her usual black burka 
The judge also noted that Ms Begum had been 'married off' to an IS fighter when in Syria, and that her three babies had died.
'Whatever the extent of her ideological commitment before she left in February 2015, Ms Begum could not have had any inkling of how much personal suffering she was destined to endure,' Mr Justice Jay said.
The judge also found it was 'arguable' that bodies including the Metropolitan Police, Ms Begum's school and the local authority had failed to take 'reasonable preventative measures' in the months before Ms Begum left for Syria.
'The state may have failed in its duties to Ms Begum before she travelled to Syria, but she is now well beyond the scope of its protection,' he added.
Announcing the decision, Mr Justice Jay said 'the real merits of Ms Begum's case' involved her arguments that she had been the victim of trafficking.
The tribunal found that there was a 'credible suspicion' that Ms Begum was 'recruited, transferred and then harboured for the purpose of sexual exploitation'.
However, they also found that Mr Javid was not required to formally consider whether Ms Begum was, or might have been trafficked when deciding to strip her British citizenship.
Mr Justice Jay said: 'The commission has fully recognised the considerable force in the submissions advanced on behalf of Ms Begum that the Secretary of State's conclusion, on expert advice, that Ms Begum travelled voluntarily to Syria is as stark as it is unsympathetic.
'Further, there is some merit in the argument that those advising the Secretary of State see this as a black and white issue, when many would say that there are shades of grey.'
The judge found it was up to the people advising the Home Secretary, not the tribunal, to assess whether Ms Begum's travel was voluntary, adding that 'many right-thinking people will strongly take issue with the assessment of those advising the Secretary of State'.
What does it mean for Ms Begum?
The ruling means she will not have her British citizenship restored or be allowed to return to the UK. 
She will stay in the Al-Hawl refugee camp in Syria, where she is effectively stateless after being rejected by both the UK and Bangladesh – where she also has a claim to citizenship. 
What do Ms Begum and her lawyers plan to do next? 
Ms Begum's legal team will now challenge the judgment and seek to have it overturned in the Court of Appeal. Her lawyer Daniel Furner said the case was 'nowhere near over' and they would be challenging the ruling.
While he refused to give details about the basis for their appeal, it is likely to focus on their insistence she was a victim of child sex trafficking. 
Devyani Prabhat, a professor at the University of Bristol Law School, said the ruling in Shamima Begum's case is 'far from the end of the legal issues, as this will be followed by appeals and other proceedings by her team', adding: 'It only highlights the complexity of the issues and is one step in a long journey in Begum's cancellation of citizenship proceedings.'
The 'wide discretion' given to home secretaries to deprive someone of their British citizenship on national security grounds makes it 'quite difficult to challenge this, especially when there is evidence which is secret or not publicly available', she said.
How has the Home Office reacted?
The Home Office said they are 'pleased' the court has ruled against Shamima Begum.
In a statement, a spokeswoman said: 'We are pleased that the court has found in favour of the Government's position in this case.
'The Government's priority remains maintaining the safety and security of the UK and we will robustly defend any decision made in doing so.'
Mr Javid also expressed his support for the decision.
He said: 'I welcome today's court ruling, which has again upheld my decision to remove an individual's citizenship on national security grounds.
'This is a complex case but home secretaries should have the power to prevent anyone entering our country who is assessed to pose a threat to it.'
What does this mean for other ISIS members who've been stripped of their citizenship?
Dozens of other former ISIS members have had their citizenship taken away after being accused of joining ISIS. These include Jack Letts, nicknamed 'Jihadi Jack'. 
It is not clear today's ruling will affect their cases because judges based their decision on factors specific to Ms Begum's case. 
However, the Independent Reviewer on Terrorism Legislation, Jonathan Hall KC, said he believes Britons stranded in Syrian refugee camps would probably have to return at some point. 
'I think that ultimately it's going to be a political decision, I think that although it's hard to predict, the camps will start to empty out,' he told BBC Radio 4's The World at One programme.  
'I really don't think the UK would want to find itself in a position where the Belgians for example have brought back all their women and children. If nothing else, it would create this sort of awful spectre of Britain's Guantanamo. 
'I'm sure it would be a propaganda coup for Britain's enemies. So I can't believe the UK is going to be a complete outlier… I think ultimately it will be a political decision. 
'And you could say that if it's going to happen, particularly with the children who are now growing up, in a way the sooner you do it the better.' 
Source: Read Full Article