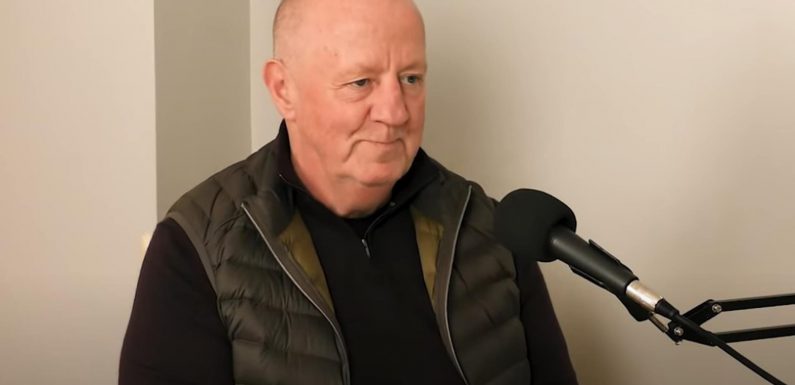 STEPHEN Mee was a notorious name in the UK during the 1980s and 1990s.
He has since turned his life around after being imprisoned for his crimes in 1996.
Who is Stephen Mee?
Stephen Mee was born in 1958 into a large family in Northern Manchester.
His mother suffered from Parkinson's and his father was an electrician.
He was one of nine children, although two of his siblings passed away at young ages.
His family struggled to make ends meet and to get through life daily.
Read more on Gangsters
Gangsters who killed teens in notorious shooting still at large 20 years on
Gangsters 'call for ceasefire' after deadly Christmas Eve pub shooting
He was a keen artist from an early stage in life. He began drawing cartoons before progressing to sketching rock icons.
Stephen left school without any qualifications, but he took an apprenticeship in graphic design, as well as studying sign writing at Oldham College of Art and Design.
He started committing crime in 1967 at the age of nine.
During his interview with James English he said: "What my mum used to do was she used to give us a list for a fiver and give us two quid to go and get it."
Most read in The Sun
Harry 'betrayed Army colleagues' by revealing he killed 25 militants
David Haye IS in a throuple with Una Healy & Sian Osborne and has told circle
Footballer and partner arrested with '100 KILOS' of cocaine at Paris airport
He was 11 years old when he started stealing cars. He had stolen 13 cars by the age of 13, when he was caught asleep in a car he had stolen.
His criminal life lasted until 1996 when he was finally caught and sent to prison.
Why was Stephen Mee sent to prison?
Stephen initially started selling cannabis as a young adult.
He would smuggle cannabis from Holland into the UK via trains and boats, before expanding to cocaine.
In 1987 he absconded from Kirkham open prison. He had five months left of his sentence.
In 1992 he was caught by undercover police while attempting to carry cannabis and cocaine from Curacao.
However, in 1993 he escaped from a transport van on the way to Manchester Crown Court. He was sentenced to 22 years in absentia on charges of smuggling cocaine from Colombia.
He fled to Amsterdam and began a working relationship with Curtis Warren, another famous drug lord from Liverpool.
The pair would mostly sell cocaine in Europe while maintaining contacts abroad in South America.
Dutch police tapped Stephen and Warren's phone conversations.
They received a major breakthrough when they realised Stephen had been sent to Colombia to meet with the Cali Cartel in one of the biggest cocaine deals known to the UK.
When half a tonne of cocaine arrived at Warren's house, Dutch police moved in and arrested the pair and several other associates.
Stephen served seven years in a Dutch Triple-A category prison.
In 2004, he returned to the UK to serve the 22 year sentence he was given in 2993.
Stephen was released from prison in 2012 after serving 16 and a half years.
What does Stephen Mee do now?
Whilst serving time in prison, Stephen studied fine arts at OCA Bucks University.
He graduated with honours.
During his studies he won the Kostla awards top platinum prize and a bronze prize for his work.
Since being released from prison he has been working as a professional artist.
His paintings depicts his past life in art and crime up to the present.
Read More on The Sun
You've been putting on plasters all wrong – here's how they won't fall off
Here's my hack using A4 paper that can help you cut your energy bill
He has presented his artwork to esteemed patrons such as Vivienne Westwood and other artists from the fashion and music industries.
His art is currently featured on the Saatchi Art Gallery website and available for sale.
Source: Read Full Article