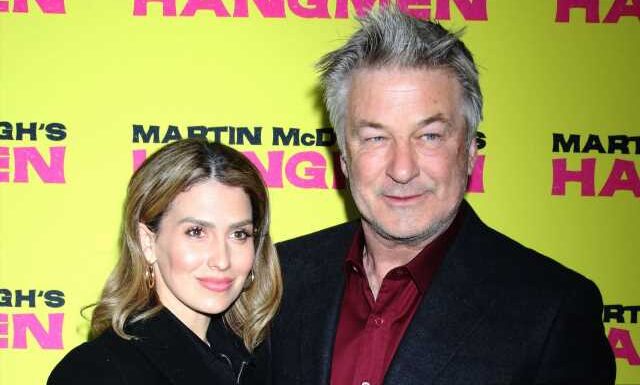 When talking about her life as a mother of seven children, the yoga teacher also reveals that she is not on birth control since it makes her 'feel awful' and 'depressed.'
AceShowbiz –Hilaria Baldwin has admitted to feeling like Alec Baldwin's "mommy" despite his much older age. During an interview about her life as a mother of seven children, the yoga teacher confessed that such thoughts about her 65-year-old husband came occasionally.
The 39-year-old entrepreneur unveiled the surprising fact in an interview with Romper published on Wednesday, June 21. When talking about her adoration of the baby phase, she giddily said, "Am I [Alec's] mommy?" She went on to spill, "Sometimes I'm his mommy. Sometimes."
The Yoga Vida co-founder further shared her thoughts on the matter. She explained, "At the beginning of our relationship, everyone was like, 'She must have daddy issues because she's married to somebody older.' But it's actually the opposite."
Elsewhere in the interview, Hilaria talked about pregnancy and giving birth. When asked if she loved being pregnant, she quipped, "Not really. But I love giving birth. This last time around, I pushed her out in a minute! Giving birth is like going down a water slide that's really scary. And then you get to the bottom, and you're like, 'I want to do this again.' "
On the reason why she stayed away from birth control, Hilaria reasoned, "I feel awful when I'm on birth control; it makes me depressed. Every single time I have a baby, my OB writes down the vasectomy doctor on a Post-it, and I bring it home to Alec. He hasn't done it yet."
Together with Alec, Hilaria shared 9-year-old daughter Carmen, 7-year-old son Rafael, 6-year-old son Leonardo, 5-year-old son Romeo, 2-year-old son Eduardo, 2-year-old daughter Maria Lucia or Marilu, and soon-to-be 9-month-old daughter Ilaria
Family aside, Hilaria also opened up about her response to the bullying she had to deal with. To Romper, she pointed out, "It is a ridiculous thing to be cruel to another person." She might be reacting to Amy Schumer, who most recently called her a "sociopath."
Hilaria became one of Amy's joke subjects in her Netflix stand-up special "Amy Schumer: Emergency Contact". At one point, she told her audience, "Do you guys know who Hilaria Baldwin is? So, I just can't wrap my head around this story. If you don't know who I mean, this is Alec Baldwin's wife. So, I'm not trying to bully a sociopath. I have a point, OK?"
"You might have seen her on the morning show having trouble pronouncing the word, how you say, cucumber? They have a von Trapp amount of children, and they named them all – I'm not sure, but very Spanish names like Jamon, Croqueta and Flamenco, you know," Amy continued commenting on Hilaria.
"And all of this would be fine and beautiful, except that 'Hilaria from Espana' is actually Hillary from Boston," Amy added. "This woman is in no way Spanish. Her parents are not from Spain. No one in her life is from Spain. You're going, 'What?!' Did you think I was just doing a really racist Spanish impression for like 15 minutes?"
You can share this post!
Source: Read Full Article