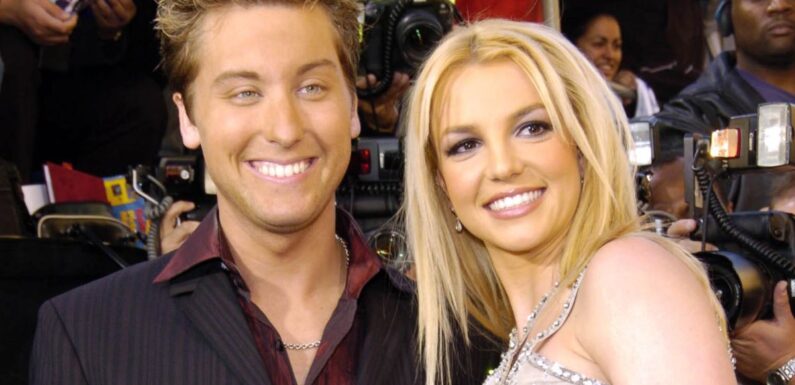 Britney Spears reacts to radio station saying she 'deserved' slap
Britney Spears thrilled fans as she revealed her long-awaited reunion with former NSYNC star Lance Bass, sharing some adorable family snaps on Twitter. 
The two pop legends became close friends as they rose to fame together in the late 1990s, although Lance claimed the 41-year-old's conservatorship kept her away from him in recent years. 
As a result, Britney only met Lance's twin toddlers for the first time yesterday and shared the sweet moment online. 
Lance and his husband, Michael Turchin, welcomed babies Betty and Alexander in October 2021 via surrogate although Michael seemingly wasn't present at the reunion yesterday. 
Britney gleefully captioned the snaps: "I'm a new auntie for Lance's babies!!! They are absolutely gorgeous babies!!!"
READ MORE: Will.i.am says he'll 'always make myself available' for Britney Spears
The Toxic singer posed as she carried one twin on her hip in between her and her husband, Sam Asghari, while Lance took charge of the other tot.
Britney's fans were overjoyed with the reunion, as one wrote in the comments: "Awesome to see you two together again after all these years. We love you Britney!"
Another gushed: "Congratulations Britney Happy For You!" as a third shared: "I love this Britney, you look so happy – so much joy in your smile!"
Lance was one of the first celebrities to publicly speak out supporting Britney as the battle to end her conservatorship started in 2020. 
Don't miss…
Britney Spears sparks concern after singer erases social media profile[REACTION]
Jamie Lynn Spears has 'nothing but love' for sister Britney after crisis talks[INSIGHT]
Britney Spears 'scared herself' as she tries exciting first in holiday snaps[LATEST]
We use your sign-up to provide content in ways you've consented to and to improve our understanding of you. This may include adverts from us and 3rd parties based on our understanding. You can unsubscribe at any time. More info
Just weeks before welcoming his twins in 2021, the 44-year-old revealed on Heather Dubrow's World podcast that he wasn't able to contact Britney due to the rules she was living under. 
He claimed: "I haven't spoken to her for years. We've been kept away from each other for quite a while.
"She needs to pick her own people running this conservatorship, if she even needs one, especially when choosing her lawyer."
Speaking out about the ongoing battle in 2022, Lance told PageSix: "There's a wall around her and for some reason, those people don't want her old friends involved with her life."
Shortly before Britney was officially set free from the conservatorship, Lance discovered that their bond actually went far deeper than close friends. 
As part of Ancestry's YouTube series, 2 Lies & A Leaf, Lance made the sudden realisation while tracing his family tree that he and Britney are actually related, as sixth cousins, once removed. 
He gushed on the show: "Look, I wanted to be related to the Queen. Well, now I'm related to the queen of pop!
"That is so crazy though, 'cause, I mean, I feel like she's my little sister, and this whole time she's been my little cousin."