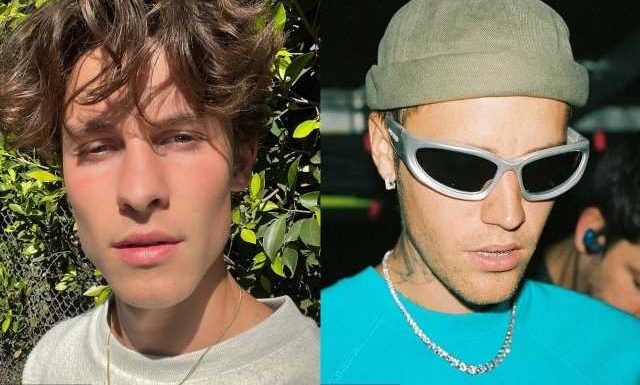 The Canadian pop stars are photographed hopping in the same car together after they both canceled their world tours to focus on their mental and physical health.
AceShowbiz –Justin Bieber and Shawn Mendes are stepping out together. The Canadian pop stars were photographed attending church together after they both canceled their world tours to focus on their health.
On Wednesday night, October 26, Justin and his wife Hailey Baldwin's ex-boyfriend Shawn were spotted attending church at Churchome in Beverly Hills, California together. After finishing their prayers, the two stars hopped in Justin's peach-colored Lamborghini Urus SUV before heading out to continue their boys' night out.
The crooners kept things casual for the night worship. 28-year-old Justin sported a gray hoodie and bright pink beanie. In the meantime, 24-year-old Shawn donned a neutral knitted sweater.
The men have a bit of a past, as Shawn dated Justin's wife Hailey before they were married. They even attended the 2018 Met Gala together, which came one month before the "Justice" star and Hailey rekindled their romance.
In June, Justin canceled the remainder of his U.S. shows following his Ramsay Hunt syndrome diagnosis. While he returned to the stage for six shows on the European leg of his tour, the "Baby" hitmaker said in September that he was postponing the rest of the shows after realizing the "real toll" performing took on his body.
"The exhaustion overtook me and I realized that I need to make my health the priority right now," he wrote in part. "So I'm going to take a break from touring for the time being. I'm going to be OK, but I need time to rest and get better." The next month, he officially canceled the remainder of his tour.
As for Shawn, he first announced that he was postponing some of his concerts in July, writing in part that he'd "hit a breaking point" and needed to step away to "take care of myself and my mental health." Weeks later, the "There's Nothing Holdin' Me Back" crooner canceled the remainder of his tour.
"After speaking more with my team and working with an incredible group of health professionals," Shawn penned, "it has become more clear that I need to take the time I've never taken personally, to ground myself and come back stronger."
Source: Read Full Article