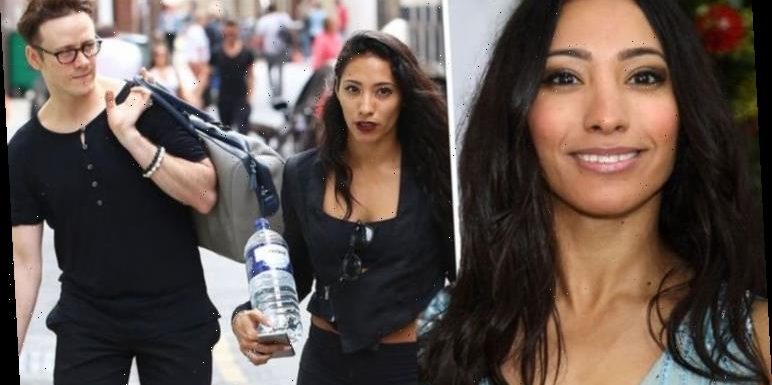 Karen Hauer discusses messages she receives from men
Strictly Come Dancing star Karen Hauer, 38, has revealed that she "loves marrying dancers", despite splitting from two of them. The dance star spoke to Jamie Laing, 32, and Francis Boulle, 32, on their Private Parts podcast where she joked about marrying dancers and wondered "whose name is it going to be next?"
I love marrying dancers

Karen Hauer
Speaking with the Candy Kittens founder, who struggled to introduce her full name, Karen joked about her many last names.
She said: "I have Clifton Hauer, but you know, I got rid of one of them.
The star shouted: "Sorry!" before laughing with her hosts.
"You know Francis, Karen's been married twice," Jamie started, kicking off the second part of the Private Parts podcast with his former Strictly partner.
She joked: "I apparently like being married."
We will use your email address only for sending you newsletters. Please see our Privacy Notice for details of your data protection rights.
The podcast host continued: "The best thing about Goose [Karen] is that she got married, twice, and then she thought 'ah, f*** it, I'm going to keep my first husband's name'."
Karen interrupted: "I kept my first husband's last name and then when I married my second husband I changed my name, that sounds awful.
"And when I married Mr Clifton I changed for, you know, when I was on the show, and once we got seperated I went back to Hauer.
"Every year, every other year I just change my name, whose name is it going to be next?"
"Who's it going to be? It's like a game show that you should host," quipped Jamie.
He said to Karen about ex-husband Kevin Clifton: "You guys were married and then you're also dancing together while being in a relationship and then splitting up.
"That's tough, right."
Karen confirmed: "I did it with my first husband who is also a dancer, I love marrying dancers apparently.
"Marrying dancers and then just separating and being like let's just keep doing this together."
DON'T MISS…
Holly Willoughby admits feeling 'very emotional' on 'important day' [INSIGHT]
Jasmine Harman 'streetwise' after living in 'Murder Mile' [INSIGHT]
Angelina Jolie admits living five minutes away from Brad Pitt [ANALYSIS]
Jamie highlighted just how difficult it is for the dance star to date because of her hectic lifestyle.
The MIC star said: "It's hard to date people, that's what is quite tricky is that you're travelling and touring, it's hard to find people.
"Also because you can't trust a lot of people if they're not in the business, this is why a lot of people date in the business and date their partners because you trust who you're around.
"So for me to be able to go and meet someone – obviously now it's hard – I want to be comfortable with someone."
Source: Read Full Article