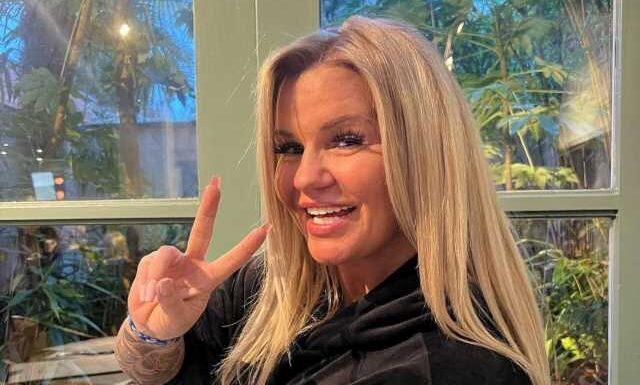 The former Atomic Kitten singer reveals she's unvaccinated against Covid-19 as she falls ill and thinks it's Covid but has no plan to isolate away from other people.
AceShowbiz –Kerry Katona believes she's got COVID-19 but is "trying to get on" with life as normal. Unvaccinated against the virus, the former Atomic Kitten singer is trying to "recover and relax" after falling ill and developing a cough, but she isn't planning to isolate away from other people because it is no longer mandatory to do so.
"I'm not sure if you guys have seen me coughing in my recent Instagram videos, but I think I've got COVID-19, so I don't feel great. I haven't had any jabs for it and it's my fourth time having it, so I know what to expect," she wrote in her column for new! magazine.
"Now that the rules state we don't have to isolate, I've been trying to get on with things. Last week I had a few days busy with work and went to London. I can't believe I was out and about so much while feeling so ill. But once I got home, I took time to recover and relax."
Kerry recently opened up about a cancer scare she had during the pandemic. The 42-year-old star – who has Molly, 21, and Lilly, 20, with first husband Brian McFadden; Heidi, 16, and Max, 15, with second spouse Mark Croft; and eight-year-old DJ with late third husband George Kay – found a lump under her armpit around the same time the late Sarah Harding of Girls Aloud was diagnosed with breast cancer in August 2020, before she tragically lost her battle the following year, aged just 39.
She told OK! Magazine, "I once found a lump underneath my armpit in the shower. It was around a similar time that Sarah Harding was diagnosed, which put the fear of God in me. My life flashed before my eyes and that's when my health anxiety really kicked on. I had the realisation that we're not all immortal and that your health is not always something you can control."
Kerry was lucky that her lump did not turn out to be the deadly disease.
You can share this post!
Source: Read Full Article