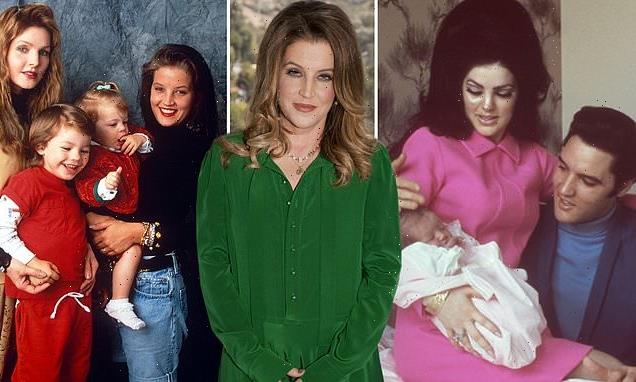 Lisa Marie Presley's life in pictures following her tragic death at 54: From her early days as the apple of Elvis's eye, to rebellious teen, Hollywood bride and a devoted mother
Lisa Marie died on Thursday at age 54 after going into cardiac arrest 
Paramedics reportedly restarted her heart before she died later in the day 
Her mother Priscilla Presley and other family rushed to be with her at hospital 
Lisa Marie suffered tragedies with the young death of her father Elvis in 1977
Her son Benjamin also took his own life in 2020
Lisa Marie Presley, the only child of rock 'n roll legend Elvis Presley, tragically died on Thursday at age 54 following a tumultuous life.
After enduring overwhelming grief with the loss of her father and her son, battling drug addiction and the heartbreak of failed marriages, her life came to an end with her shock death at her Calabasas home on January 12. The singer-songwriter was found unresponsive in her bedroom and suffered cardiac arrest.
After her ex-husband Danny Keough performed CPR on her, according to TMZ, paramedics were initially able to restart her heart, but she died hours later.
'It is with a heavy heart that I must share the devastating news that my beautiful daughter Lisa Marie has left us,' Lisa Marie's mother Priscilla announced in a statement.
'She was the most passionate strong and loving woman I have ever known. We ask for privacy as we try to deal with this profound loss,' she continued. 'Thank you for the love and prayers. At this time there will be no further comment.'
The daughter of Elvis and Priscilla Presley pursued her own acclaimed musical career as a singer, releasing three popular albums.
Along the way, she had several high-profile romances, including marriages to Michael Jackson and Nicolas Cage.
Inside Lisa Marie's 'unrelenting grief' over son Benjamin's suicide
Lisa Marie's missing millions after losing $100million fortune  
Star looked unsteady and slurred her words at Golden Globes
She also endured terrible heartbreak in 2020 when her son Benjamin Keough died by suicide.
Below, DailyMail.com takes a look at Lisa Marie's epic life in pictures.
Last picture: Lisa Marie Presley, 54, is seen through her life in pictures as she stepped out of her father's shadow; seen at the Golden Globes on January 10 in Beverly Hills
Baby girl: Lisa was born on February 1, 1968, to legendary rock 'n' roll singer Elvis Presley and his wife Priscilla; pictured four days after her birth
Split: Lisa's parents divorced in 1973, and her father died four years later in 1977;  seen playing with her parents as a child
Family dissolution: Lisa would go on to live primarily with her mother in Los Angeles, though she frequently spent time with her father at Graceland; pictured circa 1970
Fallen King: Elvis was reported to have died of cardiac arrest, though his prodigious drug use in his later years was also suspected as a factor; pictured circa 1970
Taking over: Following her father's death, Lisa became co-heir to his estate Graceland, and after the deaths of her grandfather and great-grandmother, she became the sole heir; seen circa 1970
Loss: Lisa is seen holding hands with her mother at Elvis's funeral in 1977 in Memphis, Tennessee
Rising star: Lisa is pictured in a fifth grade yearbook photo from her elementary school Le Lycée Français in Los Angeles (center). She would have been around 11 at the time, in 1979
Spitting image of her mother: Lisa is seen out for dinner with her mother Priscilla in 1981, when she would have been around 13
Beaming bride: Lisa is seen on her wedding day in 1988. Her first marriage — when she was 20 — was to the musician Danny Keough (R)
First husband: The couple would welcome two children, daughter Riley and son Benjamin, but Lisa would later get a quick divorce in the Dominican Republic in 1994; pictured in 1990
Close bond: Lisa reportedly stayed close with her ex Danny and had been living with him for a while before her death. He reportedly performed CPR on her before paramedics arrived; seen in 1991 in Los Angeles
Gracious: Danny would later serve as the best man when his ex-wife married Michael Lockwood in Japan in 2006; pictured in 1991
Reunion: Lisa first met Michael Jackson in 1975 when she attended one of his concerts as a seven-year-old girl. The two revived their friendship when she was an adult in 1992; seen in 1994
Support: In 1993, Jackson reportedly leaned on her for support after the first of several child molestation claims were leveled against him; seen in 1994
Moving fast: The two became romantically entangled, and they tied the knot just 20 days after Lisa's divorce from Danny Keough in 1994; seen in 1995 
The end: Presley filed for divorce from Jackson in 1996, citing irreconcilable differences, though she later revealed that she attempted to reconcile multiple times in subsequent years; seen in 1995
Regrets: Presley wrote about her grief following Jackson's death in 2009. She said she regretted not being able to help him more with his substance abuse problems
Celebrity pals: Lisa is pictured having a blast with actor David Arquette in 1997
New man: Following her divorce from Jackson, Lisa had a brief engagement to the Hawaiian musician John Oszajca; seen in Park City, Utah, in 2000
Generations: Priscilla was a constant presence in her daughter's life; seen here with Lisa, Riley and Benjamin in 2001
Moving on: Presley's third marriage was to Nicolas Cage in August 2002; seen in 2001
In relationships: The two met while she was engaged to Oszajca, which she broke off to be with Cage. He was married to Patricia Arquette at the time, but he told Barbara Walters he was 'thunderstruck' when he first saw Lisa
Didn't last: However, the union was short-lived, and Cage filed for divorce just three months after they tied the knot; pictured in June 2002
Family: Lisa Marie and Danny Keough's marriage resulted in two children, daughter Riley (L) and son Benjamin (R); Lisa seen in 2002 with her children and half-brother Navarone Garibaldi (back right)
Family of artists: Her daughter Riley would go on to become an actress noted for her appearances in acclaimed independent films and awards contenders; seen together in 2003
New love: Lisa's fourth marriage — in 2006 — was to Michael Lockwood, who had played guitar for her and served as her music producer and director; pictured in 2005
Together at the end: Lisa seen with mother Priscilla in 2006 in Memphis, Tennessee. Priscilla rushed to be by her daughter's side at the hospital and later confirmed her death in a statement
Extending their family: Lisa Marie and Michael Lockwood would welcome fraternal twins Finley and Harper in 2008; seen in 2007
Tragedy: On July 12, 2020, Lisa's son Benjamin died by suicide. Two years later, she penned an essay about her unending grief; They are pictured together in 2012
Acrimonious: Lisa Marie filed for divorce from Lockwood in 2016 and later falsely claimed she found child pornography on his computer; seen in 2013 
Following in her father's footsteps: Lisa launched her music career in earnest in the early 2000s. She went on to release three critically acclaimed and commercially successful albums in short succession; seen in 2013
Sweet: Lisa shared a photo with her three daughters after they saw a performance of The Nutcracker around Christmas time in 2018
Together: Lisa Marie called herself a 'mama lion' in a photo featuring all four of her children in 2019. Her son Benjamin took his own life the following year
The girls: Lisa wrote that she 'couldn't have made it through without these three by my side' as she looked glamorous in a photo with Riley, Harper and Finley in 2021
Showing their support: Lisa was joined by daughter Riley and mother Priscilla in June last year as they presented a special screening of Elvis
Leading man: Priscilla pictured with star Austin Butler, whose commitment to playing her father in the biopic Elvis was so great that he apparently continued using his accent long after the film was released; seen in June 2022
Family pride: Lisa, her mother Priscilla and her three daughters bonded together to celebrate their family and her late father in June 2022 following the release of Baz Luhrmann's acclaimed biopic Elvis
Embrace: Lisa shared a warm hug with Austin Butler two days before her death at the Golden Globes. His acclaimed performance as The King became a rallying point for Lisa, her mother and her children
By his side: Butler won the Golden Globe for Best Actor in a Drama on Tuesday, and Lisa and Priscilla were on hand to celebrate him and the film
Last days: Lisa Marie was seen looking frail at the Golden Globes two days before her death
Source: Read Full Article