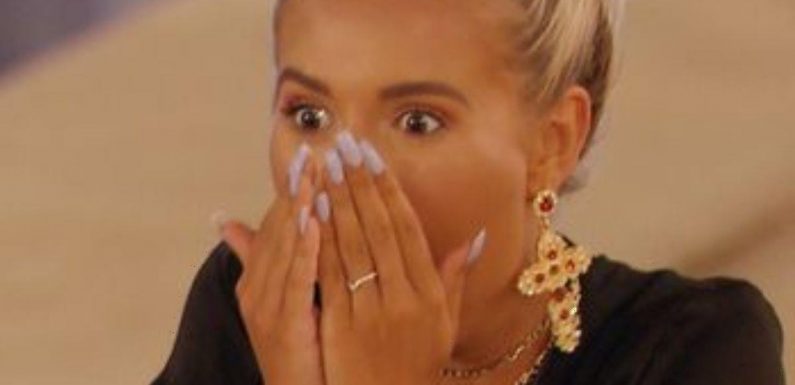 We use your sign-up to provide content in ways you've consented to and to improve our understanding of you. This may include adverts from us and 3rd parties based on our understanding. You can unsubscribe at any time. More info
Love Island's Molly-Mae Hague welcomed baby girl Bambi three weeks ago, and was trolled relentlessly over her choice of name, with some claiming it was the type of alias they'd expect of a stripper. Now the reality star turned businesswoman is keen to get back into her home gym to lose some of the weight she's supposedly gained during pregnancy.
Naturally, the Instagram star shared her workout routine with her 7.1 million followers, as she lamented piling on the extra pounds.
The 23-year-old donned a pair of grey yoga pants for her training session on a stair master, and also shared footage of herself doing squats and lunges, and lifting weights.
She raised the alarm by exclaiming: "First day back moving! These videos made me realise my [bum] has tripled in size from having Bambi.
"Some serious toning needed but I'll get there in time!"
READ NOW: Jeremy Clarkson tells James May to 'f*** off' mocking farm produce
Followers had previously witnessed footage of her getting Bambi settled into her personalised nursery, which features her name on the wall in glowing light-up letters.
However, as well as her little girl, Molly's current priority is returning her body to its pre-pregnancy state.
She enthused: "So beyond excited to get my fitness back… never felt so ready to get my body back moving again!"
The TV star seemed optimistic about the future, as she shared a throwback snap of herself heavily pregnant and marvelled at how much of a transformation she had already made.
As she marked her return to fitness, her child's father, Tommy Fury, was back to the boxing ring for a scheduled fight with Jake Paul.
She captured their goodbye moment on Instagram just hours previously, as she cradled the pair's newborn in her arms.
"And he's off to go and get that win," she captioned the photo ahead of the sporting star's flight to Saudi Arabia for the match.
"We will miss you dada… so beyond proud of you!" she exclaimed.
The new mum looked content after putting the troll attacks she received on social media behind her.
Prior to the baby name furore, multi-millionaire Molly-Mae had raised hackles by claiming that everyone had "the same 24 hours in a day".
Followers criticised her comments, which were made during an episode of the money and motivation podcast Diary of A CEO, as "tone deaf".
Molly has become a successful influencer since leaving the Love Island villa, and also landed a creative director role at fast fashion brand Pretty Little Thing.
However, some fans felt her comment was insensitive – especially to factory workers, some of whom produce garments for very low wages around the world.
As some complained over her "privilege", Molly took to social media to apologise to those who were offended.
"I completely appreciate that things can affect different people in different ways. However I just want to stress that I would never intend to hurt or upset anyone by anything that I say or do," she wrote.
She added: "I apologise to the people that have been affected negatively or misunderstood the meaning of what I said in the podcast. The intentions of the podcast were only ever to tell my story and inspire from my own experience."
Source: Read Full Article