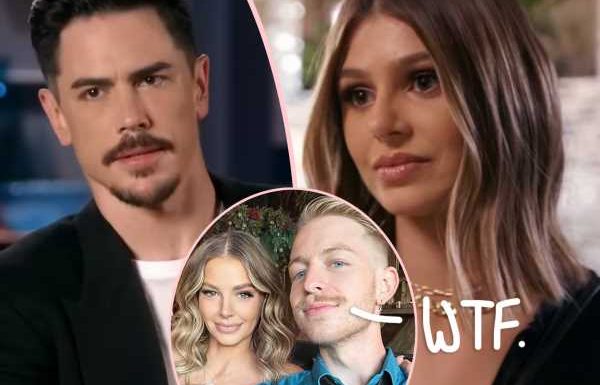 Tom Sandoval and Raquel Leviss are facing the wrath of one of Ariana Madix's best friends!
ICYMI, the 28-year-old was caught leaving a sleepover she had with Sandoval at his home in the Valley Village neighborhood of Los Angeles on Wednesday – you know, the same house he still shares with his former girlfriend! The nerve of these two, huh? You can ch-ch-check out her walk of shame (below):
A post shared by Page Six (@pagesix)
Thankfully, Ariana did not have to witness their hangout since she is currently filming the upcoming Lifetime film, Buying Back My Daughter. But no one would blame her if she was still PISSED that Sandoval had Raquel stay at their home amid the cheating scandal fallout. Even if the two had been romantically together at the residence during their months-long affair, it is disrespectful to be having her there now – especially knowing that all eyes are still on them since the drama has yet to subside!
Like seriously! Did the cover band frontman really think they wouldn't get caught? Or was this a way to make Ariana uncomfortable in her own home to the point where she would reached her breaking point and move out? We would not be shocked if that was Sandoval's plan…
Ariana has not reacted to the sleepover between Sandoval and Raquel yet. However, it seems one of her close friends caught wind of what happened at her home while she was away, and he decided to give the pair a piece of his mind!
Logan Cochran – who fans might recognize as a server at TomTom during his guest appearances on Vanderpump Rules – went OFF on Sandoval for having the audacity to hangout with Raquel at his and Ariana's home after previously getting angry at the 37-year-old for having friends over amid the Scandoval fallout. Sharing a picture of Raquel from Page Six with a clown emoji over her face, he wrote on Thursday:
"Is this how y'all are making amends? righting you wrongs? the robot has her own apartment. go there. go anywhere else. why did we get so much s**t for being at the house watching beyoncé music videos but its okay have rachel over?"
Seriously, Tom?! Did he really give her "s**t" when she only needed friends over to have as a buffer since he refuses to give her space in their home? Wow. Logan continued:
"maybe at least PRETEND to have some decency? for the cameras, at least? And don't worry, tom, i texted you about this before posting. i know that bugged you before."
We love to see someone calling out Sandoval and Raquel!
He has a point! They could have taken their hookup elsewhere! Literally anywhere else but his and Ariana's home. But clearly, Sandoval does not care about Ariana's feelings at all based on his actions over the past year.
Reactions, Perezcious readers? Sound OFF in the comments below.
Source: Read Full Article