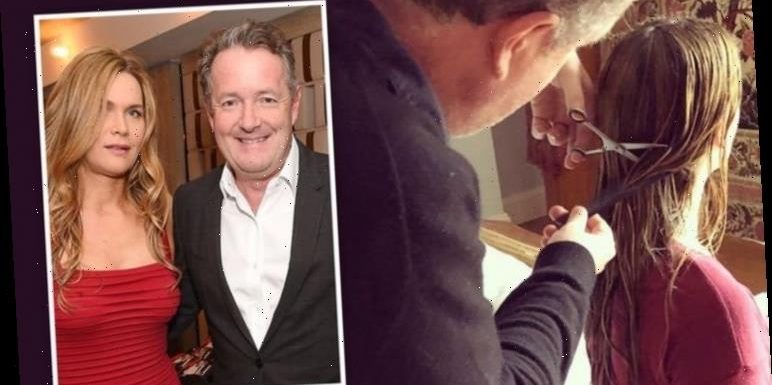 Celia Walden discusses marriage with Piers Morgan in 2018
Celia Walden, 45, called for "help" as she posted a picture on Instagram of husband, Piers Morgan, 55, preparing to cut a chunk out of her long hair. The post comes just days after Piers celebrated Good Morning Britain viewing figures being the "highest-rated in our history".
Help me

Celia Walden
Celia posted the picture with the caption: "What could possibly go wrong at Salon Morgan? #lockdownlocksoff #helpme."
The Instagram photo showed the mum of one sitting with her damp brown hair behind her back, her face turned away from the camera, hiding her expression.
Her husband was holding a section of hair with one hand while handling a pair of scissors dangerously high up Celia's length of hair.
Piers' son and Celia's step-son, Spencer Morgan, commented on the post, saying: "ABORT."
We will use your email address only for sending you newsletters. Please see our Privacy Notice for details of your data protection rights.
View this post on Instagram

A post shared by Celia Walden (@celia.walden)
Celia asked him: "@Spencermorgan You mean you never let him do this to you?"
Spencer wittily replied: "@Celiawalden Only if I want to be decapitated."
Pier's wife then joked around with a fan who asked for an "after" picture.
She asked: "Even if it's Sinead O'Connor circa 1990?" referencing the Irish pop-star's famously shaved head.
Fans were also quick to beg the outspoken Good Morning Britain presenter to stop performing the DIY hair cut on his wife.
Presumably Celia's hairdresser, Salon 64 commented: "WE CAN'T WATCH!"
Celia rushed to apologise for the mistake: "I'm so sorry.
"It'll take you, months, years to repair the damage…"
DON'T MISS…
Phil Vickery breaks silence on life after split from ex Fern Britton [UPDATE]
Ranvir Singh offers invaluable support to Kate Garraway over children [UPDATE]
Piers Morgan hits back as Jim Davidson brands him a 'pathetic idiot' [ANALYSIS]

Celia confirmed it was her at the receiving end of her husband's amateur hairdressing attempts when a fan mistook her head of hair to belong to Celia and Piers' daughter, Elise.
The comment read: "Is he trying to create a bob style, poor daughter, lol."
Celia was quick to add: "It's his wife!
"Just that his head looks so huge in comparison."
The couple, who have been married for more than 10 years, met in 2006 when he interviewed Celia for a shoot she was involved in.
The journalist said he immediately knew Celia was "bride material" when she laughed at him when a speech he was doing went wrong in front of 1,000 people.
In 2010 the couple tied the knot at a lavish small church ceremony in Swinbrook, Oxfordshire.
They welcomed Elise Morgan, their first child together, in November 2011.
Source: Read Full Article