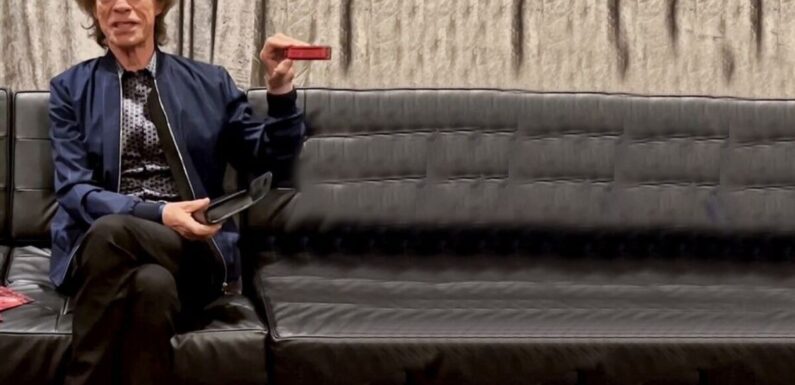 In a slightly stilted and brief promotional video on Instagram, the 80-year-old singer holds one up and declares: "Hey, cool to see these just in.
"Can't wait to hear you guys play them. Check it out on mickjagger.com."
The Rolling Stones frontman plays mouth organ and electric guitar on dozens of the band's hit records.
Speaking earlier this year, the star, whose fortune is estimated at £300million, said: "I started to learn the harmonica after hearing the greats of the blues, such as Little Walter and Sonny Boy Williamson.
"Since then, I've played harmonica on so many tracks and at countless gigs over the years."
READ MORE: Rock icon Mick Jagger at 80 still has plenty to shout about
The red harmonica with the Mick Jagger logo in black is the second edition to go on sale.
Mick announced his limited edition line of harmonicas in collaboration with makers Lee Oskar and media creatives Whynow Music at the beginning of this year, with the collection selling out in weeks.
Their latest model retails at around £60 and is said to "faithfully replicate" the exact specifications used by Jagger throughout his long career.
At the first launch in January, he said: "Hopefully some of them will get into the hands of young harmonica players who turn out to be the legends of the future."
Don't miss…
Mick Jagger loves streaming music despite it costing him millions[CELEBS]
Inside Mick Jagger's relationship with partner Melanie Hamrick[CELEBS]
Windswept Mick Jagger arrives with wife at banquet for King Charles[CELEBS]
We use your sign-up to provide content in ways you've consented to and to improve our understanding of you. This may include adverts from us and 3rd parties based on our understanding. You can unsubscribe at any time. More info
More than 123,000 followers have already viewed the new promo. One writes: "I'm 70, been listening as long as I remember. Keep going on."
While another just says: "Wow!"
But one woman posts: "Ah, come on Mick…ya don't need to advertise merchandise" – along with laughing emojis. The Stones release their first new album in 18 years, Hackney Diamonds, later this month.
Source: Read Full Article