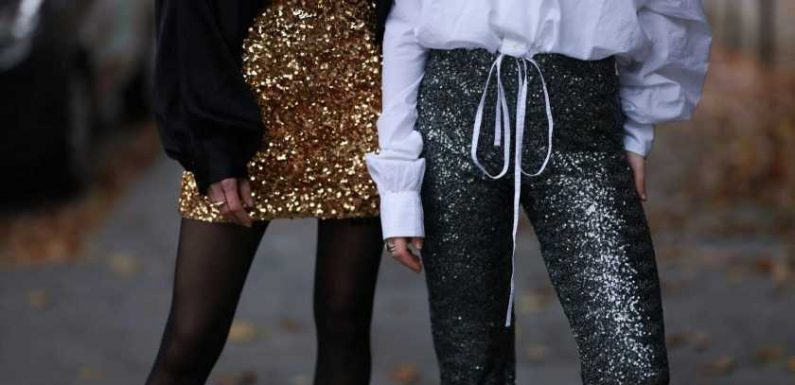 Written by Lauren Cunningham
All products on this page have been selected by the editorial team, however Stylist may make commission on some products purchased through affiliate links in this article
However you ring in the new year, these party pieces will suit any celebration – from feather-trimmed pyjamas to sequin slips.
We are well and truly immersed in the festive season, stretching out the period between Christmas and New Year when nobody knows what time, day or year it is.
But while we love to loll about on the sofa, occasionally checking emails and tucking into Christmas Day leftovers, the New Year's Eve celebrations are quickly coming around. 
Whether you're planning to party hard with your pals, dine out at a dinner party or simply sit on the sofa and wind down while the new year rolls in, wearing a great outfit can be one of the best parts of a memorable night. 
Luckily, we've found outfit options for every occasion. And if you don't fancy splashing out on a swanky new look, we've also found the best rental options, so you can see in the new year in a luxury label without the high price tag.
Feather-trimmed pyjamas, satin shirt dresses and joyful jumpsuits are all on the menu to helpadd a stylish twist to your New Year's Eve memories. Cheers!
Mango bow wrap dress

Mango bow wrap dress

This satin dress will work wonders for a whole host of occasions, whether you're dining with a date or falling over with laughter with your family. It'll make a simple work outfit, too, so be sure to re-wear.

Shop Mango bow wrap dress, £49.99

BUY NOW

Karen Millen sequinned tie waist playsuit

Karen Millen sequinned tie waist woven playsuit

Another one for the party people, this black sequin jumpsuit really is the perfect rave piece. Layer over sheer tights and wear with biker boots for a standout style that will see you through until sunrise.

Shop Karen Millen sequinned tie waist playsuit, £108

BUY NOW

In The Style Plus knot front satin shirt dress

In The Style plus knot front satin shirt dress

This vibrant orange number is the perfect house party piece. Pair with trainers for a more casual look, boots for a grungier vibe or heels for a fancy soiree.

Shop In The Style Plus knot front satin shirt dress at Asos, £16
Nadine Merabi emerald green pyjamas

Nadine Merabi Darcie emerald green pyjamas

Feather-trimmed pyjamas are the ultimate fashionable find, and this gorgeous green pair is the perfect pick for a luxurious look. The best part? You can wear them outside the bedroom with a statement pair of party heels.

Shop Nadine Merabi 'Darcie' emerald green pyjamas, £150

BUY NOW

Jaded Rose Plus balloon sleeve mini dress in ombre sequin

Jaded Rose plus balloon sleeve mini dress in ombre sequin

For anyone planning to really party and see the New Year in with a crowd of cheering clubbers, this sparkly number may be the perfect pick. Wear with your most trusted ankle boots so you can stomp around the dancefloor until the early hours.

Shop Jaded Rose Plus balloon sleeve mini dress in ombre sequin, £65

BUY NOW

Warehouse petite satin halter neck backless slip dress

Warehouse petite satin halter neck backless slip dress

If you're going all out for cocktails or sipping champagne, this subtly sexy backless slip dress is just the job. The festive shade keeps things jolly, while the simple shape can be worn for any other fancy occasion.

Shop Warehouse petite satin halter neck backless slip dress, £79.20

BUY NOW

Arket cropped stretch leather trousers

Arket cropped stretch leather trousers

Finding a pair of leather trousers you love is no easy feat, so selecting a standout silver style is sure to amp up the joy. With a raw hem and kick flare, these can be pared back for everyday looks or dressed up as a party piece.

Shop Arket cropped stretch leather trousers, £299

BUY NOW

Monki purple shiny sleeveless cowl neck jumpsuit

Monki purple shiny sleeveless cowl neck jumpsuit

For a dinner party, this purple jumpsuit is slouchy yet sophisticated, so you can feast away before falling asleep on the sofa. Pair with silver accessories to glam up the look and layer on the jewellery.

Shop Monki purple shiny sleeveless cowl neck jumpsuit, £50

BUY NOW
Coast plus size disc sequin mini dress

Coast plus size disc sequin mini dress

Transforming a simple shift dress into a standout star, this disco spot dress is calling out for attention. With extra-large blue and silver sequins, it will reflect the lights on the dancefloor while still being formal enough to wear to a winter wedding.

Shop Coast plus size disc sequin mini dress, £175.20

BUY NOW

Boux Avenue stripe satin revere and pant set

Boux Avenue stripe satin revere and pant set

For anyone spending the evening on the sofa, a silky pair of PJs will add a touch of glamour to your evening celebrations. This baby blue Boux Avenue set is perfect for year-round snuggling and is sure to be comfy and cosy.

Shop Boux Avenue stripe satin revere and pant set, £42

BUY NOW

Oasis Rachel Stevens faux feather detail Bardot jumpsuit

Oasis Rachel Stevens faux feather detail Bardot jumpsuit

For more formal affairs, this faux feather-trimmed jumpsuit is the one to opt for. It's suave, sophisticated and incredibly stylish, so wear with basic black accessories to keep it sharp.

Shop Oasis Rachel Stevens faux feather detail Bardot jumpsuit, £97

BUY NOW
Images: Getty; courtesy of brands
Source: Read Full Article