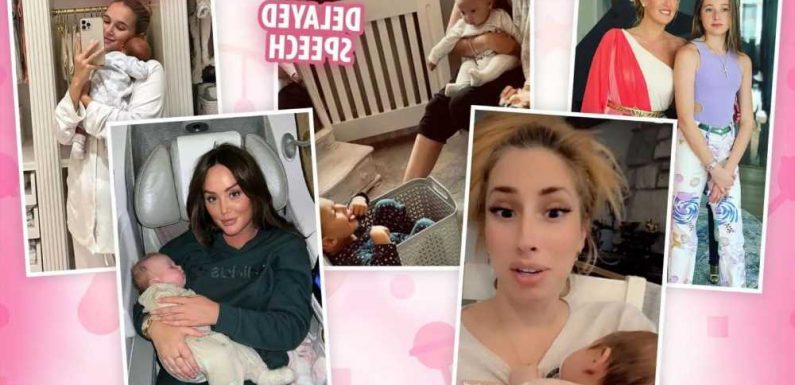 ANY woman will know that motherhood comes with its fair share of challenges and hurdles.
But becoming a mum when you're in the public eye can be even more daunting – with cruel trolls watching and commenting on your every move.
Over the last few years, an increasing number of celebrity mums have found themselves the subject of nasty mum-shaming.
Among them is Stacey Solomon, who was recently criticised for having acrylic nails shortly after having a new born, while Paris Fury was also reprimanded for homeschooling her daughter aged 12.
Here, Fabulous takes a look at the celebrities secretly waging war on the mum-shamers out to get them.
Stacey Solomon
Stacey, who has just welcomed her fifth child Belle, her third with husband Joe Swash, has most recently been mum-shamed by a cruel troll who criticised her for having long nails.
READ MORE ON PARENTING
I was mumshamed for feeding my son a chip in a restaurant
I'm expecting my second child & still vape – I did in my first pregnancy too
The 34-year-old took to Instagram and explained how she'd treated herself to a manicure on her first trip out of the house without her baby daughter.
But it wasn't long before the cruel comments started, with one keyboard warrior writing: "Very impractical nails for a newborn."
Hitting back in the best way possible, Stacey re-posted the message and quipped: "Have a day off Wilma. It'll be OK I promise."
The former I'm A Celebrity winner then shared a video where she could be seen cuddling Belle, before directly addressing the troll saying: "Well I think they're really practical.
Most read in Fabulous
Carol Vorderman leads the way at Cheltenham in a corset & leather skirt
Family slammed after pic of trip to beauty spot goes viral – can you tell why?
Shoppers run to Superdrug to buy cream they say is like 'Botox in a bottle'
I'm a gypsy wife & swear by 8 cheap buys to get my home looking clean & fresh
"They're great for tickles and head strokes. Belle is loving them."
FABULOUS BINGO: Get a £20 bonus & 30 free spins when you spend £10 today
Finally, she sticks up one of her fingers and jokes: "This one is really good for picking out bogies.
"Will I end up with poo underneath them everyday? Probably, but I've got a nail brush and wash my hands.
"It'll be fine."
And it's not the first time the Loose Women star has had to hit back after receiving unnecessary remarks.
In December, the mum-of-five caused quite a stir online after sharing snaps of her kids playing in the snow in the grounds of her £1.2 million home, 'Pickle Cottage.'
In one photo, the children can be seen having fun in Joe's "childhood sleigh".
But while Rose appeared to be dressed in warm clothing with her head covered in a cute beanie hat, others took issue with three-year-old Rex not wearing a hat.
"Why wasn't your son wearing a hat? You and Rose were," wrote one.
Stacey's loyal fans quickly jumped to her defence, with one writing: "Omg how can you say that about a cute little boy with lovely long blond hair.
"Nasty trolls go and crawl back in your hole where you came from nasty, nasty."
Another reassured: "Ignore the keyboard warrior and the trolls you both are great parents and I bet your 2 eldest boys tell you that all the time keep making them memories merry Christmas to you all xxx."
Mrs Hinch
Mrs Hinch has previously spoken out about the cruel trolling she received over her son, Ronnie.
The cleanfluencer, 33, told how she was "fed up" of being sent passive aggressive messages from trolls criticising her and her son.
Penning a lengthy post aimed directly at her critics, she penned: "'Comparison is the thief of joy' – An old saying that's been shared many times – And this CERTAINLY doesn't exclude parenting!
"There will always be another child who is smarter, more athletic, more talented, more obedient than yours, as well as kids who aren't as smart, athletic, talented, obedient as yours.
"I really am fed up of seeing passive aggressive messages and comments 'does your child even speak yet Sophie', 'you need to cut Ronnie's hair', 'Ronnie should be counting by now', 'why haven't you shown Ronnie much today on your stories', 'you film your child too much' We simply cannot win (sic)."
She urged parents to support each other and highlighted the importance of "being kind" online.
The cleaning whizz continued: "So please to those people following me that are not supportive of others and are only here to criticise and find faults in other people…Please STOP and put your energy elsewhere.
"Every single child is a blessing, is unique, is special, is beautiful and developing at different stages to one another!
"Some moments as parents we fall and have to pick ourselves back up, so in those darker moments show support, give advice and simply be kind instead of making someone feel worse about themselves!"
Mrs Hinch added: "We should ALL be supporting each other. OUR Babies are ALL blessings! And that is all."
Paris Fury
Paris Fury, who is married to boxing champion Tyson Fury, was forced to defend her decision to take daughter Venezuela out of school at the age of 11.
Appearing on Loose Women, the relatable mum-of-six explained that it's tradition for travellers to educate their kids at home. 
She went on to say how she'd received backlash from other parents about her choice to homeschool Venezuela, now 13, but insisted she's "not taking away any chances" from her.
"It's nothing new to us," she said.
"It's what our culture, our race of people as gypsies and travellers, have always done.
"We gave Venezuela the option – do you want to go to high school or be homeschooled?
"I had such a bad backlash, 'you've took away her chances for this, her chance for that?'
"I haven't took away her advantages because she will sit her levels and go through the full extent of schooling.
"When she is 15 and 16, if she wants to go into further learning, she can."
Paris, who did did three years of studying to run a beauty therapy business so she could run her own salon, continued: "I've told my girl, she can do everything. 
"She'll keep up to date with her studies and then when it comes to that time. 
"People just look at it like 'you've taken her out of school', but that's not the case.
"I can't take full credit, she does have a tutor. 
"Somebody comes in weekly and they do all her work, and keep her up to date with the standards she is meant to do.
"It's going great."
Paris shares six kids with Tyson – Venezuela, 13, Prince John James, nine, Prince Tyson II, five, Valencia, four, Prince Adonis, four, Amaziah, two, and little Athena.
Molly-Mae Hague
Love Island star Molly-Mae Hague may have only welcomed daughter Bambi less than a month ago, but the cruel mum-shaming has already started.
The proud new mum, 23, took to Instagram to share a sweet photo where she could be seen cuddling her daughter, who she shares with partner Tommy Fury, as she grabbed a quick coffee.
She penned: "Coffee date with a little garden gnome."
While Bambi was wrapped up warm in a knitted brown outfit,Molly-Mae was brutally mum-shamed for not dressing her in a snowsuit.
"Baby is too small to be bringing outside to start taking your pictures. Get some rest girl," wrote one.
Molly-Mae didn't personally respond to the critics, but her loyal legion of fans did.
"This is the cutest. IGNORE people. I took mine out 2 weeks after giving birth. Wrapped up warm with fresh air is brilliant. Who are these ridiculous people saying you must stay in. You're doing a great job," reassured one.
Another added: "Some of you ladies would hate my parenting skills from the look of these comments.
"I took my 3 day old baby to a wetherspoons brunch because I couldn't be bothered to cook!! @mollymae ignore the haters!! You are doing great!!"
But the mum-shaming only continued when Molly-Mae shared another photograph of herself holding her baby.
Standing in front of her daughter's impressive wardrobe, she penned: "Let's play dress up."
In response to the snap, one person raged: "How about you put your phone down, support Bambi's head. She's a real baby not a dress up doll."
Another agreed: "She's a baby not a toy."
And a third added: "Not an accessory but congrats."
Charlotte Crosby
Geordie Shore star Charlotte Crosby welcomed her first child with partner Jake Ankers in October and has since been sharing her motherhood journey online.
In December, the 32-year-old shared a candid post on Instagram detailing her post-baby exercise regime and explained how she only gets the change to work out for "15 or 20 minutes a day."
She then shared a workout video and penned: "I didn't wanna upload these. But then I thought no don't be ashamed.
"You're trying your hardest, I can look back at this as progress!!!!"
"I'm actually embarrassed about how unfit and out of shape I am…
"I feel like I should of tried to keep this up through my pregnancy but my pregnancy was absolutely HORRID."
Despite admitting she wasn't sure whether to share the post, she soon found herself being mum-shamed for supposedly prioritising exercise over parenting duties.
"She literally had the baby a few weeks ago. She needs to calm down and have a day off," wrote one.
A second penned: "The only person putting the pressure on is her. What happened to just taking your time and enjoying your baby?"
Another added: "Spend these precious moments with your child."
Then a few months later, Charlotte was cruelly targeted again – this time for flying in business class with her five-month-old daughter, Alba.
After sharing a series of holiday snaps, social media users were quick to point out the woman next to them didn't look impressed.
"The woman is livid she's booked business class and there's a baby disrupting her reading," wrote one.
Another agreed: "It looked like the look my nan gives when someone gets a camera out. She hates her picture taken."
However, dismissing all claims, the popular television personality was quick to point out that there were no issues on board.
She explained: "Aw no honestly that woman was absolutely lovely and loved Alba to bits she couldn't believe how well behaved she was and was giving her lots of compliments!!!! She was a really lovely lady."
Charlotte was also criticised by viewers for sharing footage from the birth of her daughter on her show, 'Charlotte in Sunderland.'
"How is it you got to keep your acrylic nails on?" asked one.
"I've had 3 sections and wasn't allowed as they need to be able to check the colour of your nail beds incase of any problems the colour of them is a good indicator apparently."
A second commented: "I wondered this too I wasn't allowed nail varnish/polish on i had to pick the remaining off"
Emma Beadle-McVey
Talking of Geordie Shore, Gaz Beadle's wife Emma Beadle-McVey, 30, recently hit back after she faced criticism over her choice of car seat for one of her children.
The devoted mum shared a snap to her Instagram story explaining how she'd got new seats for Chester, five, and Primrose, three.
However, many raised concerns that Primrose wasn't big enough for hers and claimed was "unsafe".
Emma then shared another post where she admitted she was "waiting for the messages" aand explained: "Car seats aren't based on just age they're based on height and weight.
"It is safe for Primrose to be in the car seat smaller that she was in as she is TOO BIG. She is 107cm and 17.5kg, probably weighs more now as that was her weight in December.
"I spoke to the brand directly to see which is the safest seat for both children and for our specific car. She's actually bigger than a lot of Chester's friends who are five!"
Babies and children are expected to be in a car seat until they are 12 years old or 135 cm tall, whichever comes first.
According to the Gov.uk website Emma is correct and the seat your child can use is dependent on their height or weight.
Children between 15 – 25kg can use group 2 car seats, which are rear or forward-facing child car seats (high-backed booster seat or booster cushion) using a seat belt, harness or safety shield.
Back in December, Emma was again cruelly mum-shamed after sharing a snap of her kids pecking each other on the lips.
"Absurd that two children kiss on the mouth," raged one.
A second agreed: "Not sure about the kiss, with all due respect. Still not normal in MY opinion."
Read More on The Sun
BBC sitcom AXED after just one season
Dumped Love Islanders mobbed by fans as they land in UK after missing final
In response, one social media user hit back: "They are siblings, for god's sake. If you see a problem with the 'kiss' may I suggest the problem is you."
Another added: "What's wrong with siblings kissing at that age? They're both children and if you even look at it in a 'not sure' way, then you're the problem."
Source: Read Full Article