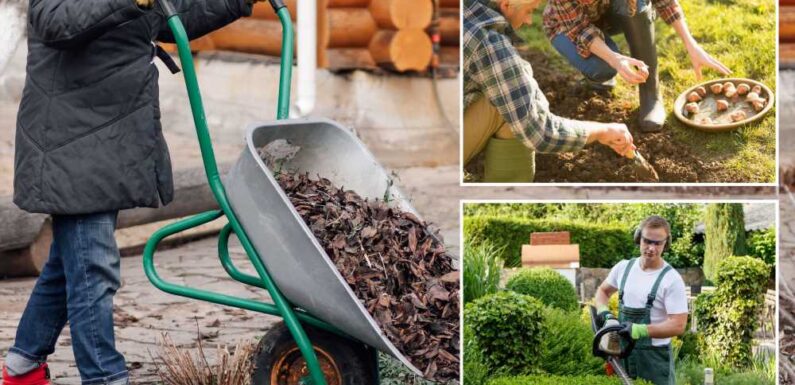 SEPTEMBER is a "crucial month in gardening because it marks the transition from summer to fall", so ahead of the "temperature turning colder", here are a few gardening tasks to complete over the next few weeks to ensure your plants survive winter.
Fantastic Gardeners' gardening expert Petar Ivanov explained how the "texture of your garden" will start to change, in addition, "the chances of rain and strong winds also increase, specifically towards the end of the month".
Petar said: "Because of that, there are several very important gardening tasks to consider doing during this time of the year to make sure your garden remains healthy and vibrant, whether it's a flower or edible one."
Looking at the month in view, the expert added: "This is typically when gardeners should start preparing their space for fall and winter, which usually means they should make sure their plants are protected or, if they have a greenhouse, make sure its structure is sturdy and able to stand against harsh weather conditions. 
"Besides that, feeding the soil to replenish it with nutrients is also very important because they have been used up by the plants during the summer and spring seasons. 
"However, keep in mind that your local climate and specific plant needs can also influence the timing and prioritisation of what gardening tasks you'll need to perform so it's recommended to tailor the recommendations below to your region and garden's unique conditions for the best results. 
READ MORE ON GARDENING
Three plants to prune right now to make them beautiful next year
Cleaning whizz shares how to get rid of black patio stains using a 20p product
"Luckily, it's pretty easy to prepare your garden for the colder weather by making a comprehensive list of gardening jobs for September and sticking to it, which, in my experience, should include the following."
Pruning
Petar said: "In September, trim back any summer-flowering perennials that have finished blooming to promote tidiness and redirect energy to their roots.
"However, avoid heavy pruning of woody shrubs and trees because it may stimulate new growth that won't have enough time to harden before winter."
Deadheading
Peter advised: "Deadheading may not always help you get repeated flowering of your summer blooms at this time of the year, but by removing the dead flowerheads, you'll keep your garden boarders and pots tidy and keep the rest of the plant healthy by saving energy which they can focus for their healthier parts."
Most read in Fabulous
CROSSING PATHS
Moment Prince Harry walks past Brooklyn Beckham amid families' 'bitter rift'
KER-KING
Royal coins that could net you a mint – including pound that's now worth £1k
MYSTIC MEG
If you're still looking, The One gives the simplest answer to a complex question
MEG-A CHOICE
Meghan would be 'unwilling to move back to the UK and face curtsying to Kate'
Weeding and clean-up