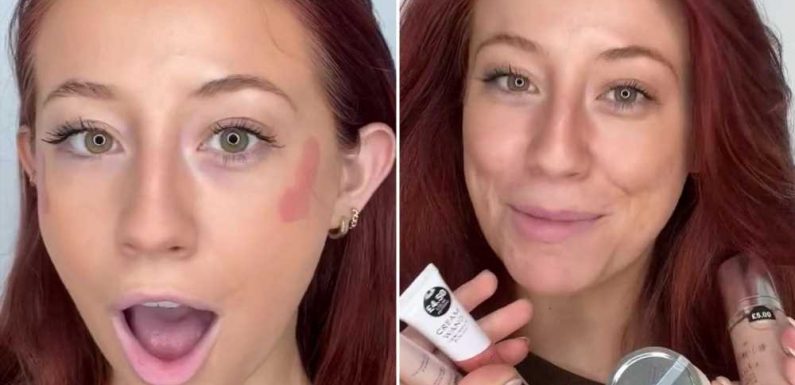 FINDING alternatives for your favourite make-up products can be hard – but a beauty fan has judged all the best Primark dupes so you don't have to. 
The high-street retailer offers some beauty favourites well as an amazing selection of on-trend clothing and chic homeware.
They've expanded their make-up ranges in recent years and many people are choosing Primark over high-end brands. 
One beauty fanatic has put some of shoppers' favourite picks to the test. 
TikTok user @makeupbyash.x went through some of the most raved about Primark dupes to see whether they are actually any good. 
First up, she tested out Primark's Vitamin Enriched Moisturising Primer against the viral Bobbi Brown Primer. 
Read more beauty stories
My mum is 72 but her skin is flawless & her ageless secret is totally free
Shoppers scrambling to get their hands on Aldi's £2.99 Drunk Elephant dupes
There's a whopping £44 between both products, with the Primark item costing just £4.50 while the high-end original is £48.50. 
She said the quality is "not far off" with a similar consistency – but she doesn't like the fragrance. 
Ash's extra tip was to rummage through the skincare range and not the make-up range to find the primer. 
She moved on to trying Primark's Flawless Glow which is £5 up against the much-loved Charlotte Tilbury Hollywood Flawless Filter that is £36.
Most read in Fabulous
Dog expert reveals the worst behaved dogs – people are stunned by his first pick
Doctors told me my baby would weigh 9lbs at birth, but they were way off
I'm a gypsy girl and these are the biggest misconceptions about my community
I was Prince Harry's Army instructor – 'suicide' training story is fantasy
Ash said: "I think Primark has done such a stunning job at giving your skin that subtle stunning glow, gorgeous and hydrated".
The beauty fan thinks it's the best dupe out there of the famous product and matches her skin tone really well. 
Foundation was the third product to be tested and Ash thinks she's found her favourite Primark one after trying out many different ones. 
In the clip, she tests the My Perfect Colour Matte Foundation from the budget retailer (£5) against Estee Lauder's Double Wear foundation available for £35.
While the shade was slightly too dark, Ash raved about the amazing coverage. 
Gradually completing her look she used Primark's Bronze Whip Cream Bronzer, priced at £4.
There was no direct comparison offered but she loved the product and thinks it's fantastic value.
Viewers got another Charlotte Tilbury dupe to try out next, testing Primark's £4.50 Cream alongside Charlotte Tilbury's Glowgasm wand priced at £30.
FABULOUS BINGO: Get a £20 bonus & 30 free spins when you spend £10 today
After applying the dupe she was shocked by how similar they were, adding: "This is first place in all Primark dupes to have ever existed."
It wouldn't be a dupes video without another Charlotte Tilbury comparison. 
Read More on The Sun
Major update to Netflix with new rule change to impact viewers
Doctors told me my baby would weigh 9lbs at birth, but they were way off
Ash pitted the brand's Conceal And Illuminate Under Eye Concealer (£3) against the Magic Away Charlotte Tilbury concealer priced at £24.
She confirmed her favourite product at the end, Primark's Cream Wand: "If I can recommend anything it's this, don't walk, run".
Source: Read Full Article