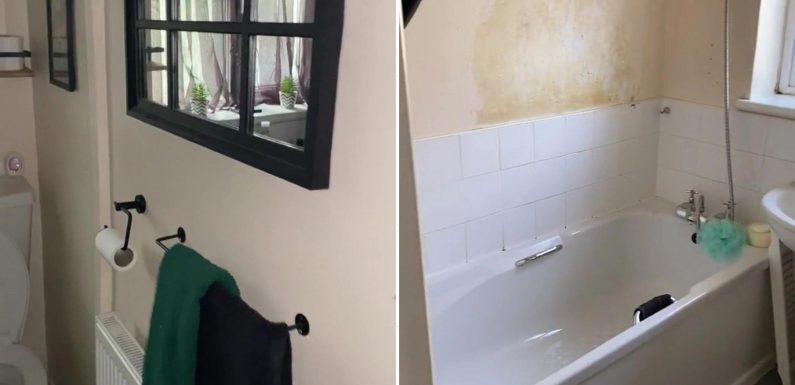 A SAVVY mum has shared how she was able to give her council bathroom a makeover for just £70.
Bobbie decided she wanted to give her bathroom a new look until she had the chance to the full makeover she really wanted.  
She said in a TikTok video: "Just a little TLC until the council rip it out."
With a budget of £70 Bobbie and her partner went to Wilkinson's to pick up some chic modern decorations for her bathroom. 
They bought black net curtains for the bathroom window and a black shower curtain.
Above the bath they fitted black wire toiletry holders. 
Read more home transformations
I'm a DIY fan & gave my dingy bathroom a refresh thanks to a £13 B&Q buy
Woman decides to redecorate her wall – but that's not everyone is talking about
Bobbie already had a black framed mirror to match the aesthetic.  
Bobbie's partner put up black and bamboo shelves above her toilet which held plants and toilet paper.
She bought a chic black toilet holder with a matching hand towel holder. 
Following her colour scheme Bobbie bought a new dark green shower mat and a dark green soap dispenser set. 
Most read in Fabulous
I bought a cute party dress from Vinted but it arrived with a disgusting stain
I'm a tattoo artist – 4 four things you should never do in your appointment
Woman who is almost 70 & has no wrinkles shares her £1 anti-ageing trick
I'm a professional cleaner – there's five products I would never waste money on
The mum added some small plant pots and a black wire sculpture along her bathroom windowsill.
Bobbie also hung artwork with black frames to complete her look. 
FABULOUS BINGO: Get a £20 bonus & 30 free spins when you spend £10 today
Bobbie said: "Give my council bathroom a temporary makeover for £70."
Bobbie video quickly racked up over 825,000 views but not all viewers had nice things to say.
Some viewers did not like Bobbie's choice of curtains saying that it indicated that Bobbie's bathroom was a council house.
One user said: "Net curtains make it immediately council again."
Another said: "Nice but that curtain is a no no !"
The DIY fan stood her ground saying she was very happy with her bathroom transformation. 
Many were also very impressed with Bobbie's makeover.
Read More on The Sun
BBC fans rejoice as beloved drama lands TWO more series and Christmas specials
Martin Lewis fan reveals how they boosted pension by £11,500 with easy hack
One user said: "Well done looks good and on a budget like the picture idea x."
Another user said: "It's lovely! I think if was painted dark green at the top would show off all the black accessories and your pictures."
Source: Read Full Article